The worst scenario about the fate of the missing 6-year-old girl was confirmed short after midnight on Thursday. The boy of  little Stella was found in a garbage bin near the parents' home. It was  stuck in a big plastic bag for garbage. After hours of police interrogation, the father confessed claiming it was the … "evil time."

The body of the child was located about 150-200 meters away from the family home. The body was reportedly located by a police dog.
According to the same sources, the father confessed after he was told that the body of his daughter was found.
Nevertheless, with after the huge search operation in the neighborhood to find the girl, municipality authorities had cancelled the scheduled garbage collection.
The 61-year-old father, a former policeman, reported the missing of his daughter to a local police station on Thursday morning. He claimed that when he woke up in the morning to take her and her twin brother to school, she wasn't home. He had further claimed that there a burglary at home and the girl was kidnapped,  her shoes were left behind. 6-year-old Stella had a walking disability.
Police got suspicious about the disappearance, when it turned out that he first took the twin sibling to school, then he reported the missing.

At the time of the crime, the mother was absent from home, she was hospitalized due to a surgery.
After his first testimony to local police, the father was taken to the headquarters of Greek Police for further investigation of the case. His testimony was reportedly full of contradiction.
"I went to throw the garbage around at midnight on Wednesday night, I forgot the keys on the door, some  burglars got into the house, jewelry has been missing," he insisted for hours.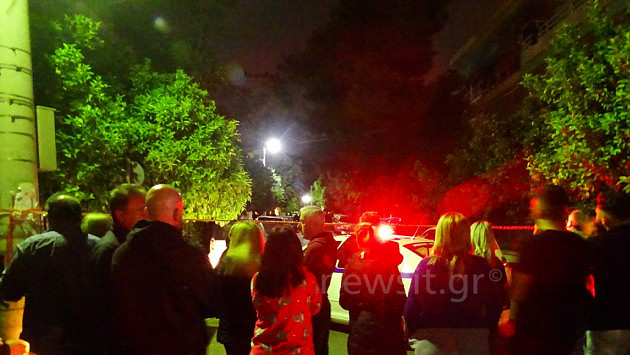 Meanwhile, a huge police operation took place in the close and broader area of the neighborhood in Agia Varvara suburb of Piraeus in west Attica, relatives, friends and neighbors aided the search looking into parks of the area in the hope to find a trace of the little girl. An Amber Alert about the missing 6-year-old girl was issued.

After twelve hour of interrogation, the father 'broke' and confessed. "It was …the evil moment," he told policemen. He claimed the girl's death was due to an accident. She was crying, he embraced her to comfort her and "squeezed her a little more" he reportedly told police.
Thursday morning, media report that the girl was strangulated or died of asphyxiation. The autopsy is expected to find out the exact cause of death.

Neighbors and friends lit a candle at the spot where the body of the missing 6-yeear-old girl was found.
A police officer told athensnewsagency, that the man was still in confusion. A second testimony is due. The father had psychological problems and was in antidepressant treatment, the police officer said.