A group of ten workers at the Eldorado Gold mines managed to bypass police and entered the Development and Environment Ministry in Athens on Wednesday morning. Miners clashed with riot police when a larger group attempted to enter the ministry. Police made limited use of teargas.
The 150 workers had arrived with three buses from Thessaloniki this morning and got authorities by surprise.
Before riot police could take position in front of the ministry, the small group of protesters had managed to enter the building.
Video: Someone shouts "Inside! Inside!"
The miners reached the Minister's office demanding a meeting with him. they hanged their vests form the windows.
A little later, another group outside the ministry attempted to enter the building.
Police made limited use of teargas.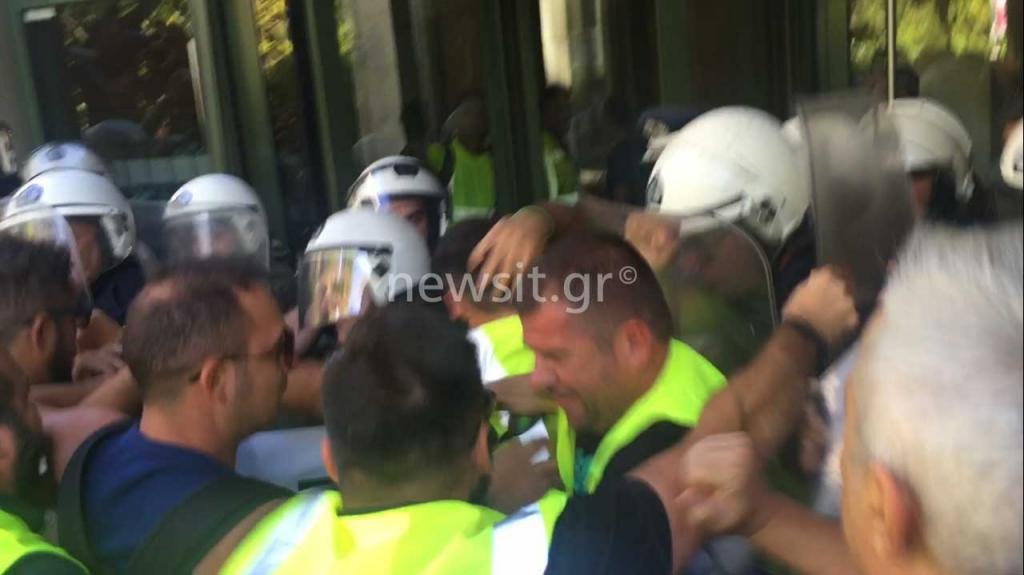 The miners are determined to continue their protest in Athens until Eldorado Gold receives the necessary licenses to continue its operations in Halkidiki, Northern Greece.
On Monday, Eldorado Gold announced it would suspend its operations blaming the government for delays in issuing licenses. Suspension of operations could lead to loss of estimated 1,200-2,400 jobs in a country hit by recession and unemployment for the 8th consecutive year..
Protesters said more colleagues are expected to reach Athens, while several protests will be held also in Thessaloniki and elsewhere.
According to latest information, Minister Giorgos Stathakis accepted to meet with a delegation of miners later today.

"We won't leave without the licenses," protesters say.

The Greek state has taken Eldorado Gold to arbitration court, the process scheduled to begin in the next days.
More protest pictures here.