And all of a sudden, somehow "abruptly", daily infections in Greece climbed to four-digit level on Saturday, when health authorities announced 1,001 new coronavirus cases. Recorded Covid-related deaths in the last 24 hours are 9 and while the number of intubated Covid-patients in hospitals Intensive Care Units stands at 177.
The increasing trend had already been registered since the start of the week, some local health experts blamed the Delta variant and its high transmissibility and/or the population mobility due to summer vacations.
Yet it should be noted that while the daily infections have been on the rise, the number of daily deaths and intubated Covid-patients has been decreasing.
According to some local experts, this has to do with the fact that the infected are not elderly but that the average age of infected is now 27 years old.
Vaccinations
Stand July 2, 2021: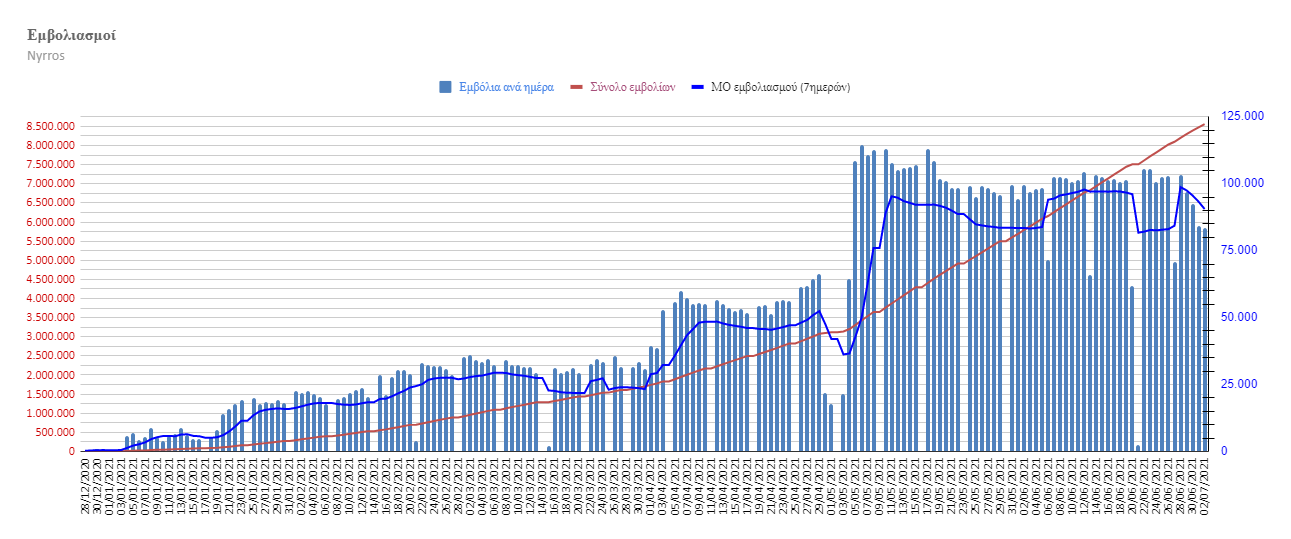 Of the 4,923,673 vaccinated citizens:
1,045,628 Partially vaccinated 
3,878,045 Fully vaccinated (37.2%)
Vaccinations tracker per region here.
Official coronavirus data, July 3

Tests in the last 24 hours: PCR 11,358 Rapid tests 32,078
Positivity of PCR & Rapid: 2.3%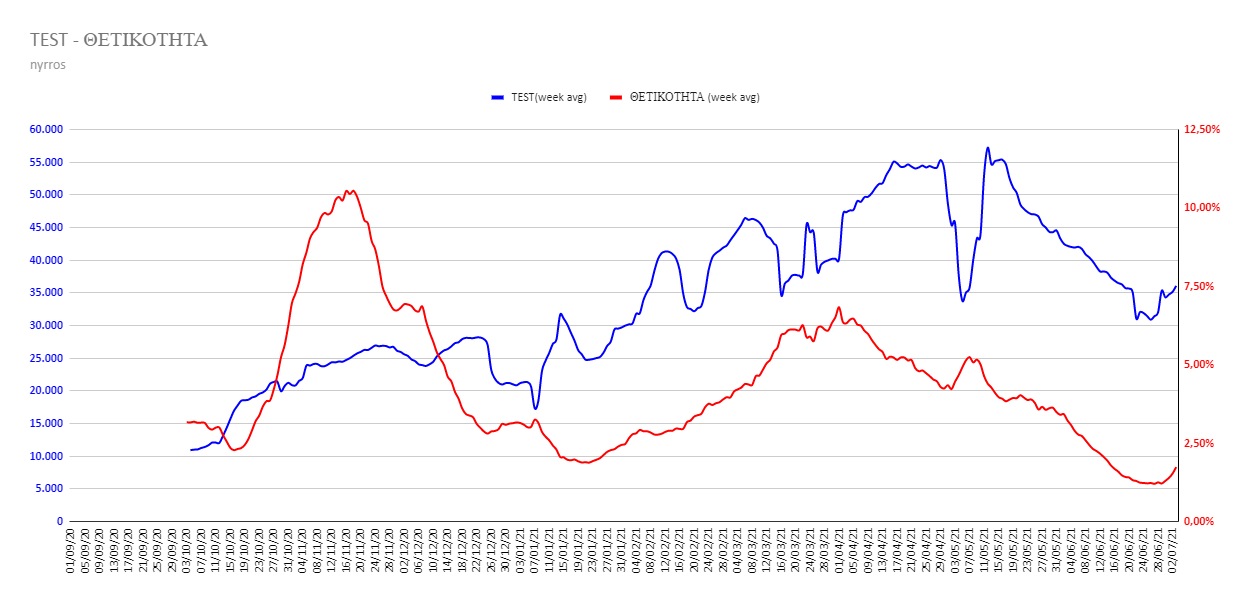 Rt: 0.8 from 0.81 last week.
Since the pandemic began, Greece has confirmed 425,347 infections (daily change: +0.3%). In the confirmed cases of the last 7 days, 114 infections are related to travel from abroad and 962 to other confirmed cases.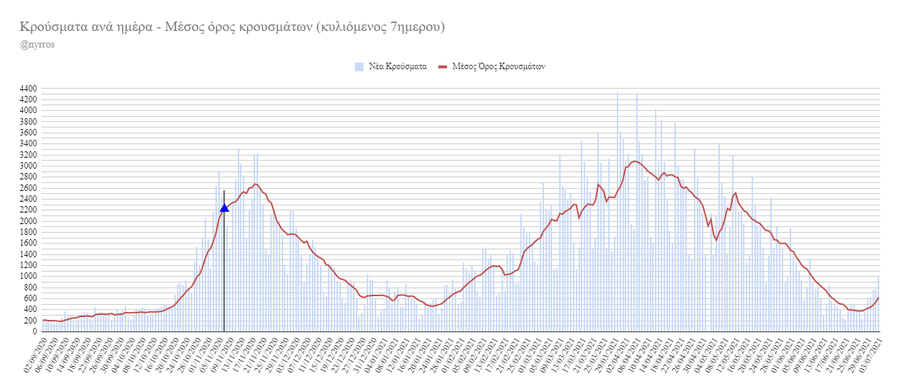 Rolling average: 624 (377 previous week)
51.2% of the infected are men.
There are 9 deaths recorded in the last 24 hours, the total of pandemic victims to 12,731.  Of these, 95.5% had an underlying condition and/or were 70 years old.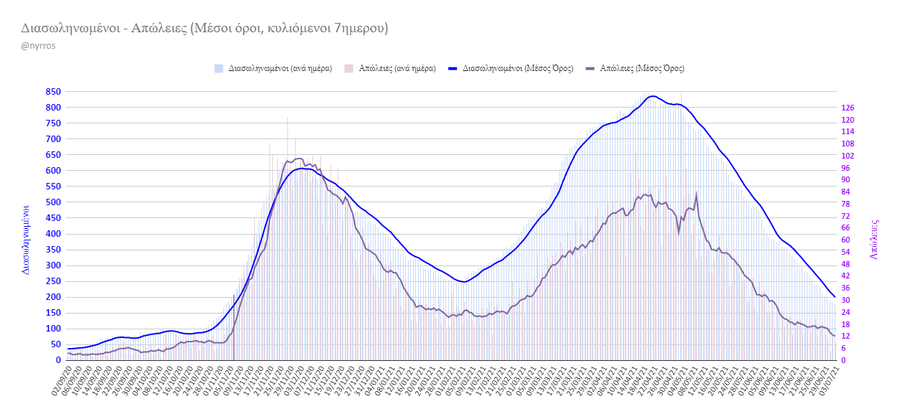 A total of 177 Covid-patients – from 186 a day earlier -are on ventilators in hospitals. Their median age is 66 years. 67.2% are men. 85.3% have an underlying condition and/or are aged 70 or more.
2,698 patients have been discharged from ICUs since the pandemic began.
45 Covid-19 patients were admitted to hospital in the last 24 hours (daily change: +36.36%). The average admission of patients with Covid-19 to hospitals over the last 7 days was 38.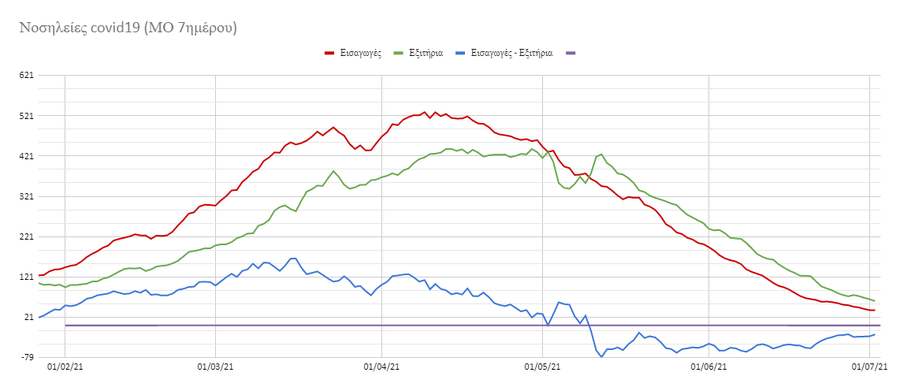 The median age of new infections is 43 years (range: 0.2 to 106 years), while the median age of the deceased is 78 (range: 0.2 to 106 years).
Geographic distribution July 3

Regional units epidemiological load: last 7 days – infections per 100,000 population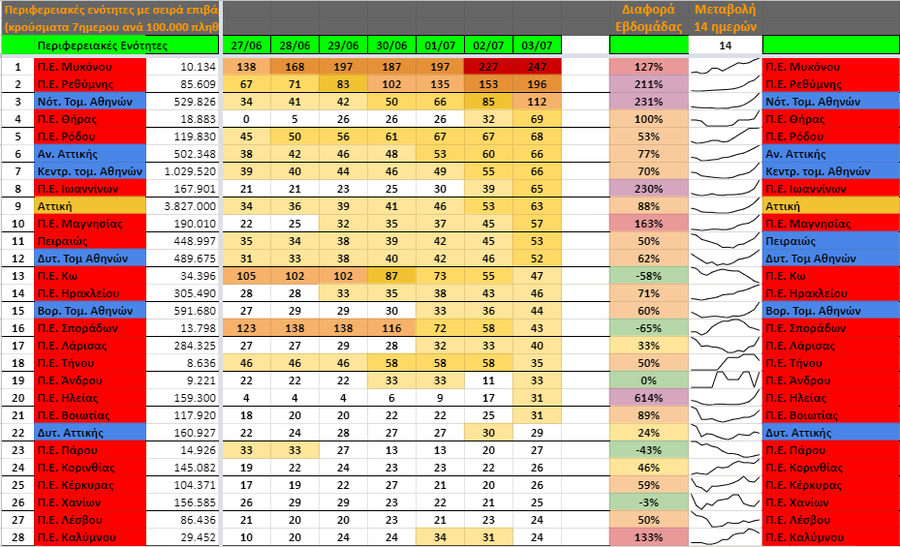 Of the 1001 new cases, 7 were detected at the entrance gates of the country and 10 among travelers already in the country.
The remaining cases are:
596 Attica
22 Thessaloniki
46 Ioannina
45 Rethymno
30 Magnisia 27 Laissa
Each 26 Ilia, Heraklio
10 Chania
Each 9 Viotia, Corfu
8 Achaia
Each 7 Rhodes, Evia, Corinth, Thira
6 Kozani 4 Mykonos
Each 3 Agolida, Evros, Kavala, Karditsa, Lesvos, Messinia, Pella, Pieria, Rodopi, HAlkidiki
Each 2 Drama, Imathia, Andros, Paros, Lefkada, Trikala, Chios
Each 1 Arcadia, Arta, Grevena, Evrytania, KAstoria, KEfalonia, Kilkis, Naxos, Xanthi, Serres, Sporads, Fthiotida, Florina

35 under investigation
Coronavirus Infections Maps to compare
Greece's Covid-map of confirmed infections in the last 14 days, based on permanent or temporary residence.
Official data by EODY Daily Report in Greek
here.
More information on coronavirus in Greece
here.