Coronavirus infections in Greece continue to rise and reached 2,107 in the last 24 hours, health authorities announced on Thursday. 10 more Covid-patients lost their lives, while the number of intubated Covid-patients in hospitals Intensive Care Units decreased further to 153.
Live Briefing
At the Live Briefing on Thursday, health experts said that the average age of the recently infected has decreased to 23, a "decrease of almost a decade within a week."
Majority of recent infections refers to age group 15-24, while there has been a small increase to age group 35-55. No increase to age group over 65.
The rolling average of infections reached 1,081 from 442 the previous week.
The health experts attributed the infections increase to the relaxation of protection measures and the spread of the Delta variant of Covid-19 as well as to the night entertainment.
Positivity rate increase to 2.46%. In areas with increased epidemiological load, the rate is much higher.
Today, there are 9,000 active case across Greece, said Professor
Vana Papaevangelou
adding that in Attica the active cases are over 4,000 with the average age of the infected be 24.
She stressed that Attica, northern Aegean islands and Crete are in the focus of the pandemic.
Hospital admissions are at 48 per day. One in three in the hospitals is aged 25-55, while one in ten is below 24.
Papaevangelou added that there seem to be no pressure on the public health system, mainly because the vaccinations have built a significant protection shield.
Rapid Tests islands
Despite relevant leaks leaks to the press earlier today, authorities did not announce any new measures such the "mandatory Rapid tests" for those returning form the islands. How could they implement such a measure when many, if not the majority of the Greek islands, does not have infrastructure for such tests and the government did nothing in this direction ahead of the summer vacations by Greeks and tourists.
COVID-19 Variants
Updates based on testing May 1-July 2 2021.
Vaccinations
Stand July 7, 2021: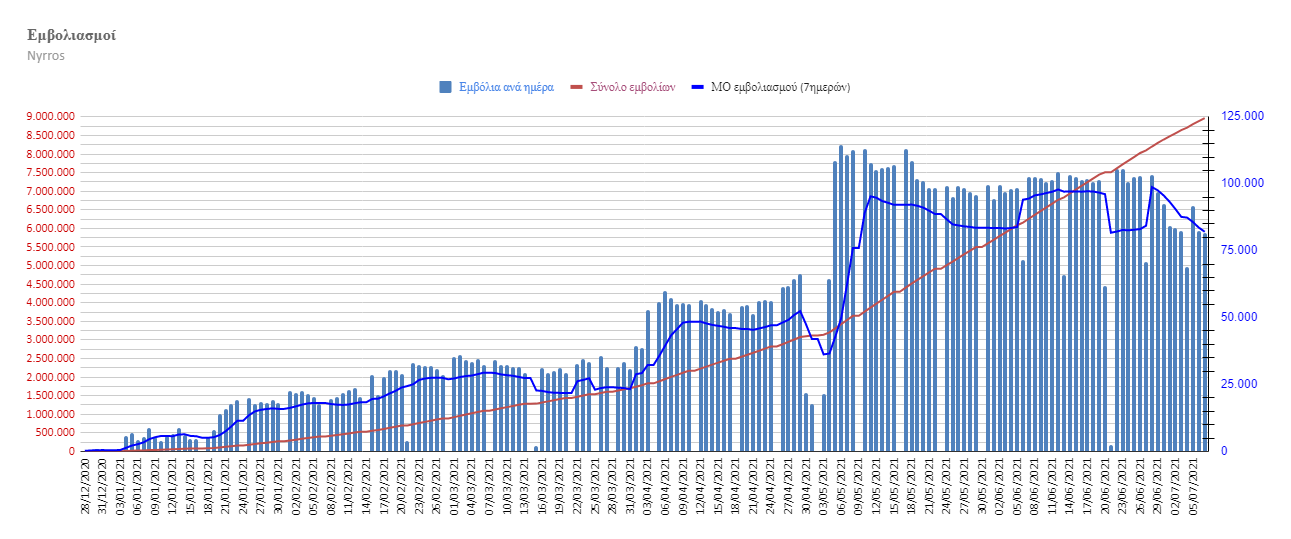 Of the 5,120,640 vaccinated citizens (49.1% of population with at least one dose):
1,014,987 Partially vaccinated 
4,105,653 Fully vaccinated (39.4%)
Vaccinations tracker per region here.
Official coronavirus data, July 8

Tests in the last 24 hours: PCR 13,433 Rapid tests 51,578
Positivity of PCR & Rapid: 3.24% ↑

blue: tests red: positivity
Rt: 0.8 from 0.81 last week. Authorities still haven't published the updated Rt

Since the pandemic began, Greece has confirmed 433,021 infections (daily change: +0.5%). In the confirmed cases of the last 7 days, 146 infections are related to travel from abroad and 1769 to other confirmed cases.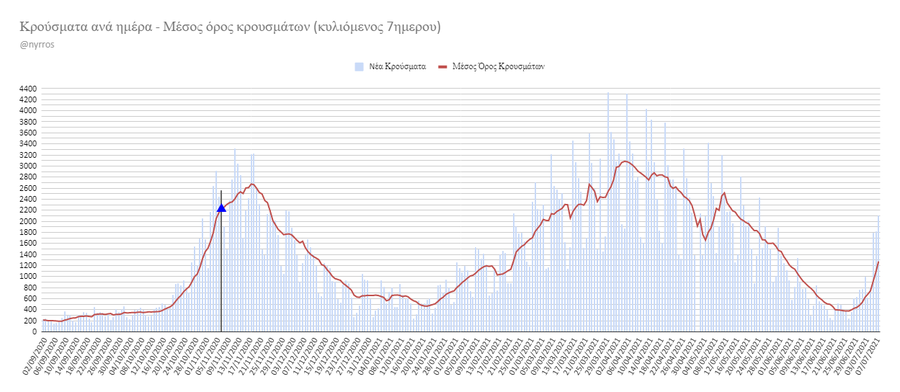 Rolling average: 1274 (481 previous week)
51.2% of the infected are men.
There are 10 deaths recorded in the last 24 hours, the total of pandemic victims to 12,773.  Of these, 95.5% had an underlying condition and/or were 70 years old.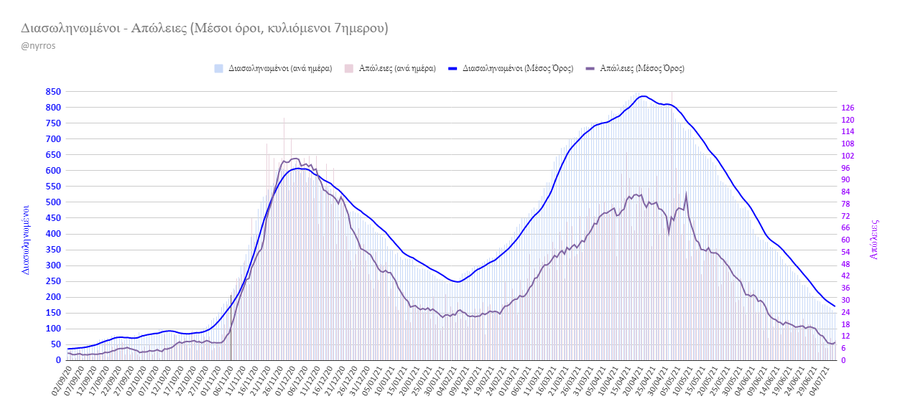 A total of 153 Covid-patients – from 159 a day earlier -are on ventilators in hospitals. Their median age is 66 years. 68% are men. 88.2% have an underlying condition and/or are aged 70 or more.
2,720 patients have been discharged from ICUs since the pandemic began.
68 Covid-19 patients were admitted to hospital in the last 24 hours (daily change: +15.25%). The average admission of patients with Covid-19 to hospitals over the last 7 days was 49.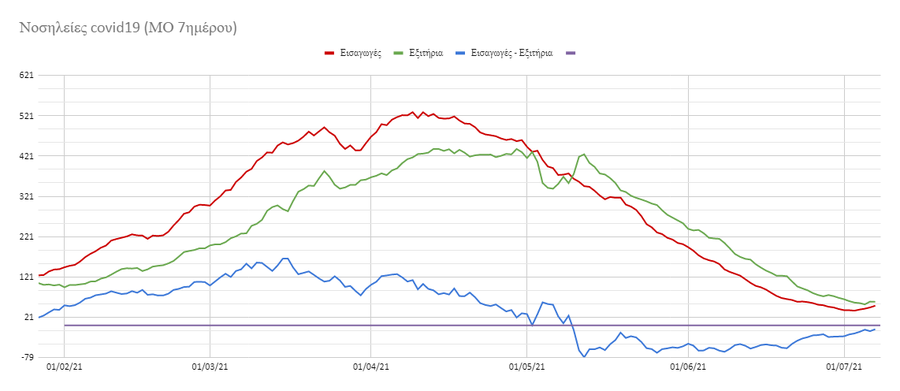 The median age of new infections is 43 years (range: 0.2 to 106 years), while the median age of the deceased is 78 (range: 0.2 to 106 years).
Geographic distribution July 8

Regional units epidemiological load: last 7 days – infections per 100,000 population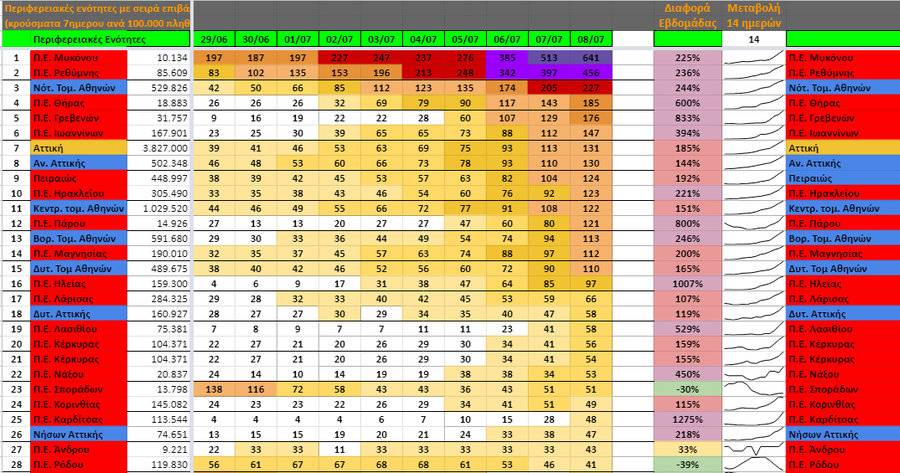 Of the 2107 new cases, 6 were detected at the entrance gates of the country and 15 among travelers already in the country.
The remaining cases are:
1115 Attica
74 Thessaloniki
119 Heraklio
89 Rethymno
79 Ioannina
42 Larissa 40 Magnisia
37 Achaia
Each 24 Ilia, Karditsa
Each 20 Evia, Messinia
19 Mykonos,  18 Kozani
17 Aitoloakarnania 16 Grevena
Each 15 Corfu, Lasithi
13 Fthiotida
10 Rhodes
Each 8 Kos, Thira
Each 7 Paros, Serres, Chios
Each 6 Lesvos, Pella, Preveza
Each 5 Imathia, Kilkis, Corinth
Each 4 Argolida, Viotia, NAxos, Trikala, Halkidiki
Each 3 Arcadia, Zakynthos, Kefalonia, Pieria, Fokida

Each 2 Drama, Thesprotia, Kavala, Kastoria
Each 1 Kalymnos, Andros, Milos, Syros, Lakonia, Lefkada, Sporades
138 under investigation
Coronavirus Infections Maps to compare
Greece's Covid-map of confirmed infections in the last 14 days, based on permanent or temporary residence.
Official data by EODY Daily Report in Greek
here.
More information on coronavirus in Greece
here.