Greece's health authorities announced on Thursday 2,794 new coronavirus cases and 6 Covid-related deaths in the last 24 hours. The number of intubated Covid-patients in hospitals Intensive Care Units stands at 132.
Live Briefing
At the Live Briefing on Friday, health experts made a dramatic call to citizens to get vaccinated and to youth to be careful when they return from vacations as there is a significant increase of infections in the last week.
One in two currently hospitalized are below 54 years old, said member of the Epidemiologists' Committee and professor for Child Epidemiology Vana Papaevangelou.
She appealed at the youth who are the majority of the infected to get a vaccination before they leave for vacations so to avoid transmitting the virus to their families.
She said that there are many infections
Average age of new infected is below 39 years old.
Positivity rate skyrocketed from 1.3% in June to 3.5%
According to the country's epidemiologists, the youth transmits the virus to their family, social and work environment.
Popular islands like Mykonos and Paros have an increased epidemiological load and the experts do not rule out restrictions locally soon.
The Covid-Map has been updated and several regions and islands changed "risk status" to the worse. More on a separate post.
Testing for unvaccinated people working in food service and tourism and thus at their own expenses from Saturday, July 17, 2021. More on separate post.
Delta Variant
Weekly report by the Genomic Surveillance Network:
281 new cases that is 40% of the latest samples
Total: 402 cases with Delta variant strain, that is 2.13% of the samples.
Of the 402:
242 in Attica
75 in Heraklio, 21 in Rethymno
12 in Thessaloniki
Remaining 52 spread across Greece
Vaccinations
Stand July 14, 2021: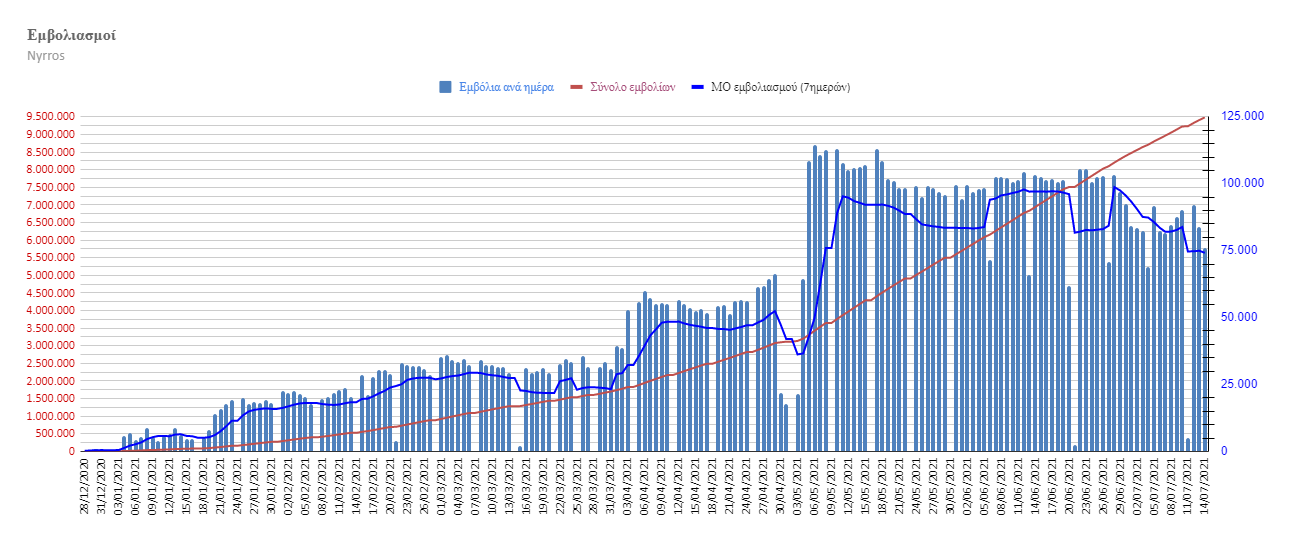 Of the 5,332,580 vaccinated citizens (51.2% of population with at least one dose):
893,854 Partially vaccinated 
4,438,726 Fully vaccinated (42.6%)
Vaccinations tracker per region here.
Official coronavirus data, July 15

Tests in the last 24 hours: PCR  15,413 Rapid tests 65,871
Positivity of PCR & Rapid: 3.44%

blue: tests red: positivity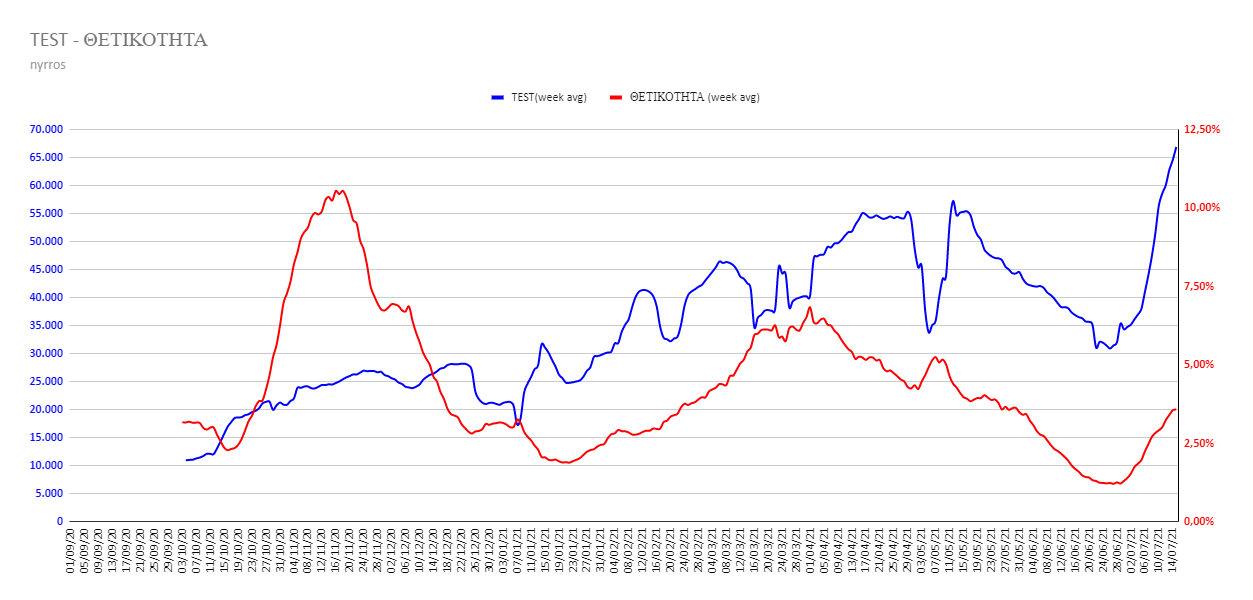 Rt: 1.38 from 0.8  Last stand 2 weeks ago.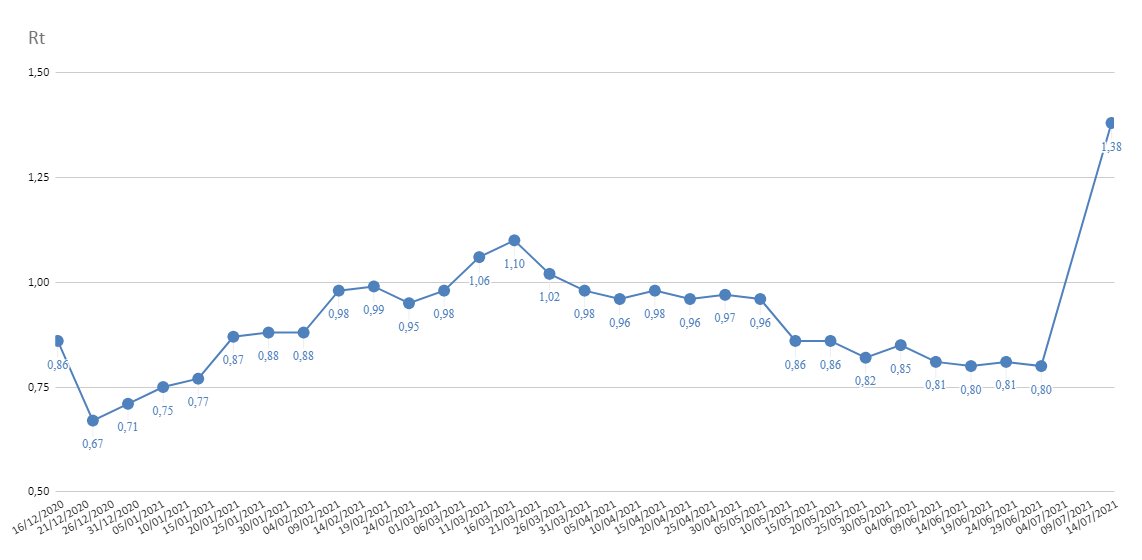 Since the pandemic began, Greece has confirmed 450,512 infections (daily change: +0.6%). In the confirmed cases of the last 7 days, 159 infections are related to travel from abroad and 1633 to other confirmed cases.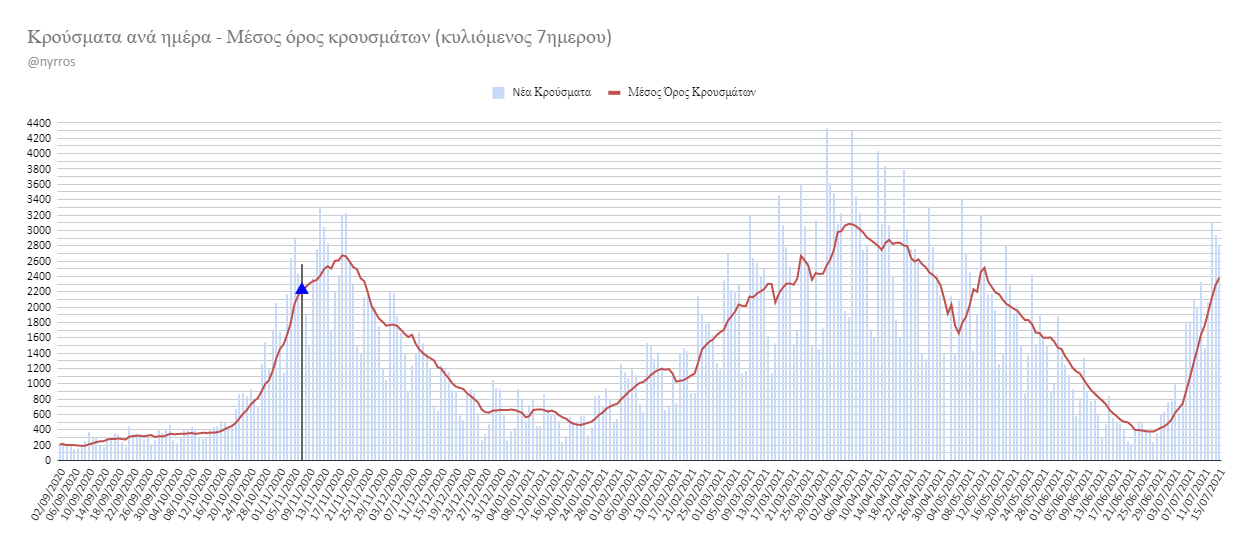 Rolling average: 2385 (1274 previous week)
51.2% of the infected are men.
There are 6 deaths recorded in the last 24 hours, the total of pandemic victims to 12,819.  Of these, 95.5% had an underlying condition and/or were 70 years old.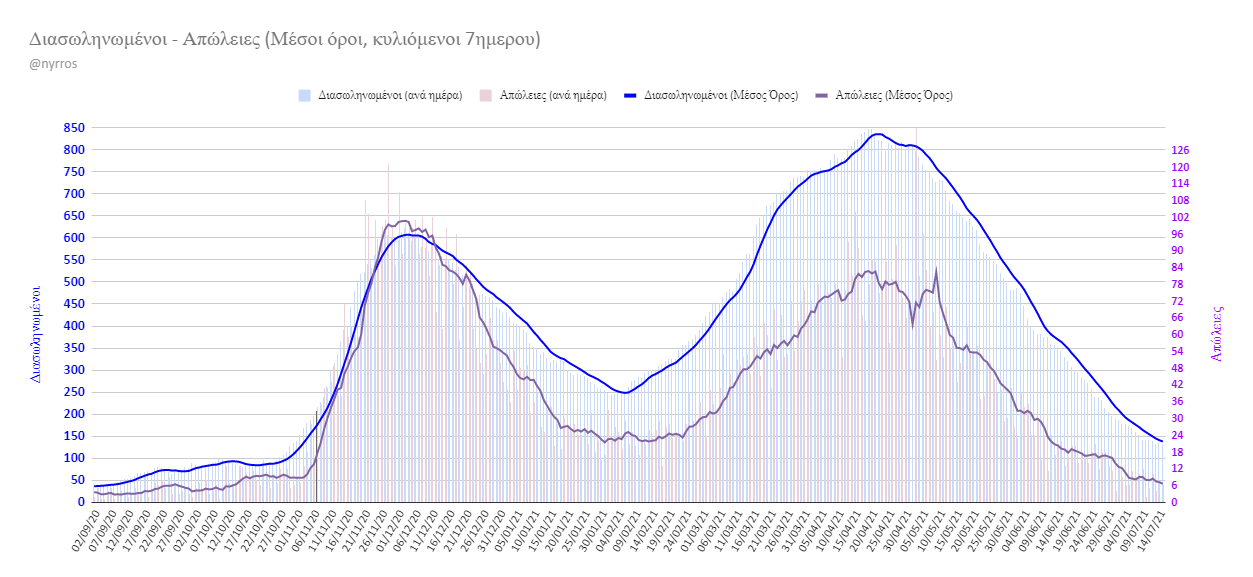 A total of 132 Covid-patients – from 135 a day earlier -are on ventilators in hospitals. Their median age is 66 years. 652% are men. 84.1% have an underlying condition and/or are aged 70 or more.
2,740 patients have been discharged from ICUs since the pandemic began.
112 Covid-19 patients were admitted to hospital in the last 24 hours (daily change: +12%). The average admission of patients with Covid-19 to hospitals over the last 7 days was 86.
The median age of new infections is 42 years (range: 0.2 to 106 years), while the median age of the deceased is 78 (range: 0.2 to 106 years).
Geographic distribution July 15

Regional units epidemiological load: last 7 days – infections per 100,000 population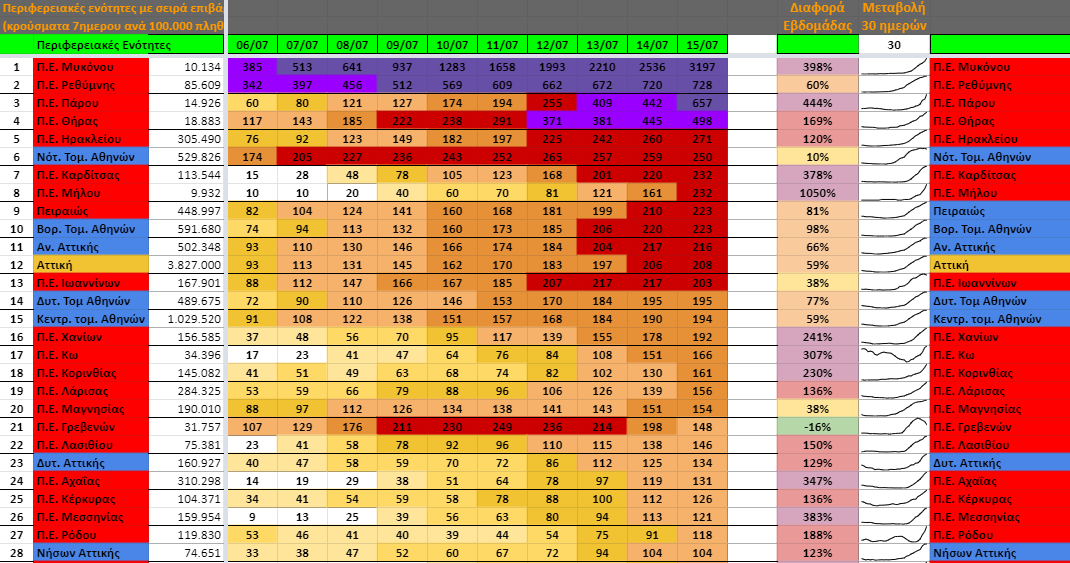 Of the 2794 new cases, 7 were detected at the entrance gates of the country and 8 among travelers already in the country.
The remaining cases are:
1190 Attica
198 Thessaloniki
153 Heraklio
96 Rethymno
90 Larissa
86 Mykonos
76 Achaia
55 Ioannina 51 Corinth
46 Magnisia 42 Rhodes
40 Chania
39 Paros
Each 37 Evia, Kardista
32 Messinia 30 Corfu
22 Kozani 21 Lasithi
20 Evros 19 Ilia
Each 18 Aitoloakarnania, Thira
17 Viotia
Each 16 Argolida, Trikala
Each 15 LEsvos, Halkidiki
Each 13 Kos, Serres
11 Fthiotida 10 Kavala
Each9 Arcadia, Zakynthos
Each 8 Imathia, Milos, Pella
Each 6 Kalymnos, Kilkis
Each 4 Thesprotia, LAkonia, Pieria, Preveza
Each 3 Arta, Naxos, Syros, Florina
Each 2 Kefalonia, Xanthi, Rodopi, Fokida
Each 1 Drama, Ithaki, Samos, Chios
143 under investigation
Coronavirus Infections Maps to compare
Greece's Covid-map of confirmed infections in the last 14 days, based on permanent or temporary residence.
Official data by EODY Daily Report in Greek
here.
More information on coronavirus in Greece
here.