Greece's health authorities announced on Wednesday 2,874 new coronavirus cases and 15 Covid-related deaths in the past 24 hours. The number of intubated Covid-patients in hospitals Intensive Care Units stands at 144.
Health Minister Vassilis Kikilias announced that Greece broke the benchmark of 5,000,000 fully vaccinated citizens. This is still less than 50% of the population.
Positivity rates & regions
Regarding the positivity rate, National HEalth Organization EODY announced today that the rate was 3.26% in a total of 540,283 laboratory tests PCR and Rapid. and 0.79% in a total of 894,838 self-tests. The data refer to the week July 19-25, 2021.
The rate was 1.46% in the total of all three sorts of tests.
Note that any rate below 4% is considered as "safe"
According to EODY regions with rate over 4% are:
Paros 5.51%
Mykonos 4.27%
Tinos 4.20%
Regions where positivy rate nears 4% are:
Rethymno 3.76%
Santorini 3.40%
Regions with the lowest rates are:
Thassos 0.09%
Rodopi 0.38%
Arta 0.39%
Xanthis 0.40%
Samos 0.44%
Ithaki 0.46%
Pieria 0.53%
Drama 0.57%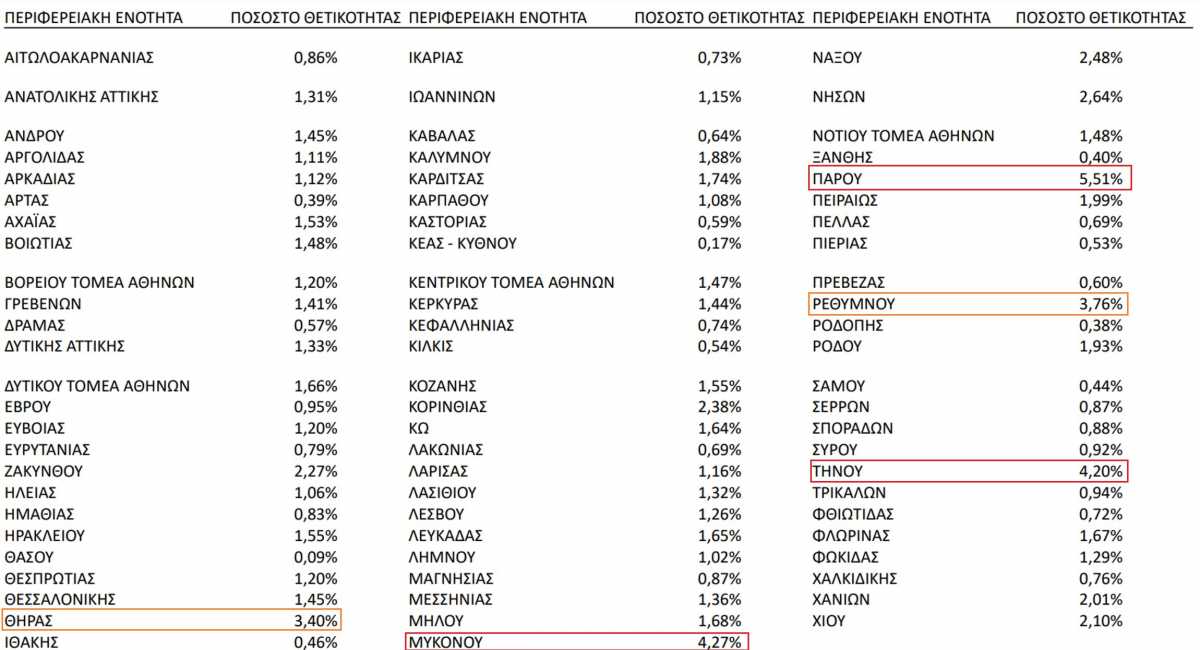 Health Minister Vassilis Kikilias announced that Greece broke the benchmark of 5,000,000 fully vaccinated citizens.
Vaccinations
Stand July 27, 2021: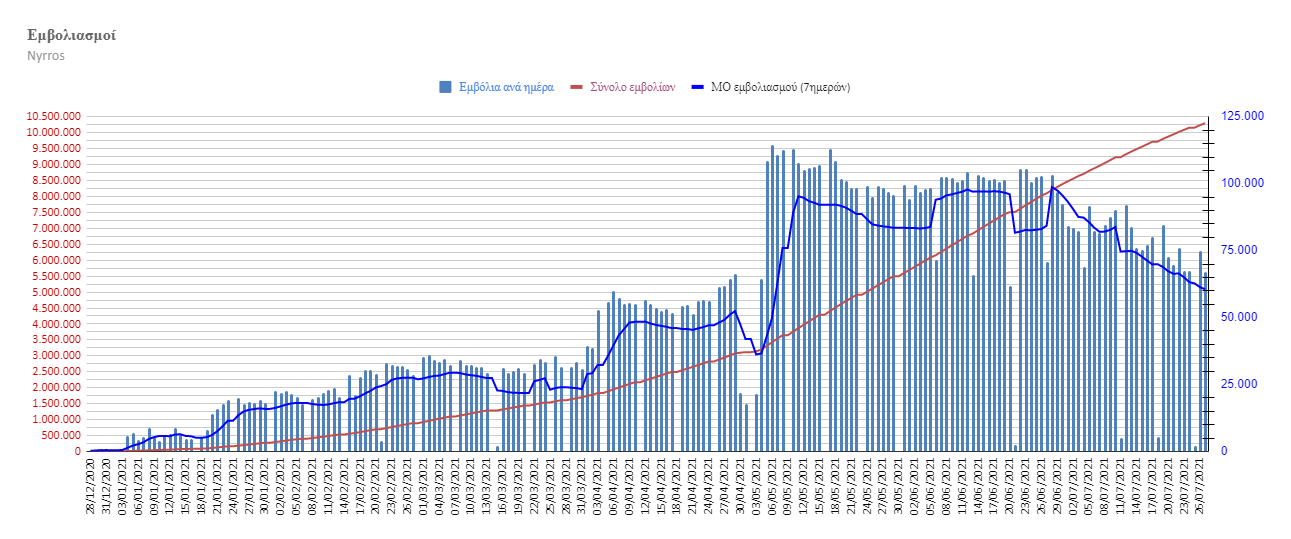 Of the 5,635,911 vaccinated citizens (54.1% of population with at least one dose):
642,141 Partially vaccinated

4,993,770 Fully vaccinated (47.9%)
Vaccinations tracker per region here.
Official coronavirus data, July 28

Tests in the last 24 hours: PCR  13,741 Rapid tests 72,382
Positivity of PCR & Rapid: 3.34%

blue: tests red: positivity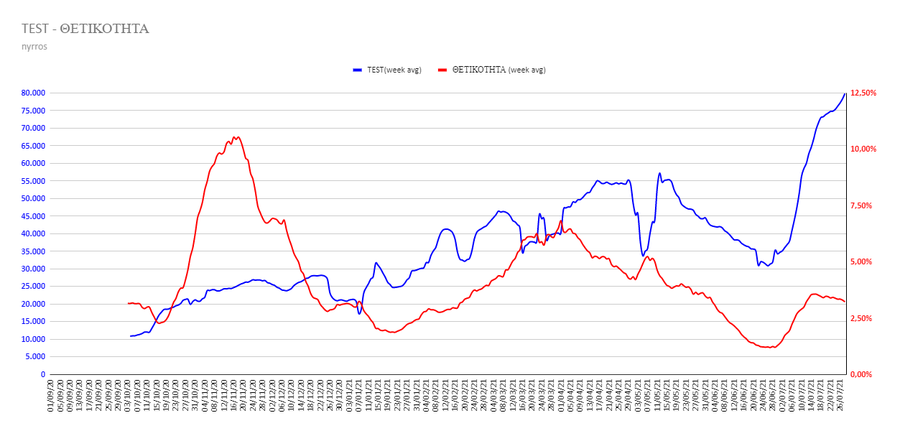 Rt: 1.16 from 123 last week.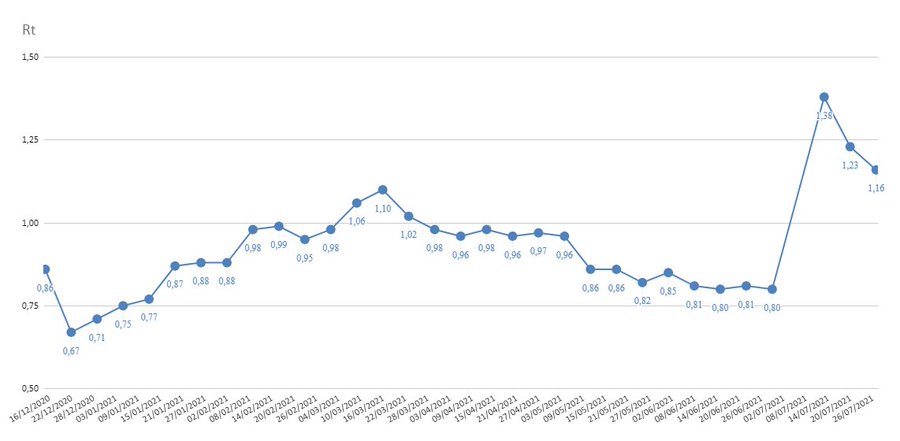 Since the pandemic began, Greece has confirmed 485,015 infections (daily change: +0.6%). In the confirmed cases of the last 7 days, 118 infections are related to travel abroad and 1316 to other confirmed cases.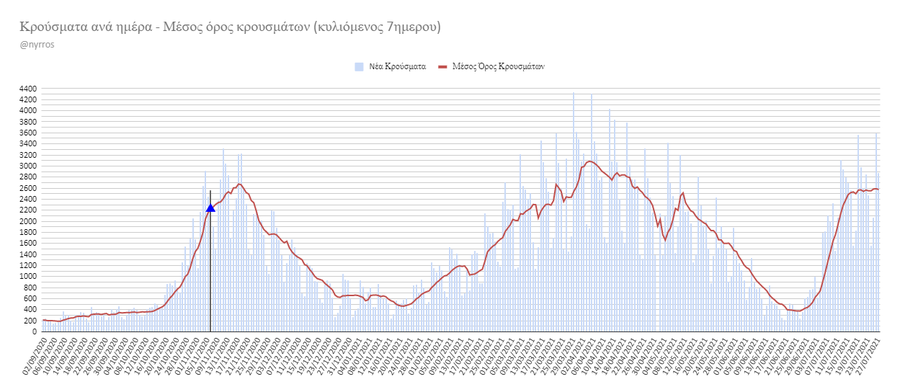 Rolling average: 2574 (2568 previous week)
51.2% of the infected are men.
There are 15 deaths recorded in the last 24 hours, the total of pandemic victims to 12,926.  Of these, 95.1% had an underlying condition and/or were 70 years old.
Light blue: intubations Pink: deaths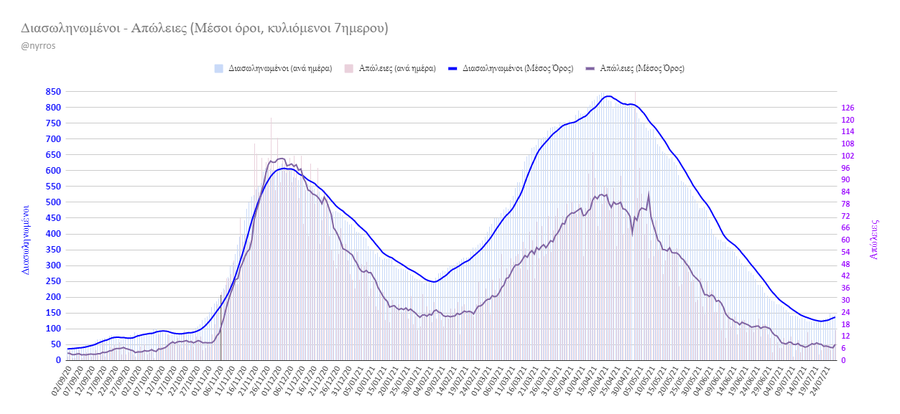 A total of 144 Covid-patients – from 142 a day earlier – are on ventilators in hospitals. Their median age is 65 years. 61.1% are men. 82.6% have an underlying condition and/or are aged 70 or more.
2,799 patients have been discharged from ICUs since the pandemic began.
196 Covid-19 patients were admitted to hospital in the last 24 hours (daily change: +28.1%). The average admission of patients with Covid-19 to hospitals over the last 7 days was 167.
Red: admissions Green: discharges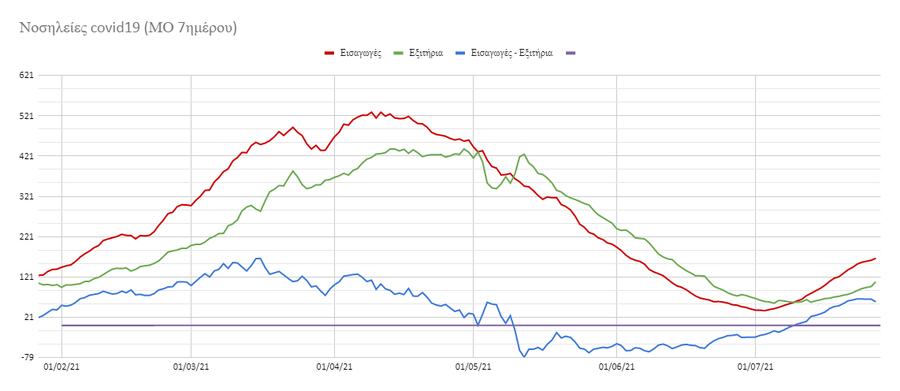 The median age of new infections is 41 years (range: 0.2 to 106 years), while the median age of the deceased is 78 (range: 0.2 to 106 years).
Geographic distribution July 28

Regional units epidemiological load: last 7 days – infections per 100,000 population.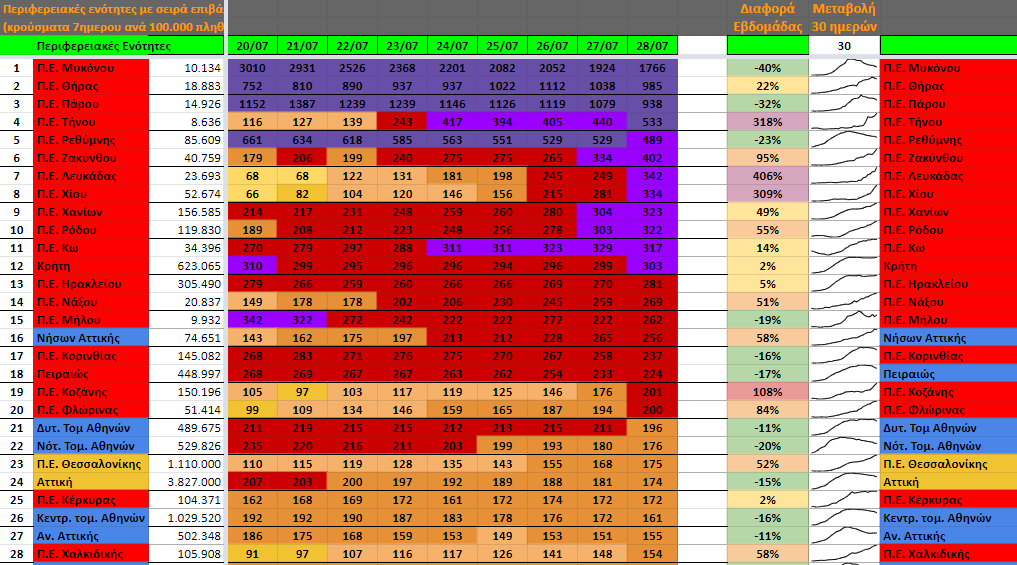 New: Crete listed as one region
Of the 2874 new cases, 10 were detected at the entrance gates of the country and 5 among travelers already in the country.
The remaining cases are:
993 Attica
308 Thessaloniki
123 Heraklio
88 Chania
71 Rhodes
65 Achaia
56 Kozani 53 Rethymno
50 Corinth
48 Larissa 45 Zakynthos
41 Chios
38 Evia 36 Messinia
31 Ioannina 30 Corfu
28 Aitoloakarnania 26 Karditsa
25 Imathia
Each 24 Evros, Pieria
Each 23 Mykonos, Lefkada, Serres
Each 22 Paros, Halkidiki
Each 20 Argolida, Viotia, Fthiotida
Each 18 Arcadia, Kos, Kavala, Thira, Pella
17 Lasithi
Each 16 Lesvos, Florina
14 Magnisia 13 Preveza
Each 11 Kilkis, Trikala
Each 10 Ilia, Naxos, Tinos
Each 7 Kastoria, Limnos, Xanthi
6 Milos
Each 5 Arta, Drama, Thesprotia, Kalymnos, Andros

Each 4 Ikaria, Lakonia, Rodopi, Fokida
3 Samos
Each 2 Kefalonia, Kea/Kythnos
Each 1 Grevena, Evrytania, Syros, Sporades

186 under investigation
Coronavirus Infections Maps to compare
Greece's Covid-map of confirmed infections in the last 14 days, based on permanent or temporary residence.
Official data by EODY Daily Report in Greek
here.
More information on coronavirus in Greece
here.