Coronavirus infections hit a new spike in Greece on Tuesday with 8,129 new cases confirmed in the past 24 hours. Also the number of deaths is high with 80 Covid-patients to have lost their lives in the same period. The number of intubated Covid-patients in hospitals stands at 547.
A total of 1,500 Covid-patient have died within a  month, σομε 800 of them alone in the time November 1-16.
Health experts warn that the number of infections will continue to rise until the beginning of December and the number of deaths also afterwards.
The health system especially in northern Greece has reached its limits and the Papageorgiou hospital in Thessaloniki to have shut down its oncology clinic with the aim to turn it into Covid-clinic.
ICU director of Papanikolaou hospital in Thessaloniki, Nikos Kapravelos, told Skai TV, hospitals in Thessaloniki start their on-duty service with no beds available at ICUs.
"Patients are being intubated outside the ICUs," he noted adding that "people outside the ICUs also die because the system has reached its limits…. It is a nightmare to have a patient with shortness of breath, not to have oxygen and to tell him that he does not have a bed in the intensive care unit."
More and more doctors are criticizing the government for lack of preparation for the fourth pandemic wave.
Maria Theodoropoulou, vice president of the Greek ICU doctors said speaking state broadcaster ERT on Tuesday evening that "IUC beds are available but not personnel to operate them."
Meanwhile, the government is moving with turtle pace and has not even requisitioned private doctors for the public hospitals.
The issue is controversial with many doctors saying that "it is not easy for a private doctor to just jump in the schedule of a Covid-hospital" and the Health Ministry postponed the requisition day in, day out, even if for obviously different reasons.
Official EODY data Νοbember 16
Tests in past 24 hours:
PCR 26,400 RAPID 636,328
Positivity PCR+RAPID: 1.23%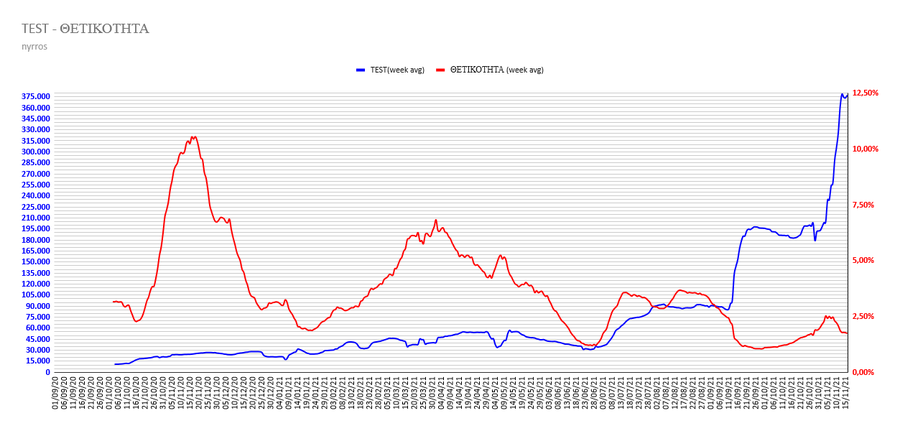 Since the pandemic began, Greece has confirmed 847.188* infections (daily change: +1.0%).
*235 infections confirmed in the previous days were added to EODY data on Tuesday.
Of the confirmed cases of the last 7 days, 110 infections are related to travel from abroad and 2,583 to other confirmed cases.
Rolling average 6533 from 6645 last week.
Rt: 1.27 from 1.12 last week
80 deaths recorded in the last 24 hours, brought the total of pandemic victims to 16,923*. Of these, 95.3% had an underlying condition and/or were aged 70 or over.
*5 deaths from previous days added to EODY data on Tuesday.
547 Covid-patients are on ventilators in hospitals from 551 a day earlier.. Their median age is 64 years, 61.4% are men. 83.9% have an underlying condition and/or are aged 70 or over.
Of the total patients on intubation, 455 (83.18%) are unvaccinated or partly vaccinated and 92 (16.8%) are fully vaccinated.
Intubated Covid-patients per age group:
0-17: 1
18-30: 21
40-64: 255
65+ : 270
3,409 have been discharged from ICUs since the pandemic began.
442 Covid-19 patients were admitted to hospitals in the last 24 hours (daily change: +21.1%). The average admission of patients with Covid-19 to hospitals over the last 7 days was 415.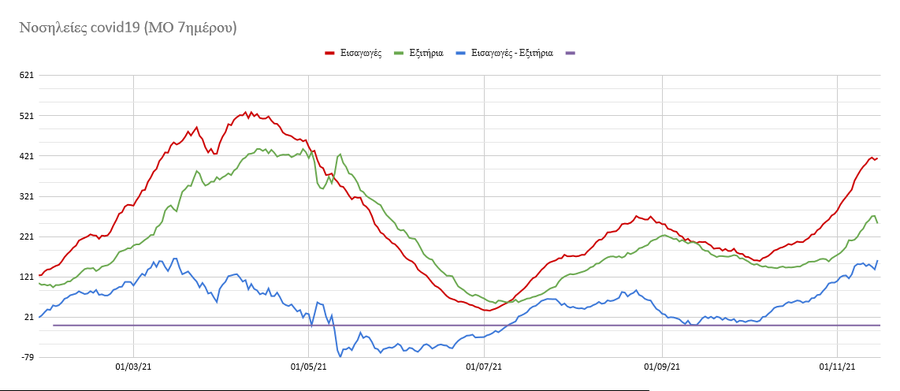 The median age of new infections is 38 years (range: 0.2 to 106 years), while the median age of the deceased is 78 (range: 0.2 to 106 years).
Vaccinations
Stand Nov 15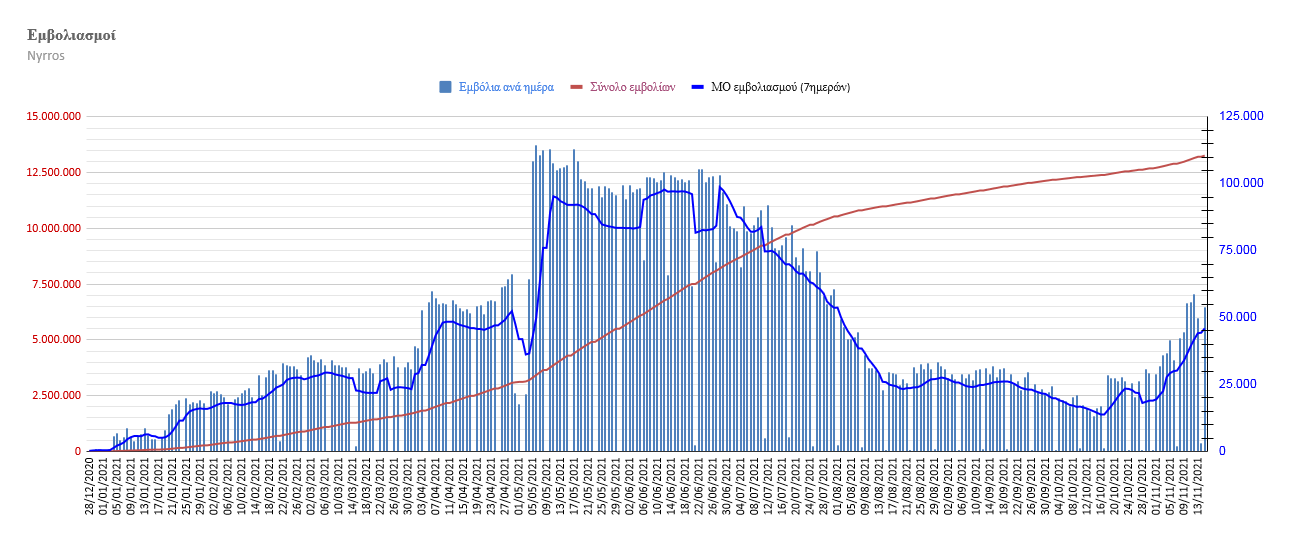 Party vaccinations 65.4% of the population
Fully vaccinated: 62.1%
Booster shot since Sept 13: 663,098
Vaccination tracker per region in Greek here.
 Geographic distribution Νovember 16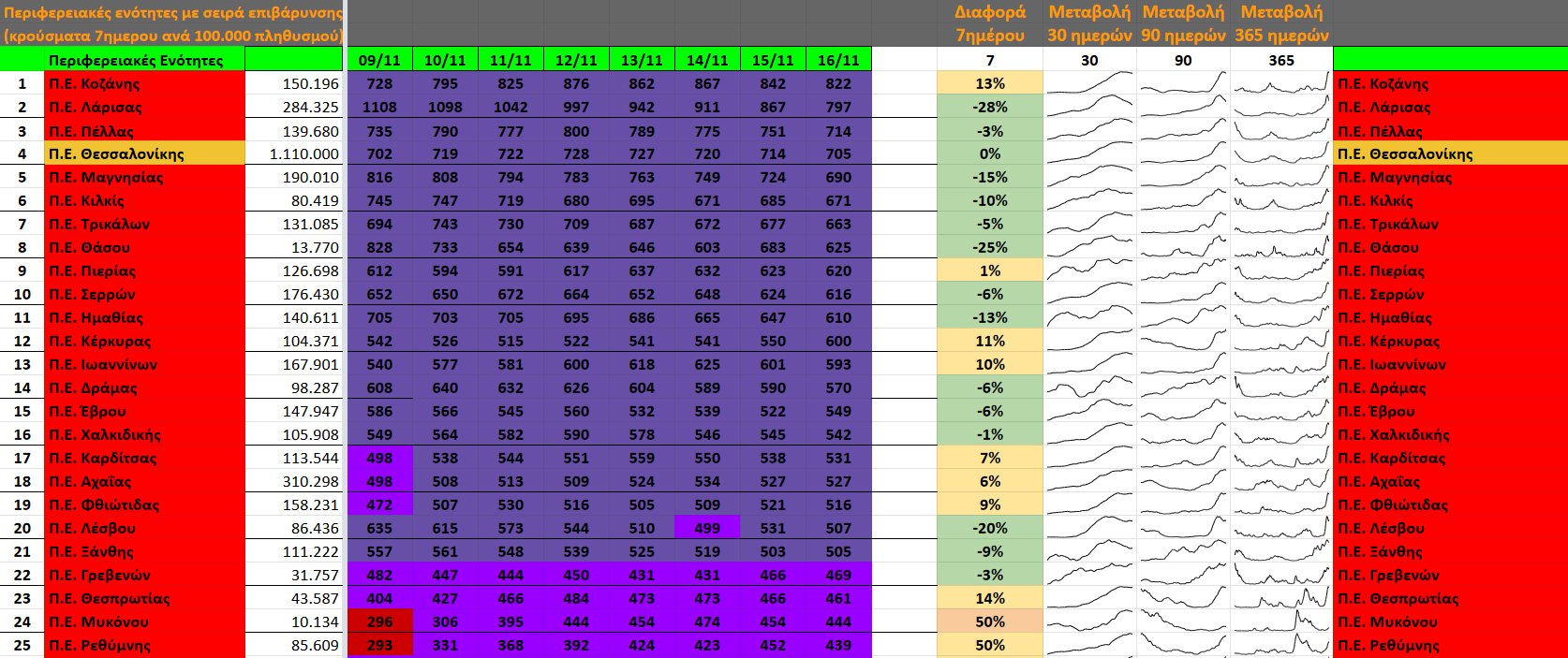 Of the 8,129 new coronavirus cases, 11 were detected at the entry gates of the country and -0- among travelers already in Greece.
The remaining cases are:
2025 Attica
1345 Thessaloniki
374 Larissa  308 Achaia
212 Magnisia
189 Kozani 182 Serres
172 Evros
169 Aitoloakarnania 165 Pella
155 Imathia  151 Ioannina  150 Heraklio
142 Fthiotida
139 Corfu
125 Trikala
109 Messinia  105 Halkidiki
100 Xanthi
95 Karditsa 92 Drama
89 viotia 86 Corinth 85 Lesvos 84 Kilkis
79 Rodopi
69 Kavala 68 Rethymno
Each 53 Arta, Rhodes
47 Arcadia 45 Evia
Each 44 Argolida, Chania
42 Preveza
38 Kastoria 37 Grevena
each 36 Ilia, Thesprotia
33 Lakonia 32 florina 31 Zakynthos
26 Lasithi
16 Kos 13 Evrytania
Each 12 Thassos, Samos
11 Fokida
Each 7 Kefalonia, Mykonos
Each 6 Limnos, Sporades
5 Lefkada  4 Paros
Each 3 Ikaria, Thira, Syros, Tinos
Each 2 Kalymnos, Chios
Each 1 Andros, Naxos
223 under investigation
MAP:  Coronavirus Infections last 14 days per 100,000 population
Nov 16 same stand as Nov 15
More details on EODY daily bulletin in Greek here.
More information on coronavirus in Greece here.