Temperatures plunged down to -12 degrees Celsius in some mountainous regions of Greece's mainland causing strong frost on Wednesday morning. Snowfall and ice on Mt Parnitha prompted the traffic police to close off part of the road leading to the mountain in the north of Attica. The country is affected by a so-called Polar Jet Stream, fast flowing, narrow, meandering air currents in the atmosphere coming from the North-West.
Snowfall in Attica comes as a cold front sweeps through the country, plunging temperatures in many parts below the 0 Celsius mark.
Lowest temperature: Mavrolithari, Fokida -11.6° C, Pertouli, Trikala -9.8° C, Nevrokopi -9.6° C via meteo.gr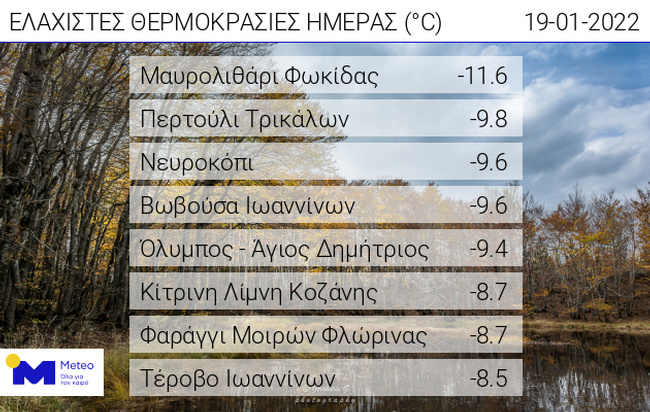 According to the national meteorological service, Wednesday's chill will ease on Thursday and Friday, before returning with a snow weather deterioration and new temperature plunges on Saturday, Jan 22, as a polar jet stream will hit the country.
National Meteorological Service (EMY) forecasts heavy rainfalls, dense snowfalls and significant temperature drop:
Weather deterioration from the upcoming weekend, Jan 22-23, with snowfalls in mountainous and semi-mountainous regions but also in low altitudes in central and northern Greece.
Temperature drop by 8-10 degrees Celsius
Wind intensity 5-6 Beaufort, locally 7 B in the Aegean sea, and 8-9 B on the weekend.
Videos by Kolydas T (EMY): Weather forecast as of Jan 19, 2022
Polar Jet Stream Jan 19-26, 2022:
According to the National Observatory of Athens, Greece will be affected by successive cold snaps in the coming week as a result of cold air masses moving south from the polar regions.
The first of these cold snaps, marked by low temperatures but clear skies, started on Sunday,  Jan 16, while the cold is forecast to deepen slightly on Tuesday and Wednesday and be accompanied by rain and snow in parts of Evia and eastern mainland Greece.
An even colder wave is expected next Saturday, Jan 23,, with a high chance of snow at even low altitudes like in the south suburbs of Athens.
According to the National observatory of Athens, reason for the persistent cold weather is due to a shift in the polar jet stream, a fast-flowing current of air circulating 10 kilometres above the surface of the Earth that moves from west to east.
The polar jet stream that moves from Canada to Europe has been pushed northward from its average climatic position in the region of Western Europe. This has resulted in the development of a region of high pressure in Central and Western Europe, bringing warmer and drier weather. To the east, however, in Scandinavia and western Russia, the jet stream turns south and carries colder air masses southward.