Greece crossed on Wednesday, February 16, the psychological milestone of 25,000 coronavirus deaths.Health authorities announced on Wednesday that another 82 Covid-patients died in the past 24 hours, bringing the total number of fatalities since the start of the pandemic to 25,001.
Authorities announced also 19,509 new coronavirus cases in the last 24 hours.
The number of intubated Covid-patients in hospitals decreased further to 485.
Official EODY data February 16

Tests in last 24 hours
PCR 25,507 RAPID 205,031
Positivity PCR and RAPID: 5.88%
Since the pandemic began, Greece has confirmed 2,235,920 infections (daily change: +0.9%). In the confirmed cases of the last 7 days, 373 infections are related to travel from abroad and 2,186 to other confirmed cases.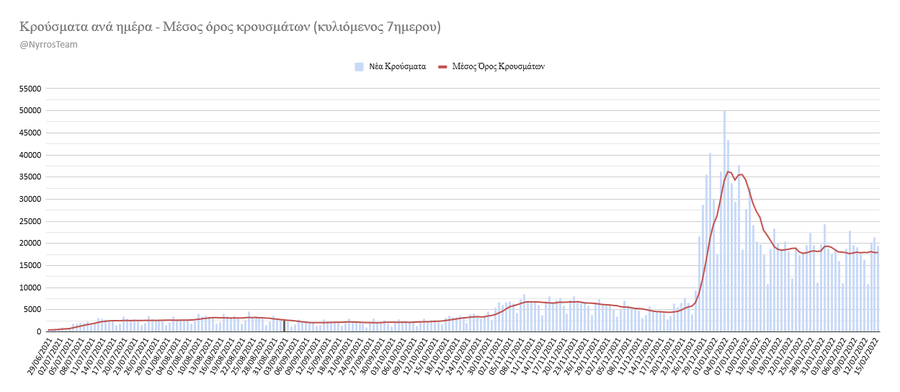 Rolling average: 17,921 from 17,810 last week.
Rt: 0.99 from 0.98 last week.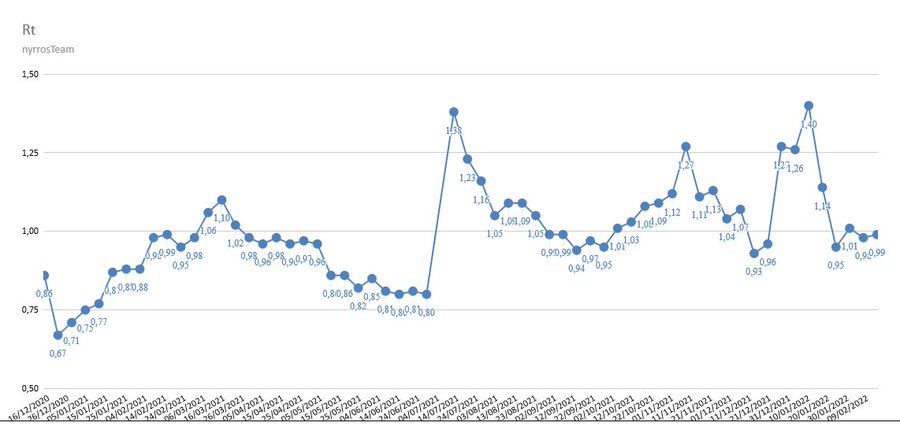 82 deaths recorded in the last 24 hours and another 2 from previous days added on today's EODY data, brought the the total of pandemic victims to 24,917*. Of these, 95.2% had an underlying condition and/or were aged 70 or over.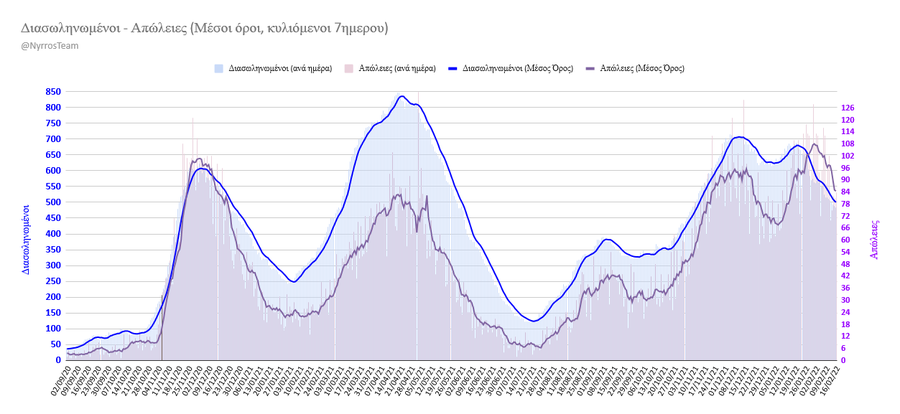 485 Covid-patients from 489 a day earlier are on ventilators in hospitals. Their median age is 66 years, 62.7% are men and 86% have an underlying condition and/or are aged 70 or over.
Of the total in intubation, 364 (75.05%) are unvaccinated or partly vaccinated and 121 (24.95%) are fully vaccinated.
4,164 have been discharged from ICUs since the pandemic began.
448 Covid-19 patients were admitted to hospital in the last 24 hours (daily change: _30.61%), while the daily average of admissions over the last 7 days was 394.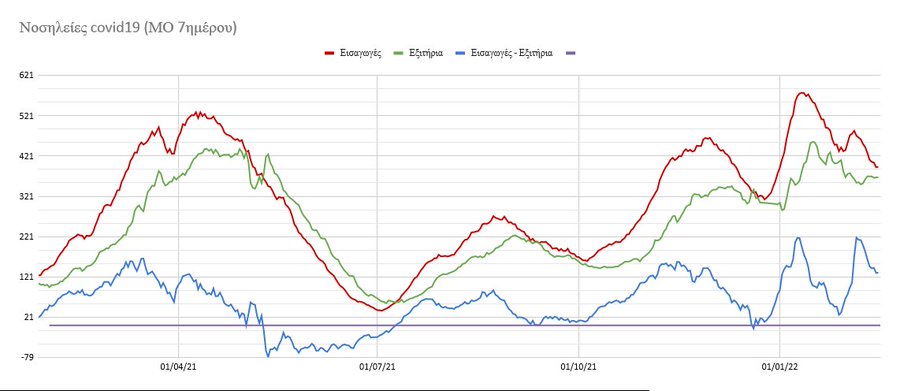 The median age of new infections is 35 years (range: 0.2 to 106 years), while the median age of the deceased is 78 (range: 0.2 to 106 years).
VACCINATIONS
Stand February 6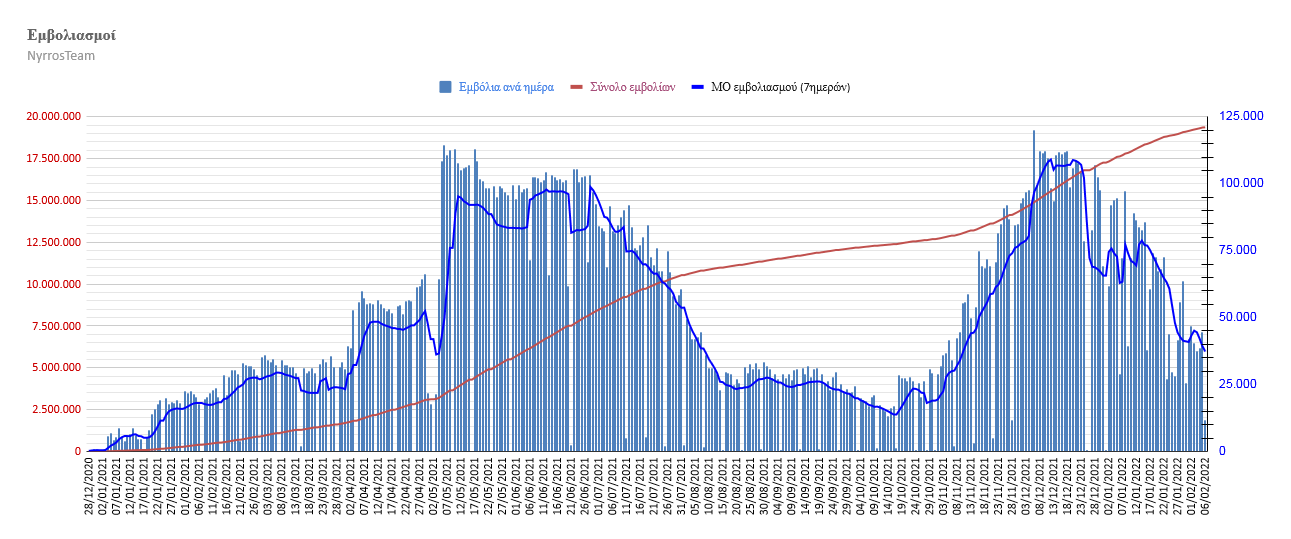 Partly vaccinated: 74.8%
Full vaccinated: 70.5%
Updates on Vaccination  program in Greece here in vaccination tracker (in Greek)
Geographic distribution February 16
Of the total 19,509 new coronavirus infections, 42 were detected at the entry gates of the country and 0 among travelers already in Greece.
The remaining cases are:
5918 Attica
2140 Thessaloniki
944 Heraklio
872 Achaia
443 Larissa
405 Chania
400 Ioannina
390 Evia
364 Messinia
325 Corinth
284 Aitoloakarnania
281 Ilia
266 Pella
255 Evros
253 Rodopi
244 Magnesia
236 Rhodes
231 Lesvos
230 Corfu
215 Trikala
201 Kozani
200 Kavala
199 Imathia
193 Fthiotida
184 Xanthi
184 Serres
182 Viotia
174 Arcadia
171 Lassithi
165 Rethymno
164 Argolida
164 Chios
160 Halkidiki
153 Pieria
147 Kilkis
140 Samos
138 Drama
125 Karditsa
123 Preveza
112 Kos
103 Arta
91 Kastoria
86 Thesprotia
83 Laconia
71 Kalymnos
68 Zakynthos
66 Kefalonia
62 Mykonos
60 Naxos
60 Lefkada
44 Syros
44 Fokida
43 Lemnos
42 Θήρας
42 Florina
37 Paros
30 Grevena
28 Karpathos-Kasos
16 Thassos
10 Keas-Kythnos
9 Ithaca
8 Andros
8 Tinos
4 Evrytania
4 Ikaria
3 Milos
3 Sporades
367 under investigation
MAP last 14 days infections per 100,000 population
** EODY daily bullet in Greek  here
More information on coronavirus and restrictions in Greece here on KTG