Greece's National Meteorological Service EMY issued a warning on Monday morning of the upcoming bad weather front with main features being heavy rain- and snowfalls, thunderstorms, temperature drop and strong northern winds blowing withe 8 Beaufort.
The bad weather front is forecast to reach Greece on Monday night, February 21, from the North-West and quickly move to the South-East.
According to EMY's weather warning, the bad weather phenomena will be intense from Tuesday morning, February 22, until Thursday, afternoon, February 24, 2022.
Video: Rain and wind forecast Feb 22-24, 2022
Weather Warning analytically & affected areas
Heavy rainfalls and thunderstorms will occur in places:
a. Ionian Islands, Epirus and western Sterea on Tuesday
from morning until afternoon.
b. Western Peloponnese at noon and in the afternoon
on Tuesday.
c. Thessaly and the Sporades from early Tuesday afternoon
and until Wednesday morning.
d. Western and central Macedonia from Tuesday afternoon
until early Wednesday morning.
e. Thrace and eastern Macedonia on Tuesday night to
Wednesday.
f. Central and northern Evia from morning until afternoon
Wednesday.
g. Cyclades, Crete and the Dodecanese from Wednesday morning through noon Thursday.
Heavy snowfalls in places will occur from Tuesday afternoon until Wednesday dawn in western Macedonia as well as in the mountainous and semi – mountainous areas of Epirus, central Macedonia and Thessaly.
Northern winds of up to 8 Beaufort will prevail in the Ionian Sea from Wednesday morning and in the Aegean Sea from Wed noon.
Increasing winds in the Ionian Sea are setting fire service and rescuers operating on the still burning Euroferry Olympia under pressure as there are still 10 passengers missing. the ferry has been tugged to the north of Corfu.
On Thursday the north winds will gradually weaken in the Ionian Sea, while in the Aegean they will temporarily reach 9 Beaufort locally.
Temperatures are forecast to drop by 5 to 7 degrees Celsius mainly in the East on Wednesday.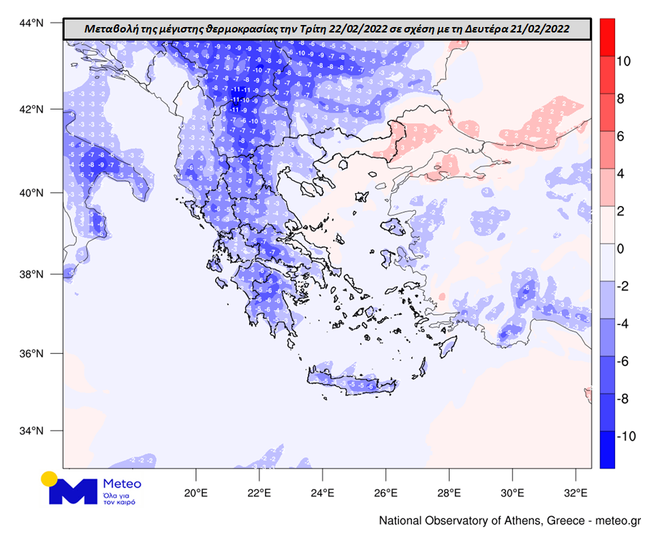 Temperature change on Feb 22 when compared to Feb 21.
Indicative weather forecast maps