At the 103. Anniversary of the Pontic Greeks Genocide and millions still mourn the 353,000 men, women, children and elderly slaughtered by the official Turkish state in 1919, Erodgan's Turkey lashed out at Greek officials who made commemorating statements.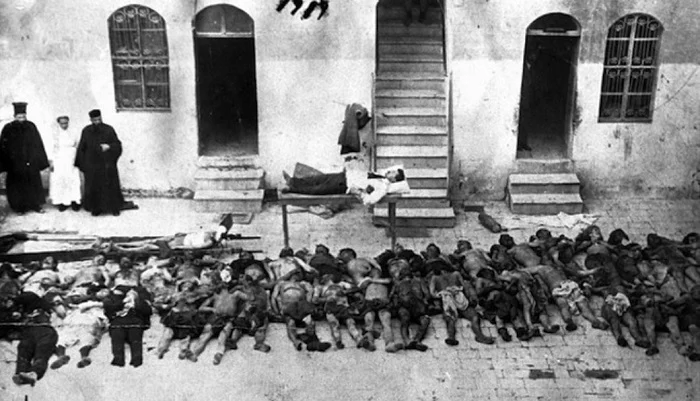 Distorting history and facts, Turkey's Foreign Ministry said in a statement "we categorically reject the delusional statements made by the Greek authorities on the pretext of the anniversary of the unfounded 'Pontian' claims, which completely distort history. It is clear that the efforts of those who try to draw enmity from history and mislead the young generations will not serve peace and stability."
Claiming that "it is regrettable to see that the Greek authorities continue their irrational efforts to misrepresent history," the Turkish Foreigh Ministry added that "we also condemn the efforts of the anti-Turkey lobbies to deceive public by bringing these biased claims to the agenda in third countries,".
The Turkish ministry was apparently criticizing Greek President Katerina Sakellaropoulou, who said in a statement earlier that the international community has a "manifest obligation" to recognize the systematic extermination of some 353,000 ethnic Greeks living on the shores of the Black Sea by the Ottoman Turks between 1916 and 1923.
103 χρόνια μετά τη γενοκτονία σε βάρος των Ελλήνων του Πόντου, κατά τη διάρκεια της οθωμανικής αυτοκρατορίας, η μνήμη των θυμάτων παραμένει ζωντανή και ζητά δικαίωση. Η προάσπιση της ιστορικής γνώσης με την αναγνώριση του εγκλήματος αυτού είναι χρέος της διεθνούς κοινότητας. pic.twitter.com/Jmoe1RzU81

— President GR (@PresidencyGR) May 19, 2022
The Pontic Greeks who were living in the area of Pontus, on the shores of the Black Sea and in the Pontic Mountains of northeastern Anatolia, had a continuous presence in the region of Pontus from at least 700 BC until the Greek genocide and population exchange with Turkey in 1923.
The Pontic Greeks Genocide was perpetrated by the government of the Ottoman Empire led by the Three Pashas and by the Government of the Grand National Assembly led by Mustafa Kemal Atatürk, against the indigenous Greek population of the Empire.
It was the systematic killing of the Christian Ottoman Greek population of Anatolia which was carried out during World War I and its aftermath (1914–1922) on the basis of their religion and ethnicity.
An Eyzonas and two Pontic Greeks in traditional costumes pay respect at the Monument of the Unknown soldier in front of the Greek Palriament in downtown Athens.
PS Next time I will think of my one great-grand father who was from Pontus, I should apply first for permission of the TR FM, I suppose … *rolling eyes*