A big Search And Rescue operation has been launched by the Greek Coast Guard after it was alerted on a shipwreck with over 100 migrants on board of a sailing boat carrying them from Turkey to Europe via Greece. According to preliminary reports, there are injured passengers and at least four missing.
On board were a total of 112 people, among them many children and women.
Video from the Rescue operation, with migrants shouting for help. According to media mykonosvoice.gr, two locals with inflatable boats rushed to assist the SAR operation.
The shipwreck occurred a few nautical miles between the islands of Mykonos and Delos in the early hours of Sunday.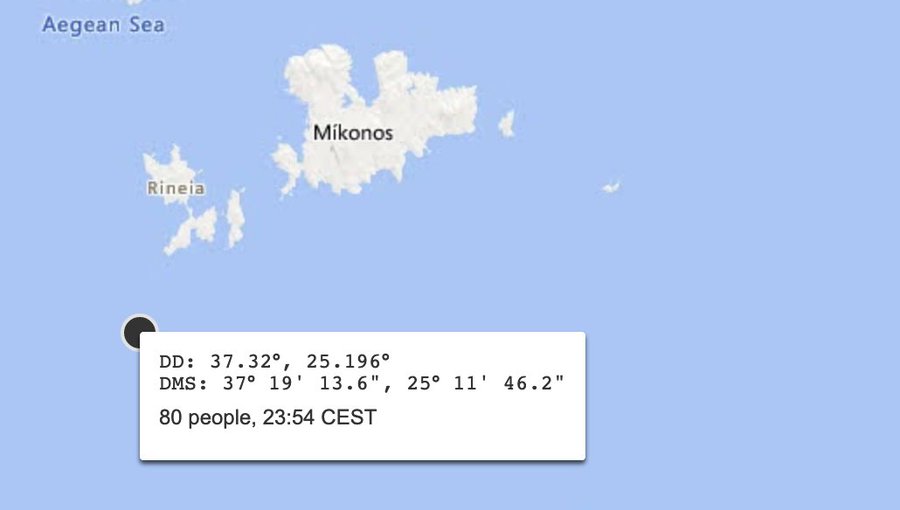 According to some media, the boat was sailing adrift but Skai TV reported that it crashed on Agios Georgios (BAOS) islet and broke into two with the effect that all passengers found themselves in the water.
At the time of the incident, winds in the area were blowing with intensity of 6 to 7 Beaufort.
Many of the migrants had reportedly managed to rescue themselves on the Baos islet.
The Coast Guard has rescued so far 108 people, among them, 21 children, 24 women and 63 men.
The survivors have been taken to the island of Mykonos, and according to mykonosvoice everybody rushed to offer help and assistance to survivors. Blankets, water and food were distributed to survivors, while those injured were taken to the local health center.
The SAR continues, however, as four migrants are reportedly still missing. Participating in the SAR are Coast Guard and private boats, commercial vessels sailing in the central Aegean sea as well as aircraft.