Greece's independent watchdog on communication privacy ADAE expressed its "surprise and institutional displeasure" that it was not consulted on a draft law on wiretapping published by the government.
In a statement published on Wednesday, the Hellenic Authority for Communication Security and Privacy (ADAE) said the draft bill "drastically changes the regulatory framework that has been in force for almost 30 years regarding the lifting of the confidentiality of communications and modifies the operation of the ADAE in many critical points."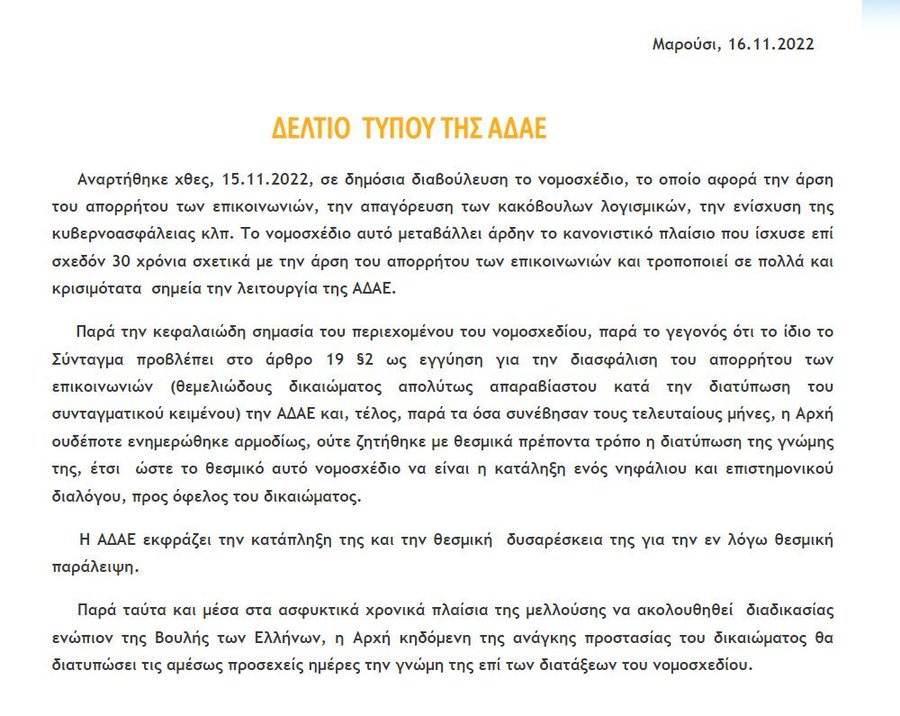 It said that despite constitutional protections under article 19.2 of the constitution and recent events, "the authority was never properly informed, nor was it requested in an institutionally necessary way to formulate its opinion, so that this institutional bill is the result of a sober and scientific dialogue."
The ministers behind the draft legislation say it will will update the process for lifting the confidentiality of communications and optimize the functioning of the National Intelligence Service (EYP).
The draft legislation has been put to public consultation until November 22 .
ADAE said that despite the tight deadline, it would formulate a position on the bill.
In a relevant question to government spokesman during the briefing on Thursday, Giannis Oikonomou reportedly responded disgracefully about the ADAE saying: "the bill is in public consultation for several days, so everyone, including them and the Authority, will be able to submit their opinions."