Greece's National Meteorological Service EMY issued a RED ALERT weather warning on Tuesday as bad weather front "Ariel" is forecast to hit the country with heavy rainfalls and powerful thunderstorms with high frequency of lightning especially in coastal areas.
Stormy south winds are forecast to blow with intensity 7-8 Beaufort.
Coming from southern Italy and moving slowly to the East, barometric low "Ariel" is expected to strike as of Tuesday night, November 29, and last until the evening hours of Thursday, December 1, 2022.
It is noted that the effects will be particularly strong in places
in central and eastern Macedonia and in the northernmost parts
of Thessaly.
According to the prognostic data of the National Observatory of Athens/meteo.gr, the precipitation episode (RPI) is classified as Category 4 (Very Important).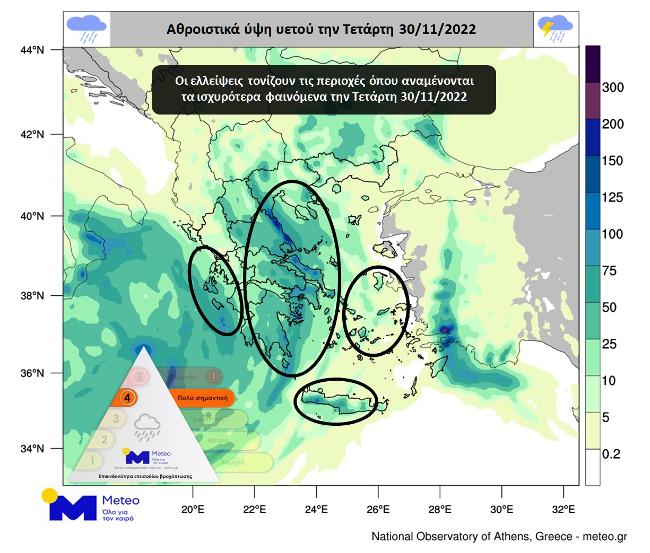 Main features of bad weather ARIEL will be heavy rains and thunderstorms which will be accompanied by hail, increased electrical activity and very strong gusty winds.
At the same time, heavy snowfall will occur in the mountainous areas of Central and Northern Greece.
EMY WEATHER WARNING Nov 29-Dec 1, 2022
A. From the night hours of Tuesday (29-11-2022) and until
midday hours of Thursday (01-12-2022): strong
rainfalls and storms in the southern Ionian Sea, west and south
Peloponnese and western Crete.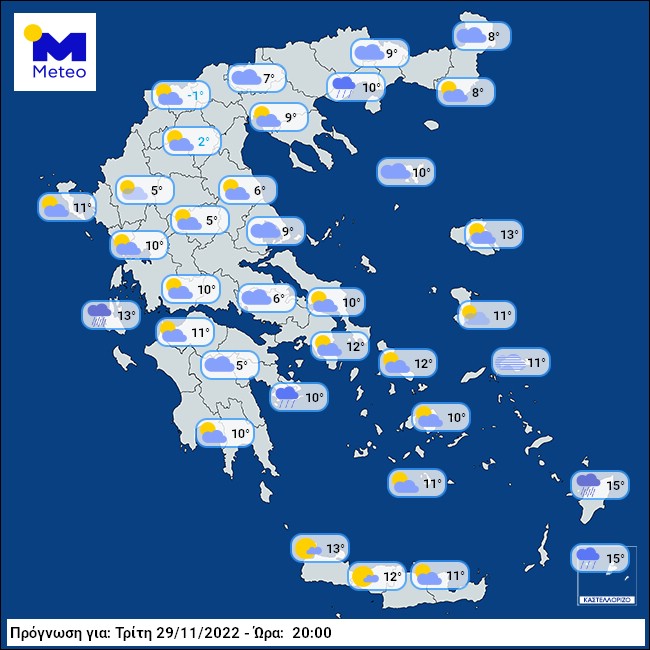 B a) From the morning of Wednesday (30-11-2022) until noon
hours of Thursday (01-12-2022) affected will be: the northern Ionian Sea, western Sterea, Epirus, Crete -mainly the West and the South-. Gradually also the rest of  Peloponnese, eastern Sterea (including Attica), central Macedonia, Thessaly,
the Cyclades, Evia and the Sporades.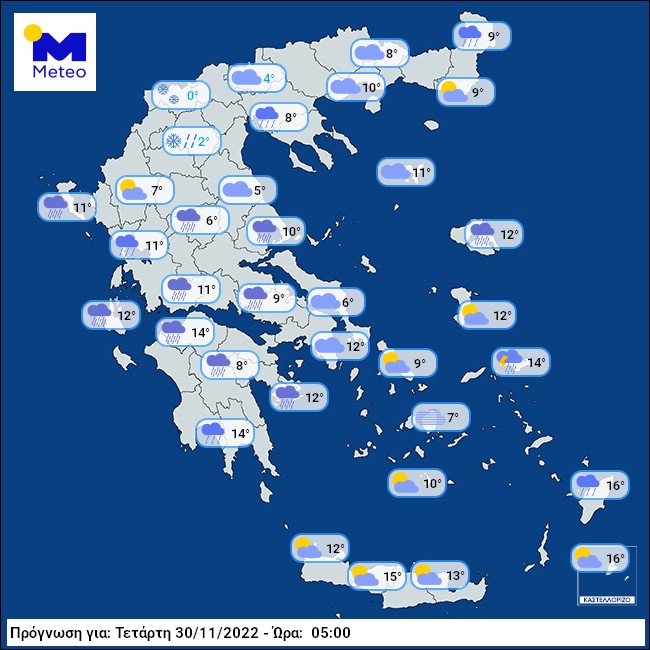 b) From midday on Wednesday (30-11-2022) until Thursday evening (1-12-2022) affected will be: eastern Macedonia, the islands of the northern and eastern Aegean Sea and the Dodecanese. From the afternoon hours of Thursday (01-12-2022) until the evening also Thrace will be affected.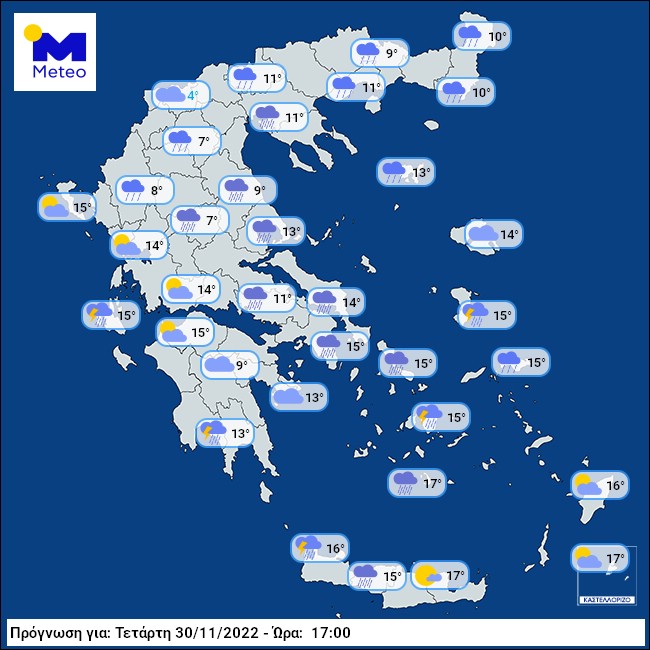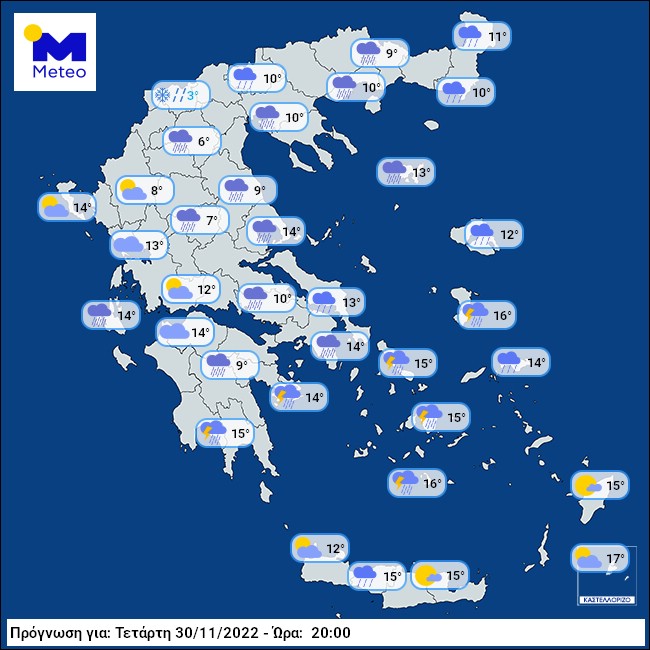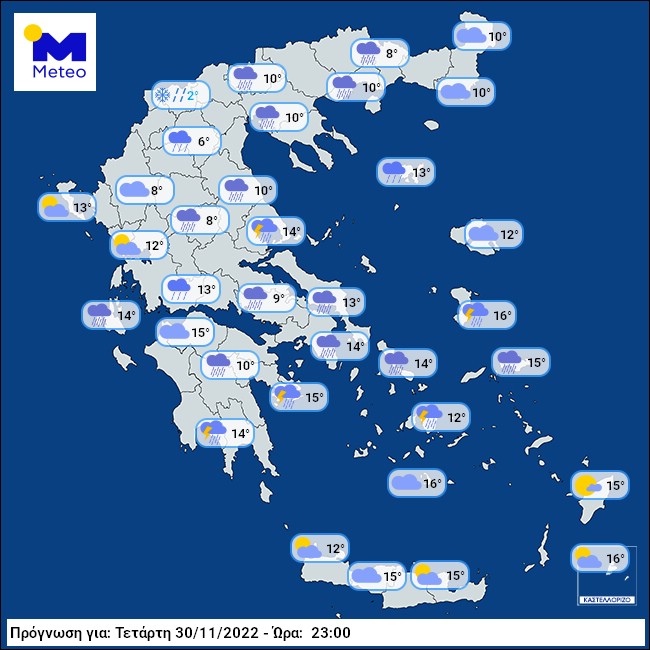 C. From the afternoon of Thursday (01-11-2022) the strong phenomena will
show gradual attenuation in most areas, but will continue to affect with heavy rains and storms until in the evening the islands of the eastern Aegean Sea and the Dodecanese.