Qatar-Gate: The Tribunal of First Instance court in Brussels ruled on Wednesday that two of the four people detained by Belgian authorities investigating a bribery scandal involving Qatar, are to remain in custody. A third one is released with an electronic bracelet.
The hearing of MEP Eva Kaili has been postponed for December 22.
In a communique, the Belgian prosecutor said the Tribunal of First Instance in Brussels had confirmed that two other suspects should remain behind bars.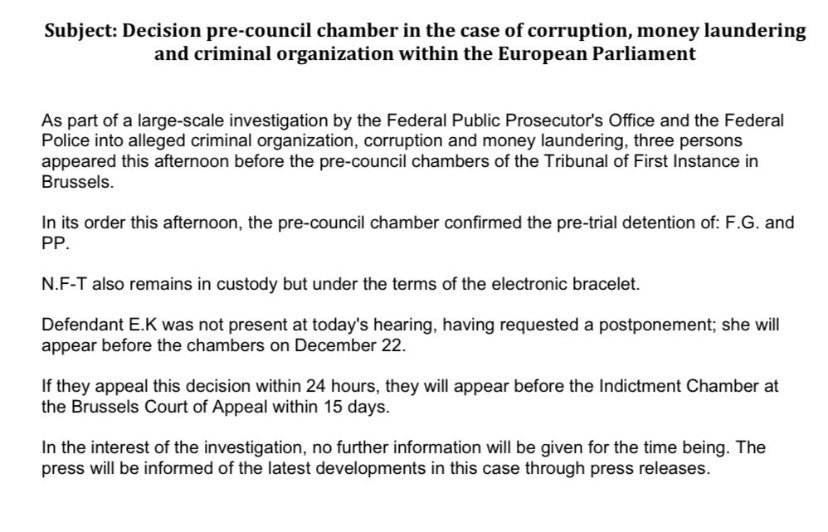 Although only the men's initials were given, the pair have been widely named as Eva Kaili's Italian partner, Francesco Giorgi, and an Italian former member of the European Parliament, Pier Antonio Panzeri, BBC and other media report.
Mr Panzeri now runs a human rights group, Fight Impunity, and Mr Giorgi used to work for him a a parliamentary assistant.
Those in custody can appeal after a month.
The fourth suspect is reported to be another lobbyist, Niccolò Figa-Talamanca, who runs a group in the same building as Mr Panzeri. His custody terms involve wearing an electronic ankle tag, so he will be allowed to leave prison.
As the hearing took place in Brussels, it emerged that Belgium's VSSE state security service had been working on the inquiry for more than a year, with the aid of other 4 or 5 European countries.
Now Greek media wonder whether also the Greek National Intelligence Service EYP took part in offering aid in disclosing the scandal that shakes the European Parliament and other institutions.
Justice minister Vincent Van Quickenborne told Belgian media that more than one country had been involved in the suspected bribery of members of the European Parliament.
Belgian police have since released pictures of stacks of euro notes in €200, €50, €20 and €10 denominations in a case that prosecutors allege involved corruption, money laundering and criminal organization within the European Parliament.
Eva Kaili, 44, was taken to a jail on the outskirts of Brussels and has since been stripped of her role as one of 14 vice presidents of the European Parliament. Her Greek lawyer denied she had done anything wrong and said she had only ever carried out official EU policy.
He also denied allegations that she had accepted bribes amid reports that €150,000 had been found in her Brussels flat.