Five leading supermarkets chains have been fined a total of 382,497 euros for over-pricing their products, Development Minister Adonis Georgiadis announced on Thursday thus making public the names of law violators.
The biggest fine, which is also the second-largest on record in Greece, was imposed to the Dutch-owned AB Vassilopoulos chain, which faces a bill of 319,900.
Lidl Hellas, a subsidiary of the German budget chain, was fined 26,880. Even though this is below the shaming threshold of 50,000 euros, authorities announced its name because it is a repeat offender.
Repeat offenders Galaxias and Kritikos also have to pay 21,387 and 9,330 euros respectively. Another chain, which remains unnamed, was fined 5,000 for its first transgression.
"The fines were imposed following a recommendation by DIMEA assigned with audits and control checks in many supermarkets," minister Georgiadis said.
He explained that violation of the law for profiteering and law violations refer to "different price on the shelf and at the cash register."
The minister noted that "the fines do not mean that these chains are generally breaking the law. In one chain, the audits showed that there was a violation of the profit margin on a portion of the products in the household basket and a large portion of out-of-basket products."
"We don't play games here," the minister reportedly stated.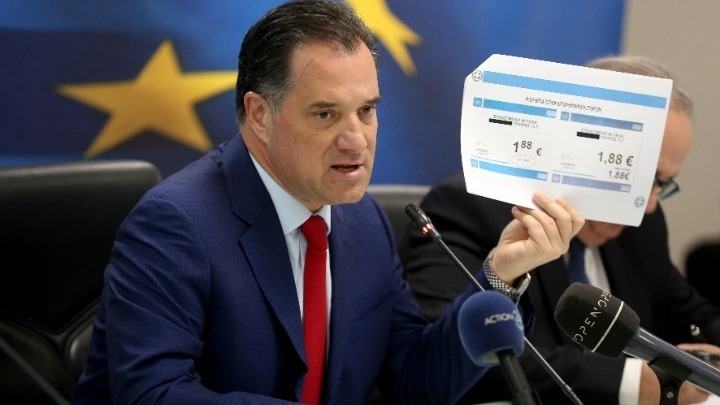 Georgiadis also presented a special 'Lent Basket' of lower-priced or control-priced goods for the Clean Monday holiday and the period of Orthodox Lent before the Easter on April 16.
Moreover, he announced that more products will be added to the regular 'Household Basket' of staple goods offered at lower prices.
The new additions to the basket include pulses (lentils, beans, chickpeas), fresh chicken and meat cuts, long-lasting milk, chocolates and white cheese next to feta.
Goods in the "Lent basket' will include halva, traditional dips like taramosalata and frozen seafood.
At the same time, he gave supermarket a month period to make product tags on shelves more visible.