Greek police has arrested seven people on the island of Crete for being members of an antiquities theft ring and seized ancient objects of estimated worth over one million euros.
Among the objects the gang was planning to sell to an Italian national are seven stone coffins and vases from the Late Minoan era and the Stone Age as well as a multitude of other antiquities..
The police operation, which included house searches, took place in the area of Krousonas in the municipality of Malevizi of Heraklio prefecture on Tuesday.
According to sources quoted by state broadcaster ERT, investigation into the case began more than four months ago. The green light for the police operation was given on Monday after the location of the antiquities in a warehouse was identified.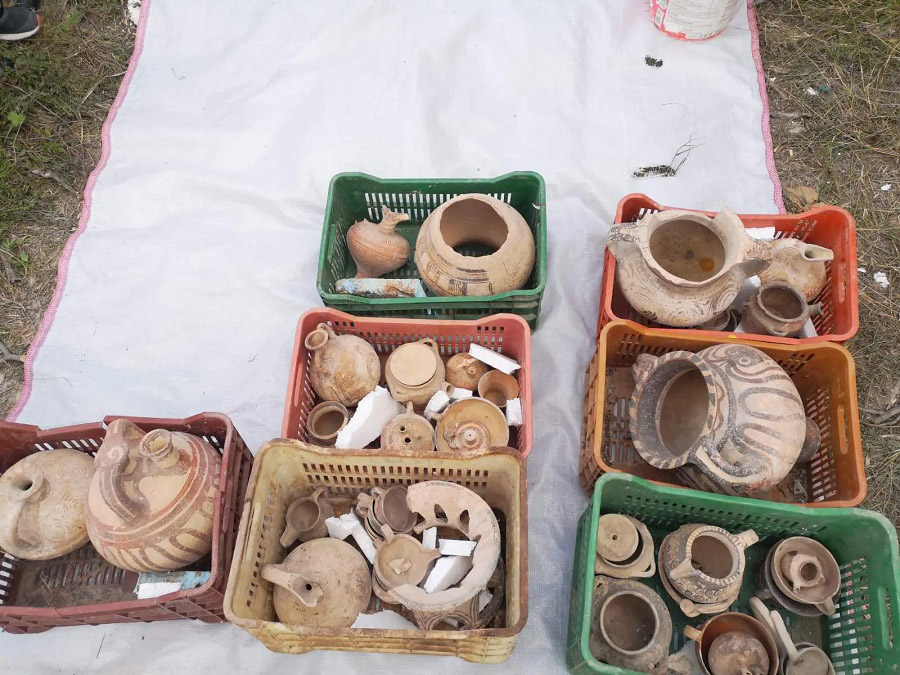 Initially five men were arrested, one later, while the interpreter assigned to facilitate the communication between the gang and the Italian buyer appeared to police by himself.
Among those arrested are a former Port authority worker, a retired employee at an archaeological service as well as the 69-year-old Italian national. They were all brought o prosecutor on Wednesday morning.
According to local media cretapost, they are to be charged depending on individual participation for acts of criminal nature such as forming and participating in a criminal organization, violations of antiquities legislation.
Police is seeking to arrest two more people.
The gang was in operation for three years, with three men a 46 year-old carpenter, a 56 year-old for Port Authority employee and a 72-year-old pensioner, being the "gang founders."
It all started in 2020 when the three men decided to deal with buying and selling antiquities.
The two first were involved in antiquities detection, recording of people who owned antiquities and also the clientele.
The 72-year-old pensioner, who used to work in an archaeological service because of his specialized knowledge, had the role of appraiser of the ancient objects found by the other two. It gave them information on both the cultural value of the antiquities and their monetary value.
One of those still wanted, a 71-year-old man was the one who located the Italian "who was desperate to acquire some of the illegal antiquities."
The Italian buyer arrived in Heraklion on Easter Sunday. The 'founders' took him to the warehouse where the antiquities were kept.
What they did not know was that in the warehouse with the antiquities there were also police men who knew about the ring as they had some of the gang under discreet surveillance.
When the group left, police raided the warehouse and later proceeded with the arrests.