Olive oil turns into a luxury item in Greece and we may soon find ourselves to use it as an expensive perfume applying just one drop behind our ear, leaving behind thousands of mourning tomatoes and vegetables crying over an oil-less, tasteless existence.
As the prices increase week in, week out, we'll end up using olive oil for the absolute essentials and stop playing games with our Greek salad
or experiment with feta cubes marinated with fresh herbs, garlic and chilly peppers.
Prices of olive oil in Greece's supermarket shelves increase by 1 to 2 euros per week with the effect that 1 liter of average olive oil that cost €4.80  a year ago is now available at €9.60 (from 8.60 a week earlier!) or even €11.60 depending on the supermarket.
And just think that it is not olive oil from this year's harvest, which is supposed to be poor,  but from the harvest in 2022.
Ten days ago, we ordered a Greek classic vegetable dish per delivery just to find out that the tomato-sauce contained half the amount of oil the fasolakia -Green beans in tomato & olive oil –  should have. The rest of the sauce was nicely boiled water, slightly colored by the tomatoes juice.
Believe me: It was a shock!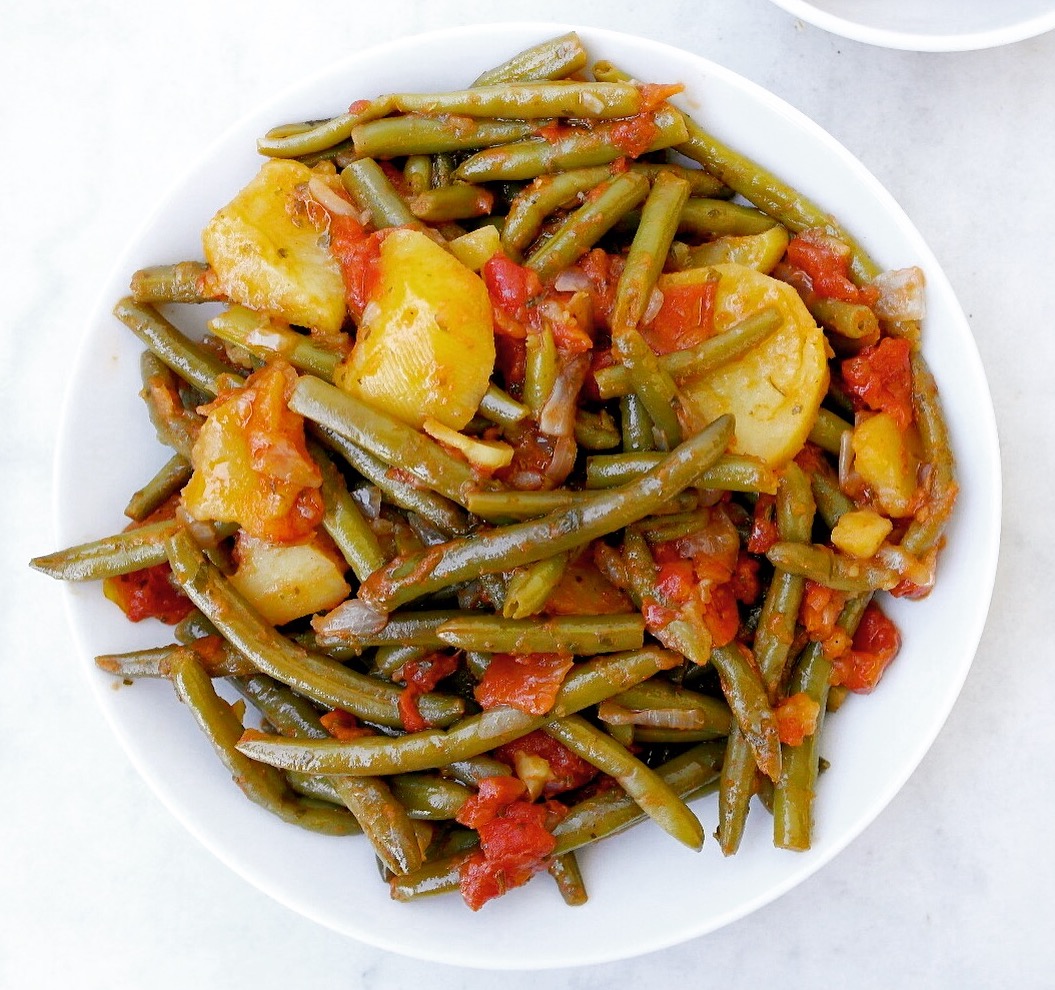 random internet picture
Olive oil in Greece is the most expensive oil in Europe and the price increased in the last ten days, media report.
From September 1 to September 11, olive oil on the shelf increased by 8.7% in the average a survey found out.
Price comparison of EXtra Virgin Oil in four big supermarket chains:
Prices are expected to keep increasing and skyrocket even at €15/L in the supermarket shelves for average olive oil and not Extra Virgin.
Price comparison in EU's South
Comparative data from Spain, Italy, Portugal and France show that Greece has the highest oil price and,  of course, the highest VAT.
In a survey conducted by the Spanish Consumers Association and presented by olivenews.gr, a comparison is made between the prices of olive oils in large supermarket chains in four countries, namely Spain, Portugal, France and Italy. As a basis, the survey compared the price of extra virgin in private labels, which have the highest consumption.
Prices in euros per liter of private label extra virgins alongside VAT rates in supermarkets in four Mediterranean countries are in the table below.
As it turns out, the average of the four countries is 7.96 euros per liter with Spain being 26% more expensive than the cheapest Portugal.
The olive oil price observatory points out that the variation in the different VAT rates of each country is also very interesting, which, however, is not enough to explain the price differences. Spain, Italy and France have little VAT while Portugal has zero.
What is happening in Greece?
The observatory carried out a corresponding pricing on the prices of private label extra virgin olive oil in four retail chains in our country for the ten-day period 1/9-11/9 of 2023.
It turned out, the average price of one Liter has reached €10.205, that is, an increase of 8.7% within ten days. It should be noted that an even greater burden on the price of oil results from the VAT, which is 13% in Greece.