Major contemporary art exhibition Documenta 14 opens its doors in the Greek capital Athens on Saturday, April 8. Visitors may wander into 40 small and big venues across the city to watch and admire the works of 160 artists from all over the world.
For the first time in its history Documenta will take place in two cities: in Kassel, Germany and in Athens, Greece.The exhibition proceeds in both countries, while the artists work with and on both locations.
It is also the first time that Germany's most renowned and most debated international exhibition of contemporary arts leaves home. The decision to was taken in 2014 and the concept was to use culture to draw attention to the Greek crisis. documenta 14 runs under the working title "Learning from Athens."
In Athens it runs from April 8 to July 16, in Kassel from June 10 to September 17, 2017.
Katalin Ladik, installation view, EMST—National Museum of Contemporary Art, Athens, documenta 14, photo: Mathias Völzke
In an interview with Artforum curator Adam Szymczyk said that the strict austerity measures currently in place in Greece inspired organizers to hold Documenta there.
"One of the reasons to work in Athens in parallel to Kassel is precisely to make the exhibition in a place where you can see how problematic things are at the moment, and how much worse they may soon become—though not, naturally, to simply induce passive spectatorship."
Szymczyk added that the exhibition "emphasizes an idea of active exchange" and is an ongoing process that "would ideally produce knowledge about conditions within and far beyond Athens, conditions that are themselves constantly evolving."
In the Greek capital, Documenta will  be staged at forty public venues, including the Athens Conservatorie, the National Museum of Contemporary Art (EMST), the Temple of Olympian Zeus, and the Athens School of Fine Arts.
At a news conference in March, EMST director Katerina Koskina said, "We believe that Documenta 14 comes to Athens just in the right moment. Despite the crisis and its impact on our everyday life in Greece, there is a vivid reaction expressed through a great interest for creation and culture especially from the younger generation. This is a turning point for EMST and both a challenge and an opportunity for the Greek artists. Believe me, they deserve it."
Learning from Athens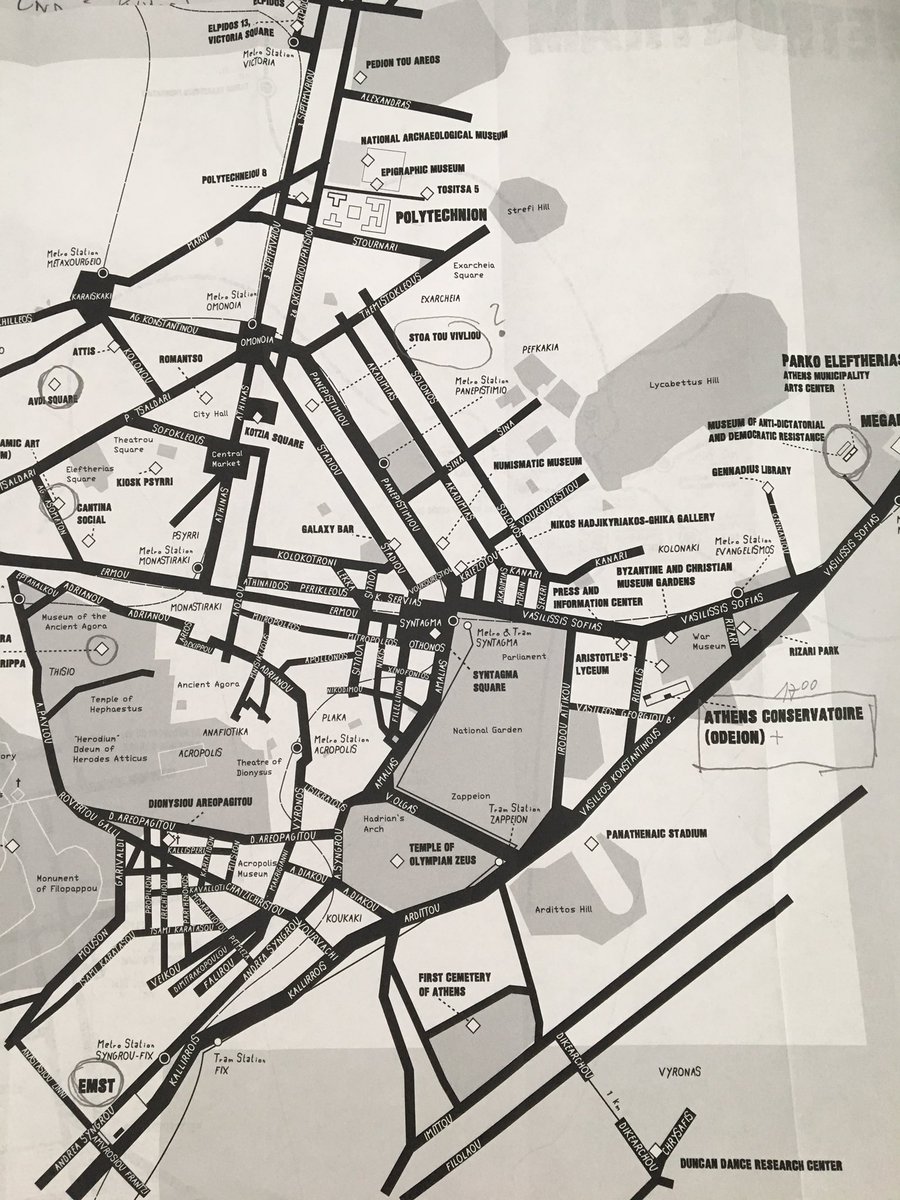 map via  @OfficeforArt
Inauguration Week Program
On April 8, documenta 14 opens its exhibition in Athens. Extending over the city in more than 40 different public institutions, squares, cinemas, university locations, and libraries, over 160 international artists will show works newly conceived for documenta 14.
German President Frank Walter Steinmeier, currently in Athens, will attend the inauguration ceremony on Saturday.
Steinmeier has invited Greek President Prokopis Pavlopoulos to inaugurate documenta 14 in Kassel.
The main exhibition venues will be open Tuesdays—Sundays, 11 am–9 pm, and Thursdays 11 am–11 pm.
Just some delicacies from the Program on Saturday, April 8
Nikhil Chopra
Drawing a Line through Landscape, performance, Archimedous Street 15 (Moschato), ongoing
Rasheed Araeen
Shamiyaana–Food for Thought: Thought for Change, cooking and eating, Kotzia Square, 1–2:30 pm and 3–4:30 pm
Marie Cool Fabio Balducci
Permanent all day installation with daily actions when the sun enters into the gallery space, activated by Florent Frizet, EMST–National Museum of Contemporary Art (4th floor), 11 am–1 pm
Prinz Gholam
My Sweet Country, performance, Temple of Olympian Zeus, 11 am–1 pm, 6 €, reduced 3 €
Marta Minujín
Payment of Greek Debt to Germany with Olives and Art, performance, EMST—National Museum of Contemporary Art (entrance), 4 pm
Syrian Expat Philharmonic Orchestra perform #Gorecki Symphony of Sorrowful Songs. 8 April 8.30pm
Sunday, April 9
Ross Birrell
The Athens–Kassel Ride: The Transit of Hermes, launch event, St. Sophia's Church of Acropolis, Dionysiou Areopagitou Street, 12 pm, noon
Walks with documenta 14 chorus

Paths, routes, and parcours cross and intertwine, as visitors consider the pathways taken by peripatetic thinkers as a point of departure for a reflection on the act of walking. Joining a member of the documenta 14 Chorus, visitors can create their own lines of inquiry, questioning and entering into dialogue as they unravel and unfold documenta 14 together.
Historically, the chorus of Greek tragic theater was made up of nonprofessionals and citizens who served as commentators, shape-shifters, and empathizers between the audience and the actors.
The Chorus for documenta 14, meanwhile, enacts a multiplicity of roles with visitors to the exhibition, drawing out broader perspectives related to the sociopolitical and geographical contexts of the documenta 14 project.
Visitors thus become contributors to the life of documenta 14—negotiating routes and responses to artworks alongside one another. The documenta 14 Chorus creates a chorality that continues to resonate with mythologies, stories, debates, and rumors beyond the realm of the exhibition.
Please see here for more information on the Walks. Walks in Athens or Kassel accompanied by members of the Chorus can be booked via the webshop or purchased on site.
Piotr Uklański and McDermott & McGough, The Greek Way, 2017, installation view, EMST—National Museum of Contemporary Art, Athens, documenta 14, photo: Mathias V­ölzke
pictures via documenta 14.de
Beatriz González, Decoración de interiores (Interior decoration), 1981, screenprint on canvas, Athens Conservatoire (Odeion), documenta 14, photo: Mathias Völzke
Full program of inauguration week here
check also documenta 14 official website.