When logic does not help, desperate people turn to superstition. French fiance minister Bruno Le Maire brought a groundbreaking proposal to Athens, a proposal aiming to break the deadlock between Germany and the International Monetary Fund on the Greek debt relief issue.
However, Le Maire's plan is "too complex" and has little chance to be adopted by the country's  key players.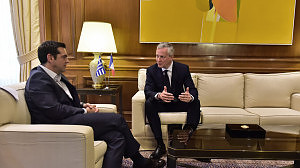 "We are not away from a solution, a solution must be found on June 15," Le Maire told Greek Prime Minister Alexis Tsipras. He recalled he has been in close contacts with German finance minister Wolfgang Schaeuble, managing director of IMF Christine Lagarde and Eurogroup head Dijsselbloem in the last ten days. "Therefore, I can  state that I am really optimistic and we will manage a good agreement on June 15," he added.
Then the meeting turned into a scene from the famous comics hero Asterix, the Gaul in Ancient Greece.
Gaule Brunix said "optimism is not always enough, luck is needed as well." He showed Greek Alextsipridis a lucky amulet he had bought on the islands of Amorgos during his last vacation.
With the optimism we have and the luck the Greek gods will bring us, we'll manage it," Brunix said.
Alextsipridis replied "There is an ancient saying 'Gods help those who help themselves'. We are sure of the favor of gods, however, we have to do our duty and help them a little."
Then Brunix and the rest of the Gaul delegation moved to enjoy themselves in the fancy narrow streets of Plaka in establishments specially designed for tourists.
Now, ahead of the Eurogroup, everybody dreams of fame and honor.
I don't know when exactly Brunix bought his lucky amulet but it did help him to become a finance minister of a big country.
What? He was always a minister? He spent most of his professional time working a … politician?