Every year, it gets worse. Out of fear of anti-austerity protests and harassment of politicians, Greece  celebrates its National Days with … private parades. Hundreds of students and members of the Armed Forces paraded in front of politicians and …policemen on 24. and 25. March 2013.  In the third year of loan agreement with the country's lenders.
From us to us…
Draconian security measures and some 4,000 policemen have cordoned the area in front of the Greek Parliament  and the whole of Syntagma square keeping away spectators, families of paraders included.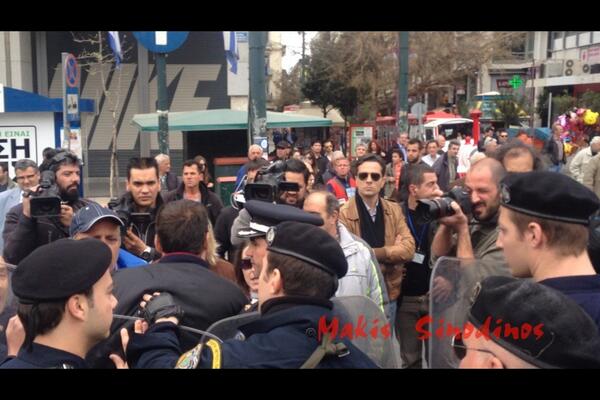 Security measures are in effect since Sunday, where the students' parade took place.
Video:
embedded by Embedded Video

YouTube Direkt
Greek police had ordered even the closure of metro station <Syntagma> for two days.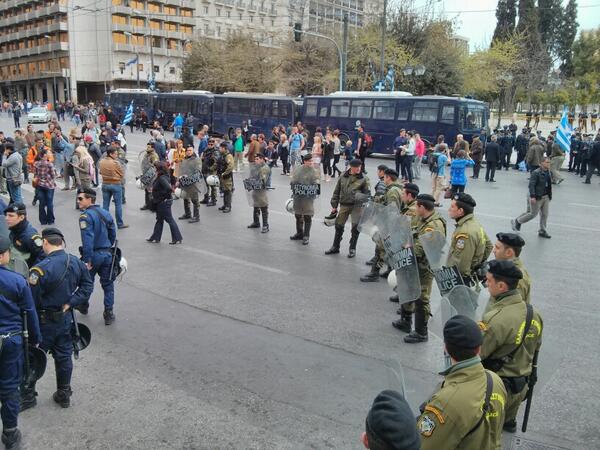 After the parade was concluded, the President, the Defense Minister and some other politicians sent their messages to the people on the occasion of the day. But the people were not there…
Video: tension between police and members of Spitha movement as they try to move closer to parade.
embedded by Embedded Video

YouTube Direkt
Thousands of Athenians had to watch the parade live on television. When politicians started to talk, rumors claim that the Athenians used the chance for a frenetic TV zapping.
Spectacular and "private" student's parade on 24. March 2013 ( photo by Dimitris Messinis/AP)
PS next time they can hold the parades in an army camp or something like that. No need to deploy all these policemen and having to pay overtime allowance.