Reporters follow every step of hers and flashlights capture a hand shake, a smile or a glimpse of a wink. Whether she meets with local authorities, tours ancient sites in Athens or pushes away a strain of her hair, reporters are always there to capture the moment and inform the public about her moves.  She is not a Hollywood star but she brings a lot of Hollywood flair with her – by marriage. Skinny, classy and chick, a mixture of Jackie O and Inès de La Fressange, Amal Alamuddin – Clooney has become the talk of the town… in fact … the talk of the country since she arrived in Athens on Monday.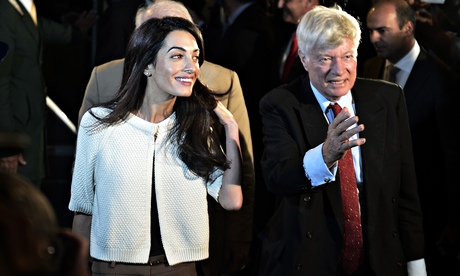 Amal Alamuddin & Geogrey Robertson arrival in Athens
Mrs Clooney is currently in Athens to help Greece reclaim the return of the Parthenon Marbles stolen by the Brits.  She did not came in Athens as the wife of George Clooney but in her capacity as human rights lawyer. Along with her colleagues Geofrey Robertson, David Hill and Norman Palmer, Alamuddin will hold meetings with Prime Minister Antonis Samaras and Culture Minister Konstantinos Tasoulas. The lawyers team of London-based Doughty Street Chambers will advice the Greek government how to claim the Parthenon Marbles that were illegally acquired by Earl of Elgin in the 19th century and have been exhibited in London since then.
According to The Guardian, the London-based lawyers who are experts in cultural restitution will discuss how Greece can best pursue its claim to win back the treasures, widely seen as the high point of classical art, from the British Museum. In the ever-bitter battle of nerves that the heritage dispute has become, the meeting, for many, is already a coup. "We need all the friends we can get," Tasoulas, a British-trained lawyer himself, told the Guardian ahead of the talks.
Lawyer Amal Alamuddin gained prominence after she married famous actor and director George Clooney last month in a lavish ceremony in Venice. The involvement of Mrs Alamuddin-Clooney to the return of the Marbles campaign gave the issue a new, a fa-bulous touch.
"We really welcome celebrities getting involved. As campaigners we chip away at changing public opinion, but people take notice of celebrities, so it's good news for us," said Eddie O'Hara, the chairman of the British Committee for the Reunification of the Parthenon Marbles, which has campaigned for their restitution for 30 years.
George Clooney himself had set for the Return of the Parthenon Marbles when he was promoting his film The Monuments Men last February.
More pictures in NewsIt.gr
Greek media praise the simplicity of Mrs Alamuddin-Clooney stressing that she did not demand to stay in the Royal suite of Hotel Grand Bretagne (why should she?) and that she enjoys the Mediterranean cuisine with lots of veggies and fruits.
Τhe lawyers team from Great Britain is to visit the Acropolis, the new Acropolis Museum, enjoy lunches and dinners with the Culture and Tourism Ministers.
+++BREAKING NEWS: Fabulous Amal Alamuddin sat next to equally fabulous Tourism Minister Olga Kefalogianni for lunch at a famous fish restaurant of a famous and …fabulous Greek chef. The menu contained urchin salad, sea bass carpaccio, crispy red mullet on smoked eggplant mousse and dorade on celery root mousse.

For dessert there is mascarpone parfait on lemon biscuit and cream with passion fruit.

While everybody drank white wine, Mrs Alamuddin-Clooney drank red.

Red wine with fish? Not so fabulous….
Tomorrow, Wednesday, the team will meet with PM Samaras and hold a press conference. The team will leave Athens with fabulous memories.
The transport and accommodation costs for three days for the lawyers team -private driver included – paid by the Ministry of Culture with taxpayers' money amount fabulous 10.885,50 euro. Meals, snacks and other cost excluded.
PS Oh, I almost forgot! Mrs Alamuddin-Clooney said she was happy to be in Athens and told reporters that she has been on the island of Santorini before.
"FA-bulous!", as Carrie Brandshaw would say 🙂