It started with a false claim and soon spread like wild fire. The claim on Friday evening was that a certain Greek bank had limited cash withdrawals from ATMs. The claim 'coincided" with the fact that it was a pension payday and people had gone to the ATMs to withdraw their pension. PM Tsipras' announcement of a Referendum amid relentless creditors put the icing on the top of uncertainty. In the middle of the night, Greeks flocked to nearby ATMs to withdraw cash. What stated with small lineups at night, it swelled to long queues during the day. Orderly queues with no sign of panic.  Yet:
The ATM Run which was much awaited and much orchestrated by certain circles – had started.
The small queues started short after 7:30 pm on Friday evening, as it was pensions payday. It often happens when pensions are been paid on Fridays as the banks close to public at 2 pm. With many jobless families without an income grandpa's or gandma's few hundreds euros is a blessing to cover basic needs, pay utilities.
But last night it was different. Around 9 pm some rumors on Greek social media were claiming that the Alpha Bank, one of top four systemic Greek banks, was limiting cash withdrawals to 150 euro.
Capital Controls introduced only by Alpha bank? Weird… The Alpha Bank had made an announcement on Friday morning that it would limit Web Banking functio9nality over the weekend.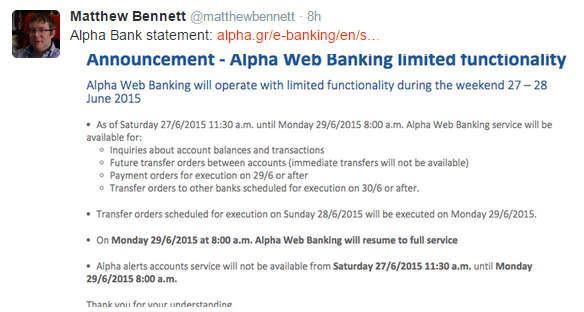 Alpha Bank had made the announcement on Friday morning, long before the Greek Prime Minister announced the Referendum. But the rumors on the social media and the recent international and local media cheering "capital controls" pushed concerned Greeks to leave their homes and rush to a ATM nearby.
The panic was triggered also by mainstream media like To Vima, or Naftemporiki that had uploaded pictures and news on ATM Run before 10 pm. they later took down the news – but screen shots are still available.
Some concerned Greeks were out anyway, after Friday's dine out, cinema and the usual summer hanging out.
Soon pictures from small lineups outside ATMs in several suburbs of Athens started to be uploaded on the internet. It felt like a "must" to confirm " I was there too" when the ATM Run took place.
When Prime Minister Alexis Tsipras announced the Referendum at 1 a.m., even more concerned Greeks sought the ATMs. But it was mostly young ones as the pensioners had fallen in a deep sleep.
People were standing queue to withdraw money also at 3 o' clock in the morning.
The ATM Run continues also on Saturday and the first ATM to run out of cash was the one at the Greek Parliament. Lawmakers flocking to the Parliament to join the Debate on Referendum first checked-in to withdraw money.
Greek media report also from queues at the few bank branches in downtown Athens that are open on Saturdays too (I did not know that…)
At the same time the rumor and fearmongering machinery is spinning at highest speed. Everyone who has a Twitter- or Facebook-account feels obliged to claim from "empty ATMs" to "€400million left Greek ATMs at night" to "imminent capital controls."
As Saturday proceeds, the queues outside the ATMs become longer. Some of them run out of money. The Bank of Greece has
reportedly
gave orders to banks to keep supplying the ATMS with fresh money.
At the same time, some friends told me that they went to supermarket to be armed with rice, pasta, floor, cans, condense milk and frozen food items.  Many wonder if the banks will open on Monday.
Of course, there are people who continue their lives as normal. You know, the kind of people who have 0 balance at the bank and cannot withdraw anything or buy food supplies…
PS Habemus ATM Run and unfortunately I don't like neither rice nor pasta not frozen food 🙁
Ops! Wrong picture from Cyprus Capital Controls.