Molotov cocktails and stones were hurled, tear gas and flares were fired: it needed a group of anti-authoritarians and just ten minutes to turn the area around the Parliament and Syntagma Square into a battle field.
Vehicles and garbage bins were set on fire, shop windows and ATMs were smashed.
embedded by Embedded Video

YouTube Direkt
The clashes started amid the anti-austerity rally organized by public sector unions outside the Parliament, while inside the Parliament Greek lawmakers were debating the Bill of 'prior actions' demanded by the Euro creditors before tonight's voting.
Greek media report of molotov cocktails landing right in front of riot policemen and of motorcycled policemen who drove almost over rioters in order to arrest them.
Media report of more than 50 detentions.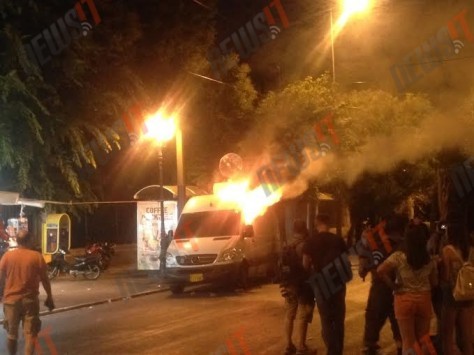 ANT1 TV van on fire
Public sector union ADEDY and leftist party ANTARSYA had called for an anti-austerity  rally in the afternoon, the anti-authoritarian were meeting outside the Athens University nearby.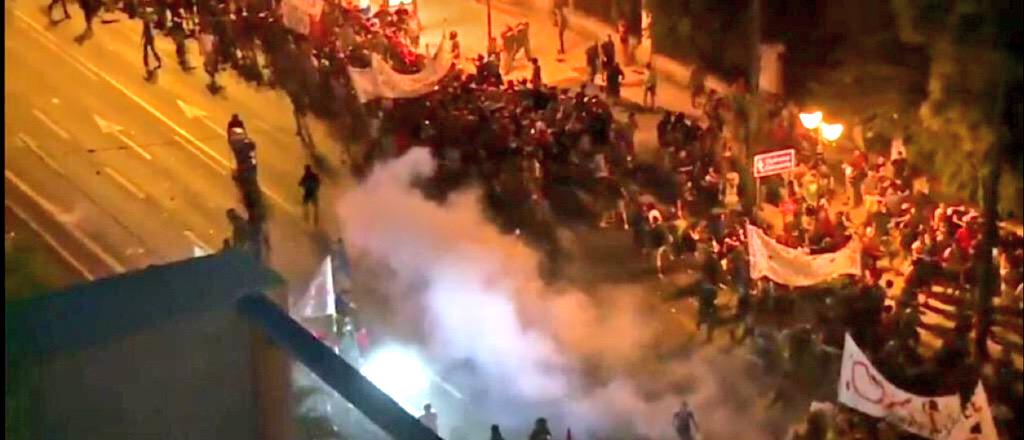 When the situation got out of control, rioters, unionists, local and foreign journalists covering the rally, they all got teargassed by the riot police.
embedded by Embedded Video

YouTube Direkt
It is not the first time since 2010, when heave clashes occur outside the Parliament when lawmakers vote tough austerity measures.
In the surreal world of Greece, those who were protesting outside the Parliament 2010-2014 (SYRIZA) are now sitting in the government chairs pushing for the strictest austerity bill of all times.  Those who were voting in favor of austerity bills 2010-2014 (PASOK, New Democracy) are now supporting the former opposition to pass the Brussels Agreement bill, as the government faces opposition from its own party.
And to make the situation more weird, even the government lawmakers heavily criticize the bill they are going to vote in favor, in a couple of hours.