I read today that unemployment in Greece dropped down to 24.2% in February 2016. In comparison, general unemployment was at 24.4% in January 2016 and 25.8% in February 2015. That's definitely good news even though I am not sure about the correspondence of real people to a percentage difference of 0.2.Does it mean that half a human found a work while the other half is still unemployed? Hardly. It's the statistics, the average something in the unreal world of spreadsheets, the relentless numbers claiming crazy things like that a couple has 1.5 child.

But I am not going to argue with Eurostat and ELSTAT that released this data. Fact is that 1,159,000 people in Greece are without a work.
Among youth, unemployment is still devastating high at 51.4% signifying that one out of two Greeks below 25 years old is without a job. Here is also a comparison to previous month and year: youth unemployment was 51.9% in January 2016 and 51.6% in February 2015. 
With these rates Greece tops the unemployment list of European Union member states and is followed by Spain with 20.1% in general unemployment and 45% among youth.
What the official data do not capture though are the real labor work conditions and the exploitation of labor forces in times where for one single job vacancy the candidates are several hundreds.
Competition is high and dumping wages a common practice since 2010, when the country entered the lenders' bailout program. High general unemployment and in youth that reached up to 60% as well as the IMF's pressure for low wages in the name of the famous "competitiveness" has been widely exploited by employers. Greeks invented a new term to describe the situation "Galley Labor Conditions".
For example: €420 net wage (510,95 gross) for 8-hour full time 9-5 job for a son of a friend of mine in a big company with dozens of branches across the country.
The 24-year-old was hired to fill up the shelves at a local branch. "Now I know what they mean when they speak of galley," the man told me recently. "I keep rowing and rowing without a break and the director keeps chasing the staff shouting 'Hey, you! Move! Why standing around? Move! Do! Move!"
The young man was hired for three months and he is lucky to live with his family and not to have to cover all monthly expenses in case he was to live on his own.
Another friend, a former long-time unemployed aged 40, has a similar job in another big chain retail shop. He was hired also on a short-term contract and a monthly wage of €580 gross. He experiences the same "galley" labor conditions. "Hadn't I have to feed two little ones, I would have gone. But I cannot afford it."
At the same time, several thousand people work in the 'black' labor market without registration, social security, taxes payments and workers' rights and wages below the existence minimum.
"Better without insurance than no money at all," is a common knowledge among the army of unemployed in this country. And they are right. Because human needs money for food, accommodation and utilities. No soup kitchen can pays the electricity or water bill, the rent.
Everybody knows that the black labor market is flourishing and everybody tolerates that. Even the governments, the current and all the previous ones.
I have written many times since 2010 about the labor issues in Greece. Nothing has changed: except that now there are a few more job openings – even part-time, even short-term.
Conditions are slim and mostly the money not enough to make a living. Not many businesses pay their employees in time and the turbulence in the media sector have showed that workers can remain unpaid for more than 3 months.
For course, there are businesses that pay above the minimum wage and in time. And employees are consider themselves "lucky" to go home with 700-1,000 euro at the end of the month.
However the worse is still to come. The lenders put pressure for mass lay-offs and lower wages in private sector and even further cuts in the minimum wage. The issue will be put on the table in upcoming autumn, with the second program review.
What is not by law can start be implemented already. According daily Imerisisia,  representatives of a hotel facility in Northern Greece and workers signed an agreement for lower wages. The minimum wage is set to €500 gross instead of the official 586,08 for workers over 25 years old.  The daily wage is set down to €20 gross from 26.18 today. The collective contracts was signed for the period 1. June 2016 – 31 May 2018.
However, contrary to the ancient galley tradition to have rowers chained to the oars, modern times slaves are not chained and are allowed to take a breath every hour or so.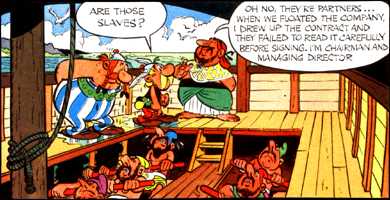 Greece is just the lab rat in the concept of imposing neo-liberal politicies. Soon it will happen in a home near yours. No wonder, the French are in uproar seeing the labor lives at risk, even though the France has not been bailed out. No wonder, also, that international mainstream media do not cover the French protests in the extend they should as they did in case of Greece.
Yesterday, I read on a Greek blog that "Greeks do not protest because instead of moving to the squares and the streets, they moved to the airports and left the country." Unfortunately, it's true. Unfortunately, I cannot find the link.
PS I try to avoid to complain about the VAT hike as of tomorrow, OK?