Serious clashes among migrants and fires broke out in Moria hot spot on the island of Lesvos, leaving behind 15 people injured as well as serious damages in the camp that led to evacuation of hundreds of families. According to reports from the area, a brawl broke out between Afghans and Pakistanis short before midnight on Wednesday and those involved were armed with knives and crowbars.
The small police force tried to to take the situation under control but the violence spread quickly across the camp.
Three the injured were taken to the hospital, the rest was treated by NGOs operating in the hot spot.
The violence was so serious that many residents left the camp running especially when the flames started to near the tents where migrants from Pakistan and Nepal were staying.
Families with kids spent the night on the fields, some left for the town of Mytilini.
A large part of the camp has been burned down, however fire brigades managed to set the fire under control. The only section to have escaped the blaze is where unaccompanied minors stay.
The Pakistanis reportedly blame the Afghans for mafia control practices in the hot spots, while the Afghans accuse the Pakistanis for food thefts and even for sexual harassment of children and Afghan women in the toilet area and the shower-rooms in the northeast side of the camp. This is also the area where the fire broke out.
The blaze has burned down tents of the UNHCR, depots for clothes, sleeping bags and infrastructure.
It is not clear when the more than 2,000 refugees and migrants of Moria will be accommodated as the largest part of camp seems to have been destroyed.
Moria hot spot residents arrived on the island after the EU Turkey Deal went into effect on March 20th. Some 1,000 people are in Kara Tepe municipality center. According to Greek Migration Coordination body, a total of 3,906 refugees and migrants are on the island of Lesvos.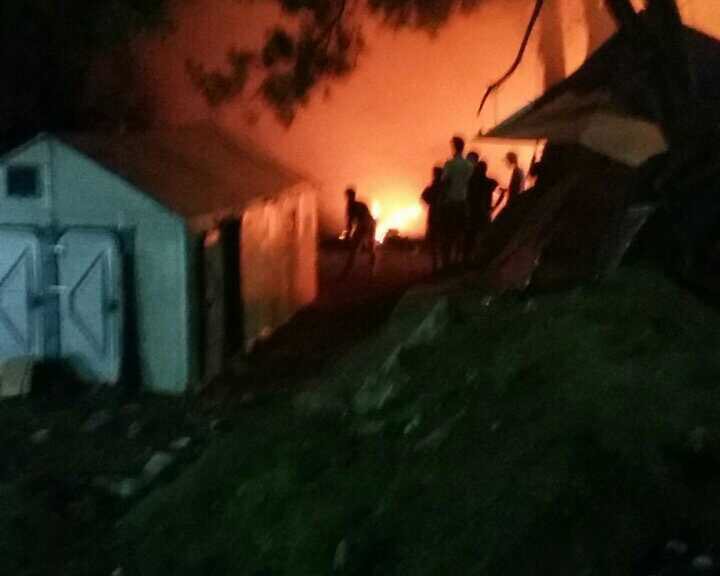 via @dafnetoli
Reading several reports, KTG understands that only a very small police force is deployed outside the hot spot and that it was not able to take the situation under control due to the excessive use of violence inside the hot spot. "No Frontex unit was around neither did it appear when the clashes broke out." There are claims that "the Frontex officers deployed on the island to assist with the asylum procedures or to guard the hot spot, work few hours and according to the working hours in their home countries."
Local authorities and Frontex units are expected to evaluate the situation, investigate and even proceed to arrests.