A car caught fire on the Attika Highway in Athens on Thursday afternoon and the driver was trapped in the car thus burning alive. The accident occurred 10 minutes before 3 pm on the road track to Elefsina and short before the Athens Exit.
According to preliminary information, the car, a Porsche Cayenne Jeep, caught fire out of a sudden, the driver stopped the car on the left side of the road but he was allegedly trapped inside and unable to abandon the vehicle.
Dozens of other drivers reportedly tried to help but the fire spread with the tragic results. The driver was burned alive.
Fire brigades and police have interrupted traffic on the Attiki Highway.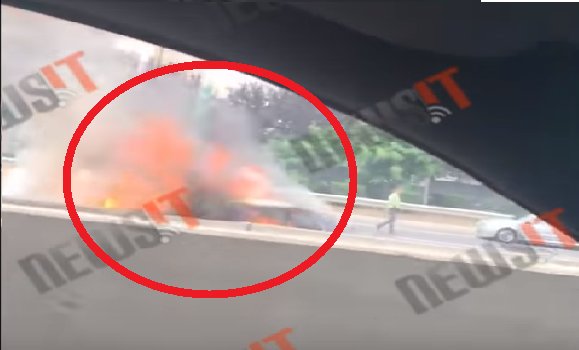 The tragic incident took new dimensions when media started to report that the vehicle's "license plates belonged to the wife on a well-known publisher." The rumors kitchen started to boil.

The police has not officially released the name of the victim yet, apparently awaiting for the wife to recognize the corpse.
However, Greek websites started one after the other to post the name of the publisher.
News247.gr "According to reports, the car belongs to the wife of Panayotis Mavrikos, publisher of  Acropolis daily, who was involved in an extortion case; however it has not been confirmed who was the driver of the car."
At 04:58 pm, the confirmation apparently came by the Lawyer of the victim. One of Greece's most famous legal advisers Alexis Kougias told Parapolitika.gr that " Panayotis Mavrikos is dead." The lawyer said further that he had an appointment with his client and that neither he (Koygias) nor his family could reach him.
According to Parapolitika.gr, "the conditions of the corpse would not allow immediate identification."
Three hours later than the accident, and media write that "the victim is Mayrikos at 99%."
According to state ERT TV, an DNA match was necessary for the identification as the driver was charred.
Newsit.gr notes that the vehicle is been investigated by the Explosives Department of Greek police to determine the cause of the fire, and whether it was sabotage or some other cause. 
The fire reportedly started in the front part of the car. 
According to Athens NewsAgency, the car caught fire while on the go, then stopped on the left of the road at the barrier which probably trapped the driver.
Until investigation brings 100-pro results, the accident seems to come from a thriller movie.
More pictures here