Violent clashes among young refugees and migrants broke out on Sunday night in the hot spot of Moria on the island of Lesvos. The clashes ended with the intervention of police and many injured youngsters. Five of them were hospitalized.
According to local media, the clashes broke out Sunday midnight, when youngsters from Syria were attacked by a group of Afghans more or less in the same age group. The latter had claimed that they have been extorted by other ethnic groups such as Iraqis.

Several young refugees and migrants were injured, five were transferred to local hospital.
Some 40 people fled the hot spot and dispersed in the surrounding fields and even the city of Mytilene. Greek police tried to locate the youngsters, however not all of them had returned to the hot spot by Monday morning.
During the clashes, several doors and one container home.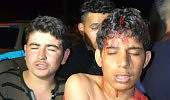 The clashes extended also to other areas of the hot spot, where also several people were injured. Some got first aid on the spot, two were transferred to the hospital.
Peace and order were restored when the riot police intervened at 4 o'clock in the morning. (source )
The hot spot of Moria has a capacity for 2,000, however more than 3,500 are hosted – practically detained there – according to EU Turkey deal. Majority of the people in Moria are women and children.