Oxi Day on October 28 commemorates the anniversary when former military general and Prime Minister Ioannis Metaxas said, "No" to an ultimatum made by Italian Prime Minister Benito Mussolini to allow Italian forces to occupy strategic locations in Greece or otherwise face war.
Metaxas' OXI (No) led to Greek counterattack against the invading Italian forces at the mountains of Pindus in Northern Greece during the Greco-Italian War from 28 October 1940 to 23 April 1941.
The war between Italy and Greece turned into the Battle of Greece when British and German ground forces intervened early in 1941.
, and the Greek Resistance during the Axis occupation.
Oxi Day Parade 28 October 1946 – Widows, mothers and daughters of the fallen parade at Syntagma Square in Athens
OXI  in symbols as seen in a  after the war: O is the laurel wreath for the heroes, X stands for  the cross on the graves of the fallen,  I is the crutch for the thousands of wounded soldiers.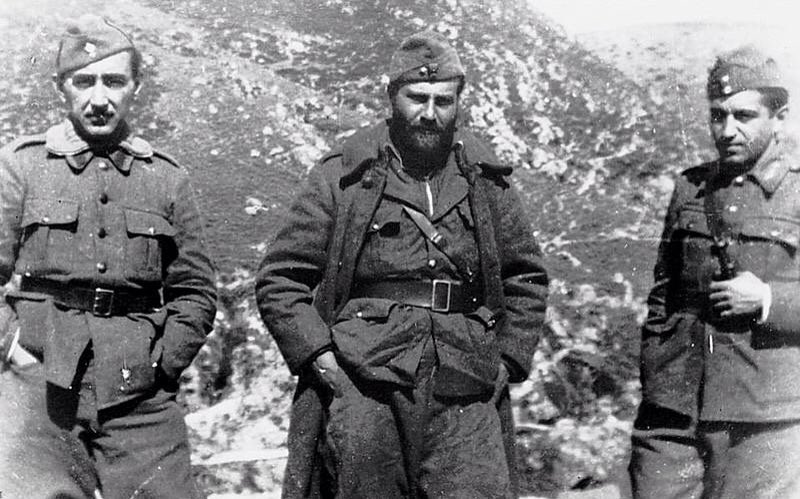 The great poet Odysseus Elytis, centre, on the Albanian front, 1940, where the Greek army thwarted the Italian invasion. #Greece #OxiDay
Actors Lambros Konstantaras and Dionysis Papagiannopoulos fought in the war front against Italian forces.
Soldiers transport – as far as the feet take them.
First commemoration of the Greek OXI to Italian fascist regime of Benito Mussolini was held on 28 October 1941 in the Athens University. Greece was under Nazi occupation.
The second anniversary was celebrated in 1942 at Syntagma Square and it was organized by the Greek resistance. there were fears that the Italian occupation forces would intervene but they did not. The Anniversary was celebrated also in other Greek cities.
In
Piraeus
people would get together in small groups, somebody would stand on a chair and hold a brief speech and the crowd would disperse to avoid interventions by the Italian police.
Athens Liberation 12. October 1944
The first official OXI Day Parade was held on 28 October 1944, twelve days after the liberation of Athens from the Nazi occupation.
Crowds flock to downtown Athens to celebrate OXI Day on 28 October 1944
30 October 1944 – OXI Day parade in Thessaloniki
12 October 1944 German soldiers lay a wreath at the monument of the Unknown Soldier in front of the Greek parliament before the Nazi forces withdraw from Greece.
3 May 1941: German occupation forces parade in Panepistimiou Avenue – no crowd; just German soldiers.
November and December 1940 personnel at Greek Museums has orders to pack, protect and hide valuable objects. Here: Kouros of Sounion at the National Archaeological Museum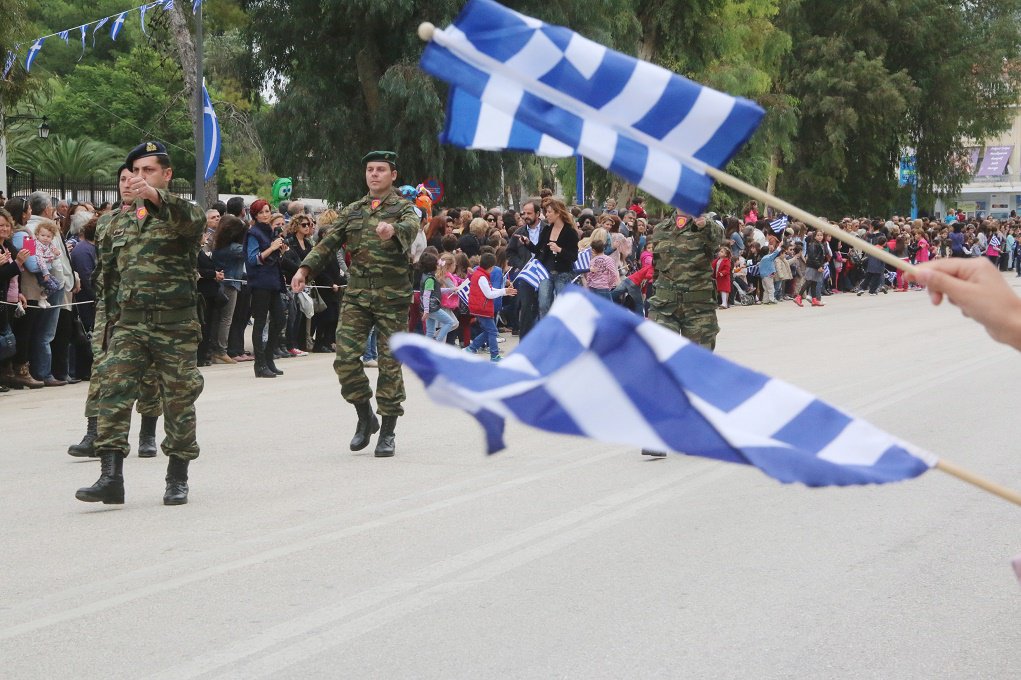 Thessaloniki – Military Parade 2016
The Second World War meant for Greece the death of 300,000-700,000 civilians and of more than 90,000 soldiers.
The material destruction was incalculable and led to the complete collapse of the Greek economy. Greece seeks the payment of WWII War reparations from Germany that vehemently insists that the issue was settled in the 1950's.
Several sources – More pictures: news247.gr, iefimerida.gr