It came as expected. Short after the Polytechnic Students' Uprising commemoration march ended in front of the US embassy in Athens, the usual "troublemakers" took action.
A group of several dozens people who had been occupying one of the buildings in the Polytechnic School came out and started to riot.
The molotov cocktail bombs have been falling like in a storm.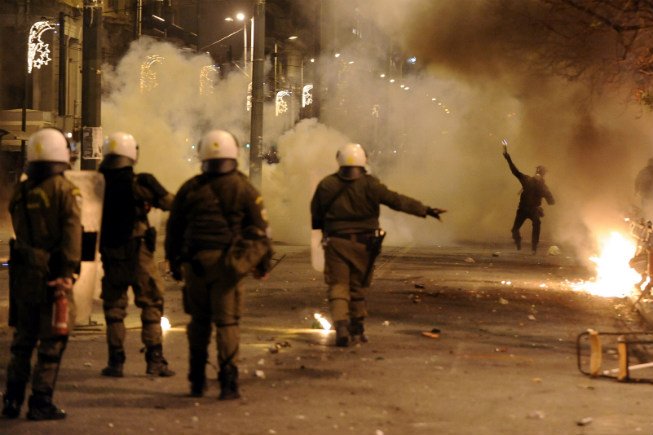 Some rioters took desks and chairs out,  broke them or set them on fire.
It came worse: A couple of the hoodies  burned, teared apart and humiliated the Greek flag in front of the cameras and the police.
In the raw footage I saw on TV,  at least two guys wearing hoods were holding the Greek flag and demonstrative tried to set it on fire; as they did not manage they tried to tear it apart. They did not manage it either. They threw it on the ground and stepped on it.
Video: one of the hoodies has hanged a yellow flag on his shoulders with the logo of the antifasist-antiracist movement – without that this is a hint about the rioters.
Worth-noting is the obviously provocative and demonstrative humiliation of the Greek flag were taking place in front of the riot police and the cameras and broadcasting live on TV.
The burned flag was similar to the one that was used by the uprising students in 1973. It has blood marks and is being carrying ever year to the US embassy.
The brainless idiots had apparently not thought that without the heroes of the Students' Uprising in 1973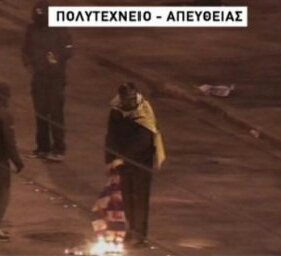 they wouldn't be able to walk freely on the streets nowadays.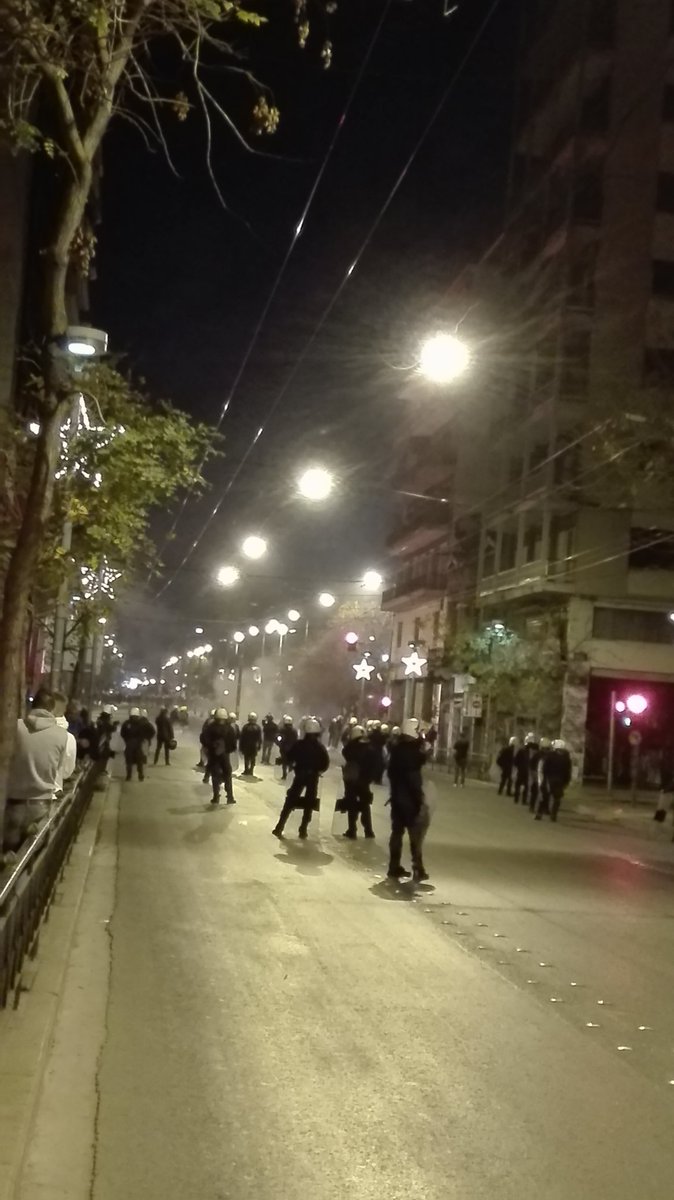 Hundreds of riot policemen were rather standing by without intervening, with merely occasionally firing tear gas.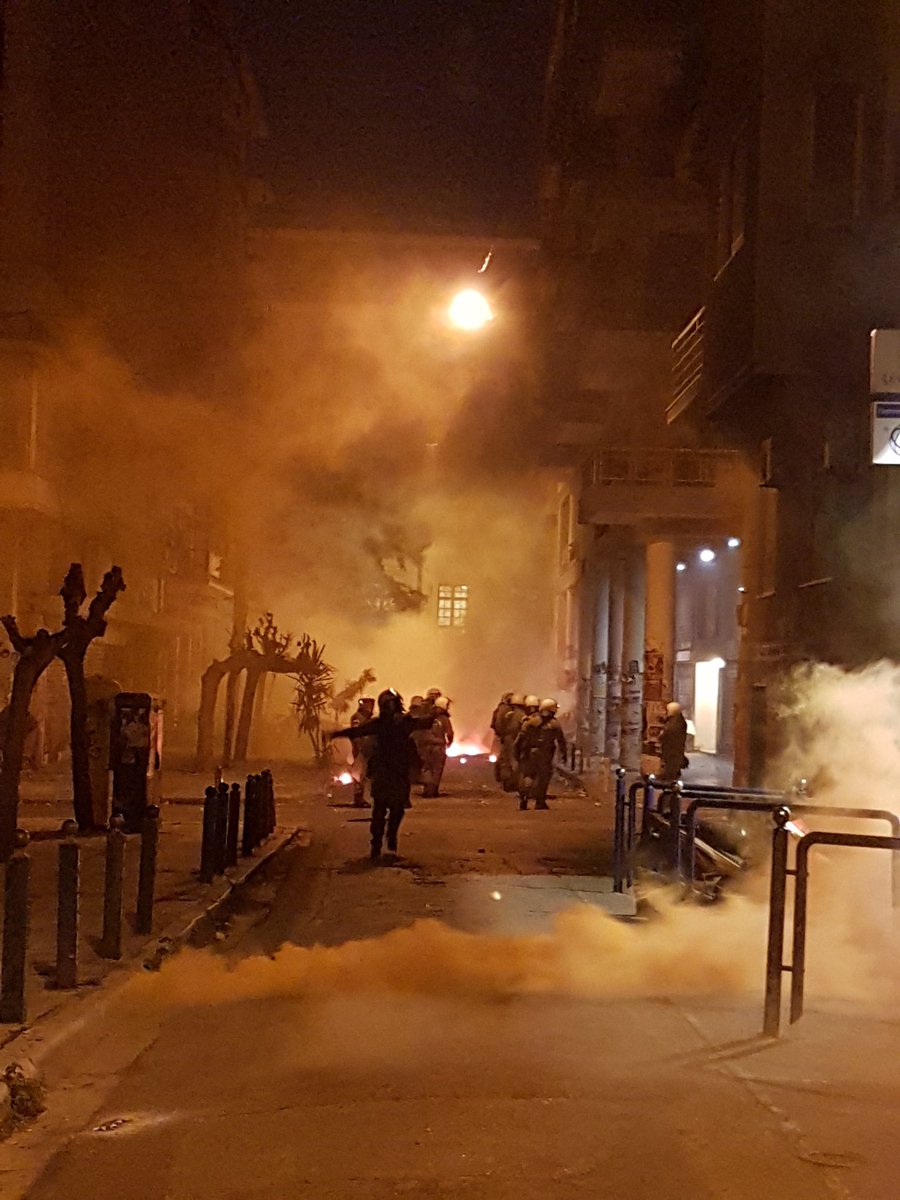 One hour after the riots broke out STAR TV reported that the prosecutor had approved that police intervenes and ends the Polytechnic School squat.
Currently, at 8:30 pm local time, the rioters seem to have withdrawn back to the School.
Patision Avenue has been closed to traffic.
Incidents occurred also in Patras, where 'troublemakers' entered the commemoration march carrying stones. A little later, the molotov cocktail attack started.
Similar is the situation in Ioannina, Epirus.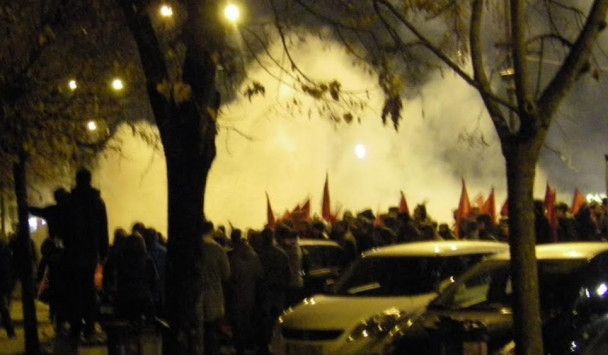 Ioannina, the central square.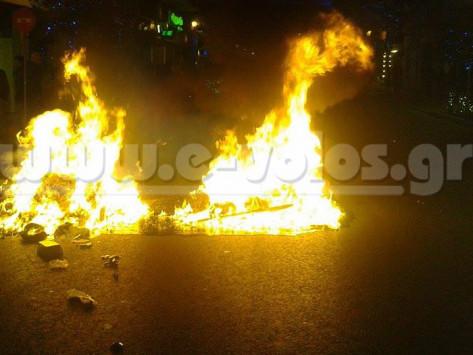 Stones and molotov cocktails in Volos
Molotoc cocktails also in Thessaloniki.
Earlier today, in Thessaloniki, march participants set an American flag on fire.
7,000 policemen were deployed today in Athens to prevent riots.