The man who would save Greece from the debt, the man who claimed he owned $600 billion, Artemis Sorras, has been sentenced to eight years imprisonment without parole on felony charges for embezzlement.

A court in Patras, Sorra's hometown in Peloponnese, sentenced him and his wife in absentia. The arrest order is expected to be issued on Monday.

According to media information, the sentence provides also deprivation of political rights for five years and it does not allow appeal. In contrast, other media claim that Sorras can appeal the sentence and that the arrest order has already be issued, while authorities are looking for Sorras and his wife.

Plaintiffs were a former partner and the best man of the Sorras.
The former partner complained that Sorras stole from him 100,000 euros in the time the two collaborated in a business with playgrounds.
The best man's complaint was that he had given Sorras his luxury car so that he will sell it and that he was paid with "fake dinars from Kuwait."
In statements to local media, best man and plaintiff, lawyer Fotis Lepidas, stressed that this trial was an opportunity that the whole unlawful activity of Artemis Sorras and of all those involved in the fraud throughout Greece to be uncovered.

A couple of weeks ago, Lepidas told a private television channel that "Sorras not only did not have the "$600 billion, but not even one euro." He added that when he was asked by Sorras to be his best man, "he was a laborer laying marbles and tiles."
In the peak of the Greek economic crisis, Artemis Sorras popped up in summer of 2012out of the blue as a self-proclaimed "trillionaire" who wanted to pay off the Greek public debt. He claimed he owned 600 billion USD in form of stocks and policies from the Bank of Anatolia.

The Bank of Anatolia (Bank d' Orient) was established in 1904 by the National Bank of Greece. Twenty years later the bank was absorbed by the NBG. However the family of Sorras [claimed] still has shares of the Bank of Anatolia apparently worth of more than 500 billion dollars in today's value."
Artemis Sorras initially was thought he was a diaspora Greek as he first approached Greeks living in the USA and even collaborated with a Greek-American to promote "the cause."
They claimed that the money was deposited at the Bank of Montreal in Canada. The bank had refuted the claim. They could never provide official documents verifying their claim.
A New Democracy minister, Minister for Diaspora Greeks Adonis Georgiadis, took the case and Sorras' claim to court on charges of disseminating false information. In 2013, Sorras was acquitted and established in Greece an organization called Convention of Greeks.
Aided by monthly membership fees from its followers, which number thousands, the organization has opened 208 branches around Greece and abroad. Sorras has also claimed that he will run for prime minister in the next general elections.
He attracted thousands of followers who he inspired with a bizarre conglomeration of nationalism, ancient Greece's Dodekatheism, racism and antisemitism.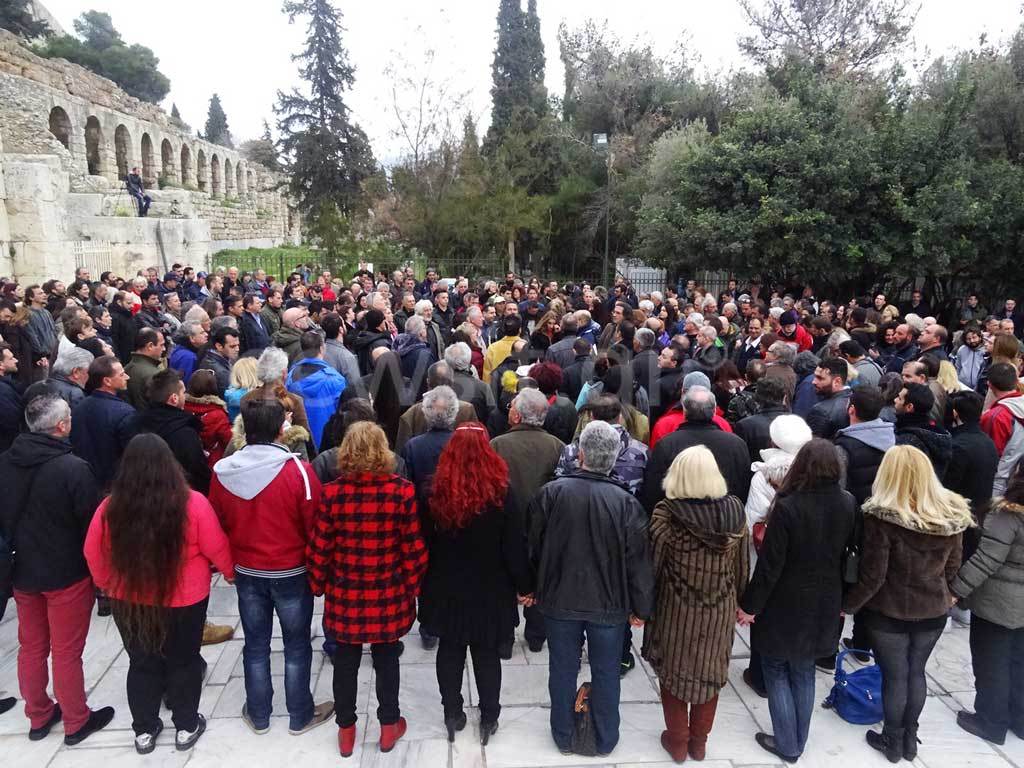 Feb 20, 2017, at the feet of Acropolis: More than 300 Sorras supporters and ancient pantheon worshipers take a loyalty oath to ancient Greek god Zeus
Following his advice, thousands of his supporters sent notices to tax offices asking for their debt's write off saying that they are not obliged to pay anything because Sorras had the money to buy the Greek debt.
Sorras is also under investigation for crimes related to his own and his organization's activities and finances.
In January 2017, the Bank of Greece said after investigation that Sorra's claimed assets were nonexistent.
For seven years Artemis Sorras could wander around and claim whatever he wanted to. It needed a brutal murder to alert authorities and start investigation in this shady figure.
In December 2016, a child psychiatrist was brutally murdered in Lamia, central Greece. Both the victim and her killer were members of  Sorra's organization Convention of Greeks.
"The case of self-proclaimed trillionaire Artemis Sorras exposes not just Greeks' gullibility and their attraction to wild conspiracy theories […] but also the frightening ineffectiveness of the state apparatus,"writes Yannis Palaiologos in Kathimerini.
For more information read: $600 Billion Offer to Buy Greek Debt – End national Debt and END of Story…