Wildfires are raging in east Mani in southern Peloponnese. A village has been evacuated, houses were burned down. Many breeders tried to save their animals in a 'suffocating atmosphere, however hundreds of animals were burned alive. Locals complain about fire brigades delays and bad coordination.
Fire fighters have been battling against the wildfires all night, but it was almost impossible to extinguished the fire due to the strong winds.
Already on Sunday, local residents abandoned the village of Kotronas using the sea way. The coastal road was closed because of the fire.
The Coast Guard transferred 11 people to Gytheio.
The fire was partly under control on Sunday afternoon, but it revived when the wind changed direction.
More than 120 firefighters with 45 trucks, two aircraft and two helicopters are operating mainly in in the regions of Pyrihos and Parasyros.
Local media report that wildfires are revived or new ones break out in the area. One of the fires on Saturday broke out because of a PPC transmitter on the power column.
There are reports that water and electricity supply is cut in some villages.
According to local authorities, five houses were burned down in Kotronas and Skoutari, a couple of houses were seriously damaged. The chapel of Profitis Ilias was burned down as well, while the fire caused damage also to the cemetery of the area.
As the overwhelming majority of the houses in the area are built with the famous Mani stones, a broader disaster has been avoided.
A local was telling KTG that the wildfire broke out south-east of Areopolis and started to burn olive groves and dry grassland, moving east to Pyrihos, spreading to Kotronas and to Skoutari in the coast.
On Sunday, winds were blowing with intensity of 5 Beaufort.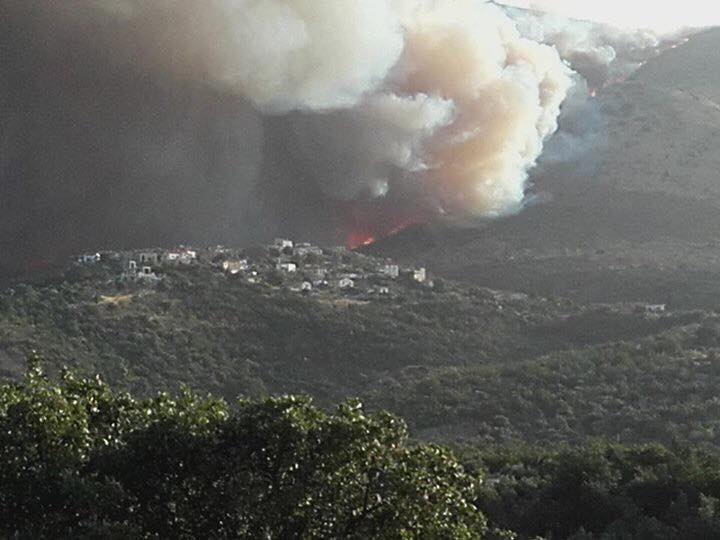 It is estimated that thousands of olive groves have been destroyed by the wildfires.
Many tourists left the area due to the fire, local authorities told media.
Local authorities blame the Fire Brigades for the blaze getting out of control and complain about absence of coordination.
Deputy governor of Lakonia Adamantia Tzanetea told Skai TV that already on Sunday they asked for aircraft to combat the wildfire. Mayor of East Mani, Petros Andreakos put the whole blame on the Fire Brigades saying there not no sufficient coordination.
Speaking to Ant1 TV, mayor Andreakos said that while he was driving to Kotronas when his car got fire.
He was rescued by fire fighters.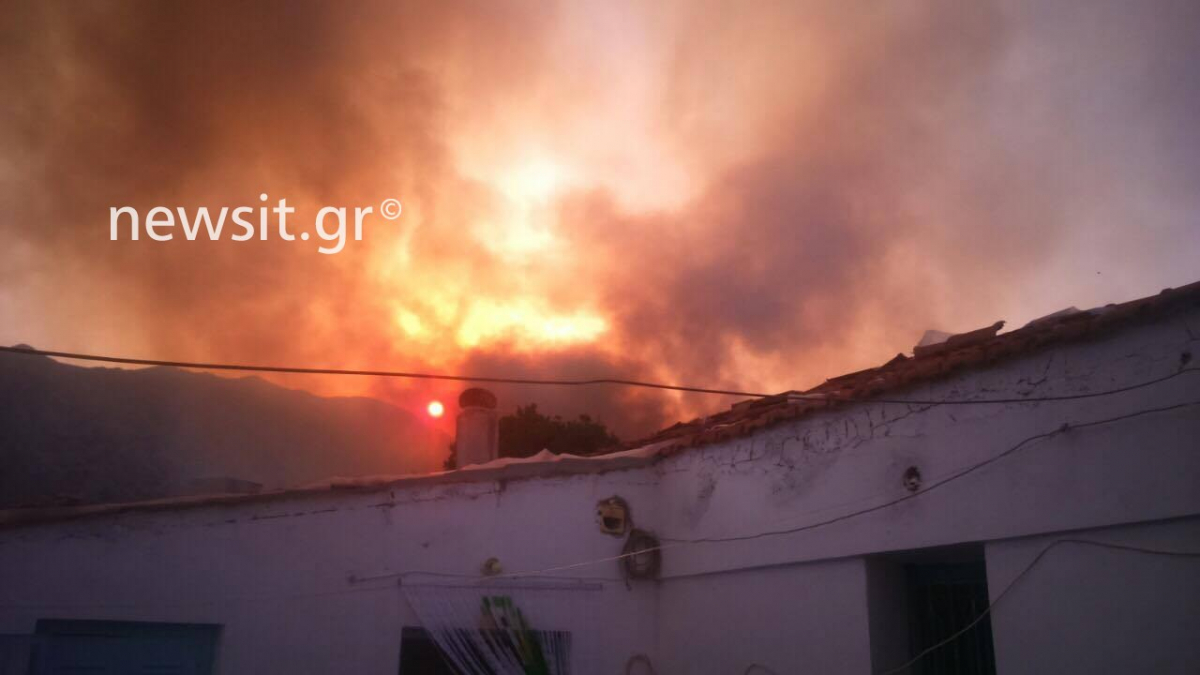 No injuries have been reported so far.
Locals told media that the wildfire in Pyrihos in eastern Mani was supposed to have been under control on Saturday but "this was a wrong estimation by the fire brigades." The fire revived on Saturday evening.
More pictures, flynews.gr, lakonikos.gr, newsit.gr
PS I've been to the church showing in the first video….