Amazing video in 3D with historical shots of Athens in 1917. The rare pictures were shot by members of the French "Army of the Orient" that arrived in Athens in spring 1917.  Soldiers who  who operated in the Balkans during the World War I. Among them photographers and filmmakers. Discover Athens 1917.
The video is just a small excerpt from the moments in the city of Athens and its monuments French soldiers captured with their cameras. The video Athens 1917 was prepared in cooperation between the Ecole Francaise in Athens and the Acropolis Museum.
With this stunning visual material The French School in Athens is organizing the exhibition Athens 1917 at the Benaki Museum, Sept 15-Nov 11 2017.
The exhibition is dedicated to the city of Athens in 1917, with rare visual material originating from the photographic service of the allied expeditionary force, which operated in the Balkans during the First World War and is known as the "Army of the Orient".
A hundred years ago, during 1917, French photographers and filmmakers of the "Army of the Orient" made numerous still or moving pictures of Athens. These are rare aspects and images of the city, forgotten or lost over the years, and this is the first time this extremely rich visual material of the city's daily life, its monuments, its streets and corners, is displayed.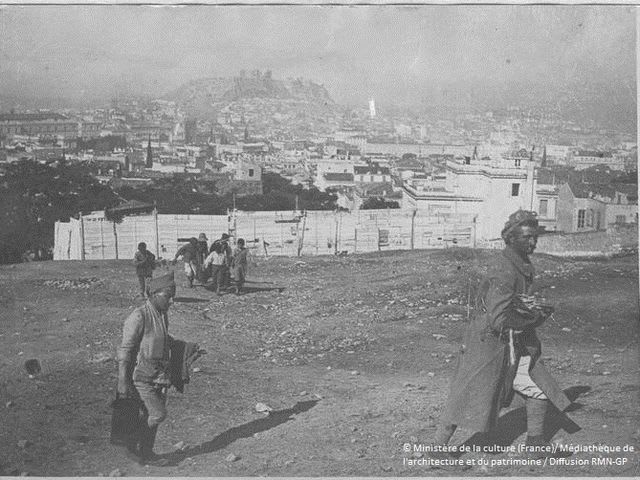 The exhibition offers a view of Athens 1917 through the eyes and the quests of these foreign soldiers. It tries to point and highlight these aspects that caught their interest and formed their basic source of inspiration.
This looks like the Temple of Hephaestus over the Ancient Agora
The displayed material is kept today in Paris (Établissement de Communication et de Production Audiovisuelle de la Défense, Médiathèque de l'Architecture et du Patrimoine).
Exhibition at Benaki Musuem, Pireos Str. 138, Athens.
DURATION:  15/09/2017 – 11/11/2017
Opening: 14/09/2017, 20:00
 OPENING HOURS:
Thursday & Sunday, 10:00 -18:00
Friday & Saturday 10:00 – 22:00
 TICKETS: € 7, € 5
The exhibition is under the auspices of Mission du Centenaire de
at Première Guerre Mondiale.
PS awaiting for an invitation for two 🙂