One more area was flooded on Friday morning when a short but powerful rain-and thunderstorm stroke the West Attica. This time the bad weather front stroke Keratsini suburb of Piraeus in West Attica. Ten kilometers way from downtown Athens, the capital of a European country in the 21st century.
Torrential rains flooded streets within minutes, trapped motorists in their vehicles and swept away garbage bins and parked cars.
From my office window I saw the storm coming.
A very thick black cloud covered the area and lightening teared the sky apart.
The water stood at half meter height.
Local authorities claimed reason for the flood was "the port wall" hindering the water to flow through and said they will tear it down.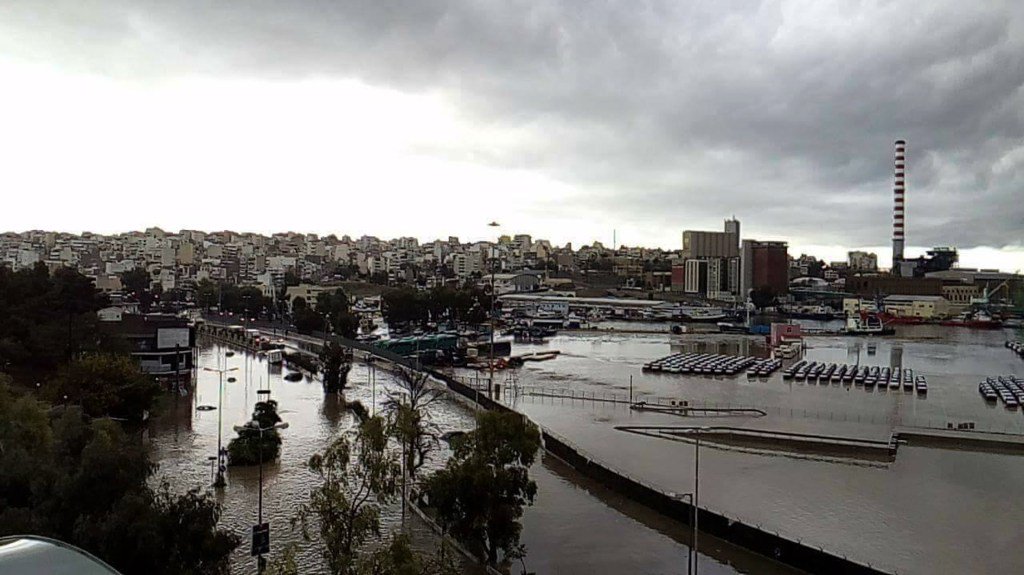 And this reminds me of an old Greek film where the spoiled daughter of a politician justified the car accident she caused claiming "I was driving and suddenly … tsak! an olive tree popped up!"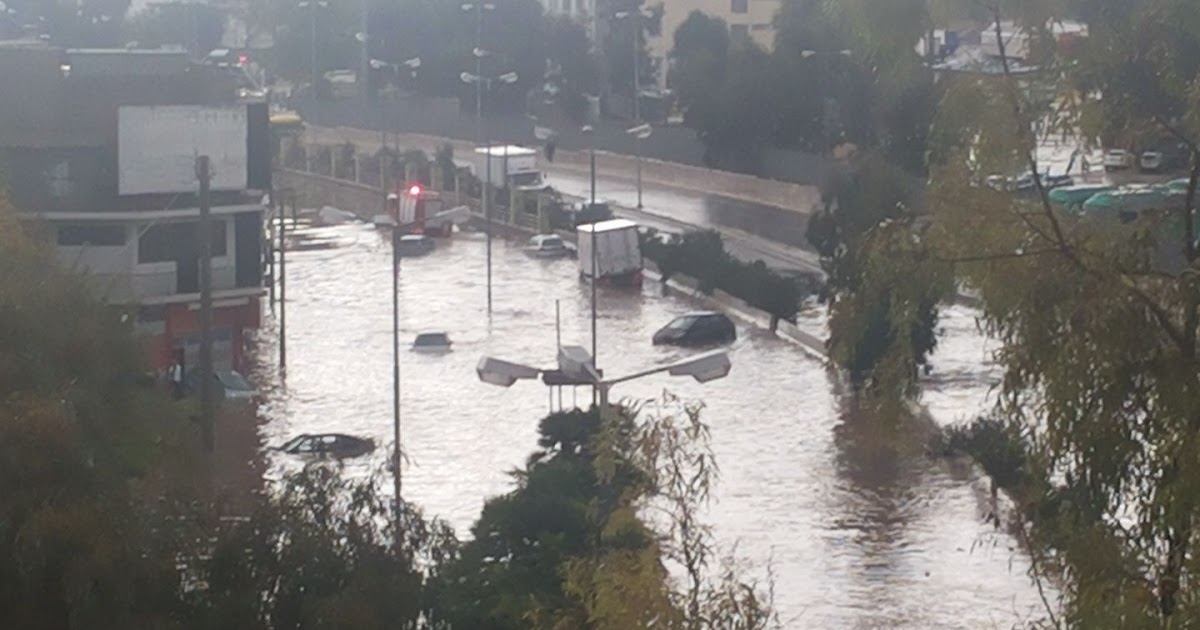 A local tweeted that the port wall has been standing there for 2o years.
Delivery boy at work…
Roads also in nearby suburbs like Drapetsona and Palaia Kokkinia were flooded, traffic broke down. By now the situation seems to gradually return to normal.
Last night, a heavy thunder- and rainstorm "bombarded" Athens, Piraeus, the suburbs and the nearby island island of Aegina. It was the second storm of the day.
Video: lightening in Piraeus
For about two hours the night sky was lightening again and again. It was amazing to see the storm moving from West to the East and the sewage gutters on the streets to struggle absorbing the tons of rain water.
Several streets in the south and north suburb of Athens were flooded as well as the center of Piraeus and Pasalimani.
Our street was not flooded because 1. the municipality has cleaned the gutters in time and 2. we live on a tiny small hill.
Pictures and videos: keratsinivoice.gr and twitter
Apart from the wall to blame for the flood, I have heard of several other reasons why torrential rains strike Greece and why areas have been flooded. Local and central authorities blame each other, and so do political parties; they blame each other for wrong urban policies implemented for decades and negligence. And bureaucracy. We hear that urban surveys for anti-flooding measures, for example, need some ten years….
For the current situation "nobody", no human, is to blame.
Among the best excuses I heard common people saying was  "God's anger" and even "Geoengineering".
PS I don't know if Keratsini residents did something to anger God, but geoengineering targeted Keratsini? Seriously?