Infections continue to rise and Greece's health authorities announced on Friday 1,997 new coronavirus cases and 12 Covid-related deaths in the last 24 hours.  The number of intubated Covid-patients in hospitals Intensive Care Units decreased further to 141.
Ahead of the weekend, there has been a slight increase in the number of Rapid tests as young and old rush to free tests carried out by EODY mobile teams. Rapid tests or Molecular PCR is a precondition for those unvaccinated who want to travel to the islands.
The first patient with
Delta variant
is hospitalized in the
Intensive Care Unit
of Papanikolaou hospital in Thessaloniki, northern Greece. The patient is reportedly a 49-year-old monk from Mt Athos. He was admitted to hospital on July 2 and was intubated two days later due to rapid health deterioration. The man had no underlying health problems and was not vaccinated against the Covid-19.
Vaccinations
Stand July 8, 2021: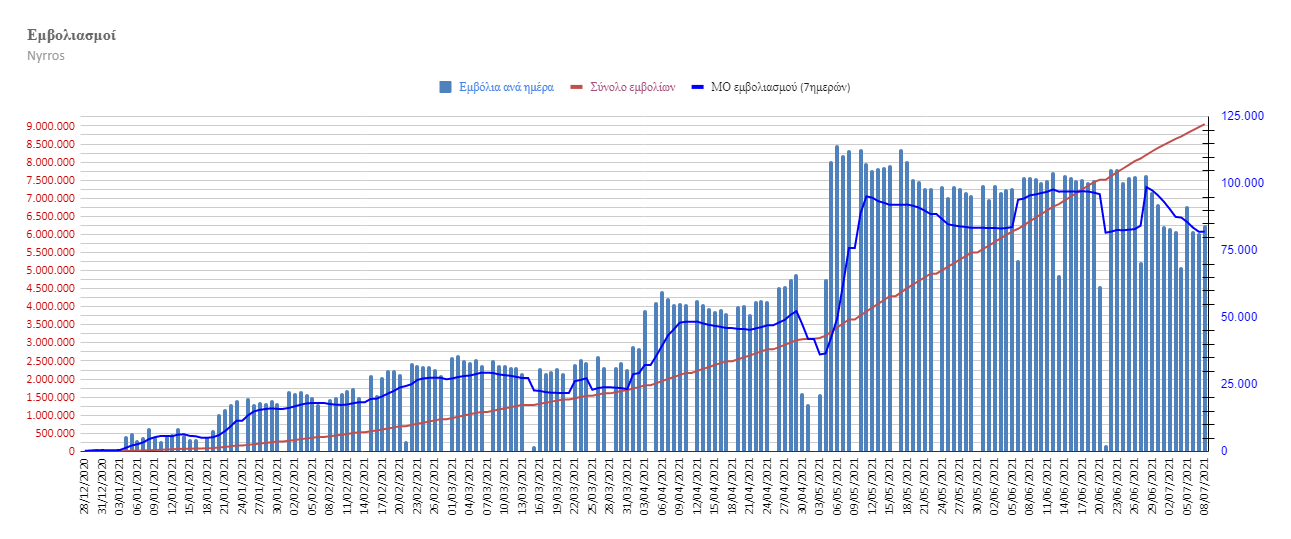 Of the 5,162,930 vaccinated citizens (49.5% of population with at least one dose):
1,011,023 Partially vaccinated 
4,151,907 Fully vaccinated (39.8%)
Vaccinations tracker per region here.
Official coronavirus data, July 9

Tests in the last 24 hours: PCR 13,456 Rapid tests 55,266
Positivity of PCR & Rapid: 2.91%

blue: tests red: positivity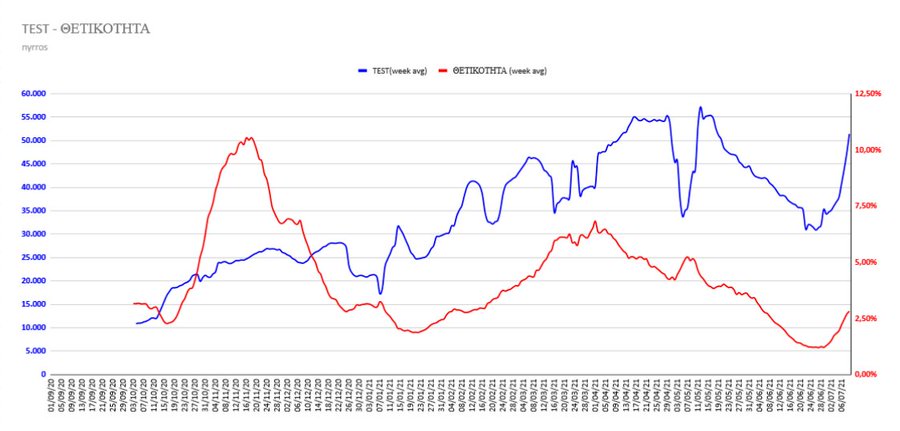 Rt: 0.8 from 0.81 last week. Authorities still haven't published the updated Rt

Since the pandemic began, Greece has confirmed 435,018 infections (daily change: +0.5%). In the confirmed cases of the last 7 days, 148 infections are related to travel from abroad and 1889 to other confirmed cases.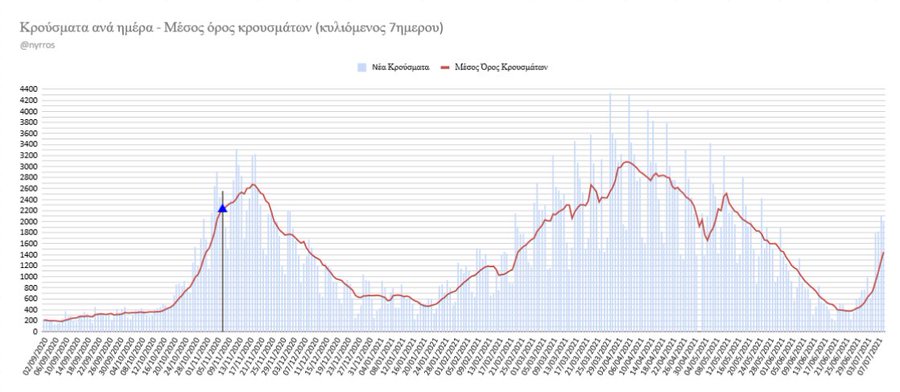 Rolling average: 1449 (535 previous week)
51.2% of the infected are men.
There are 12 deaths recorded in the last 24 hours, the total of pandemic victims to 12,785.  Of these, 95.5% had an underlying condition and/or were 70 years old.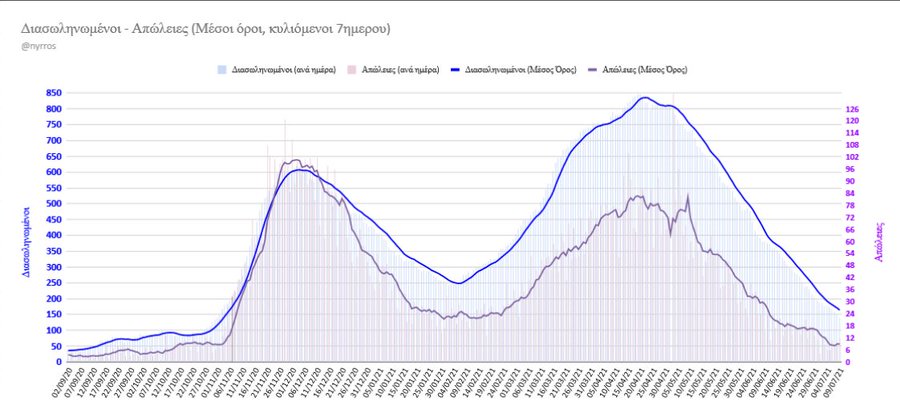 A total of 141 Covid-patients – from 153 a day earlier -are on ventilators in hospitals. Their median age is 66 years. 67.4% are men. 88.7% have an underlying condition and/or are aged 70 or more.
2,728 patients have been discharged from ICUs since the pandemic began.
59 Covid-19 patients were admitted to hospital in the last 24 hours (daily change: -13.24%). The average admission of patients with Covid-19 to hospitals over the last 7 days was 53.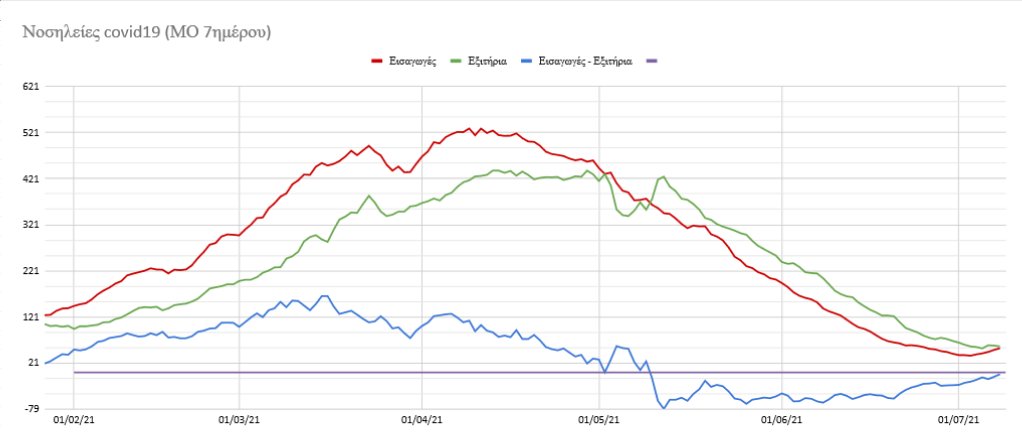 The median age of new infections is 43 years (range: 0.2 to 106 years), while the median age of the deceased is 78 (range: 0.2 to 106 years).
Geographic distribution July 9

Regional units epidemiological load: last 7 days – infections per 100,000 population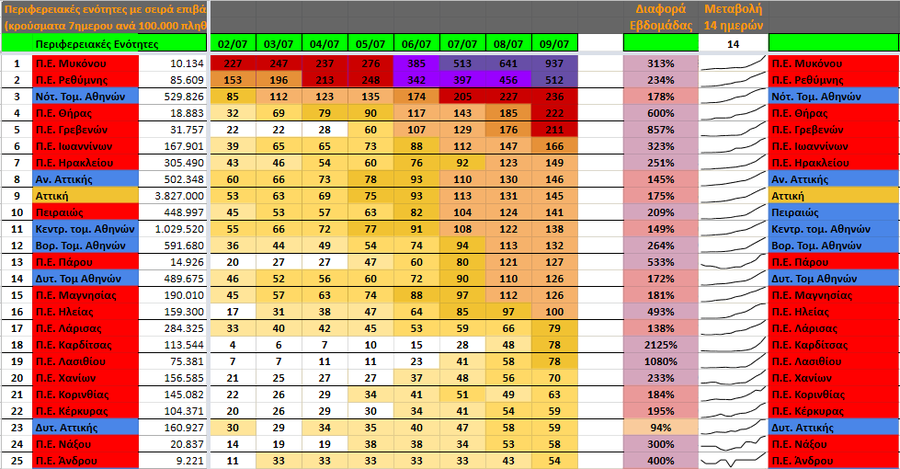 Of the 1997 new cases, 5 were detected at the entrance gates of the country and 12 among travelers already in the country.
The remaining cases are:
1022 Attica
93 Thessaloniki
106 Heraklio
73 Rethymno
51 Larissa 50 Ioannina
47 Magnisia 34 Karditsa
Each 33 Achaia, Mykonos
31 Chania
24 Corinth 23 Messinia
22 Evia 20 Ilia
Each 16 Kozani, Lasithi
Each 13 Aitoloakarnania, Grevena
11 Viotia
Each 10 Arcadia, Rhodes
Each 9 Argolida, Lesvos
Each 8 Thira, Serres
Each 6 Corfu, Kilkis
Each 5 KEfalonia, Chios
Each 4 Drama, Evros, Zakynthos, Imathia, Pieria, Trikala
Each 3 Kos, Kavala, Preveza, Halkidiki
Each 2 Thesprotia, KAstoria, Milos, Naxos, Syros, Paros, Pella, Florina
Each 1 Arta, Andros, Xanthi, Fokida
104 under investigation
Coronavirus Infections Maps to compare
Greece's Covid-map of confirmed infections in the last 14 days, based on permanent or temporary residence.
Official data by EODY Daily Report in Greek
here.
More information on coronavirus in Greece
here.