Greece's health authorities announced on Wednesday 2,422 new coronavirus cases and 37 deaths in the past 24 hours.  The number of intubated Covid-patients in hospital Intensive Care Units decreased further to 364.
According to Hospital Workers Union (POEDIN), internal investigation has been launched against a doctor at the mental health facility Dromokaitio in Athens for having issued seven fake positive Covid-19 tests. He first issued one for himself end of July, however, his PCR test for confirmation turned negative. In August he issued another 7 fake illness tests for people unknown to the hospital. following these positive results, dozens of tests were carried to medical and nursing staff and hospital patients to contain the spread of the virus, as the hospital management believed.
The doctor has apparently issued the fake results for him and some others who wanted to avoid vaccination or risk work suspension that was to go into force on Sept 1.
Media report of the possibility of mini lockdown in four regions in northern Greece due to increasing infections. These are Kavala, Pella, Pieria, Imathia.
Vaccinations
Stand: September 14, 2021: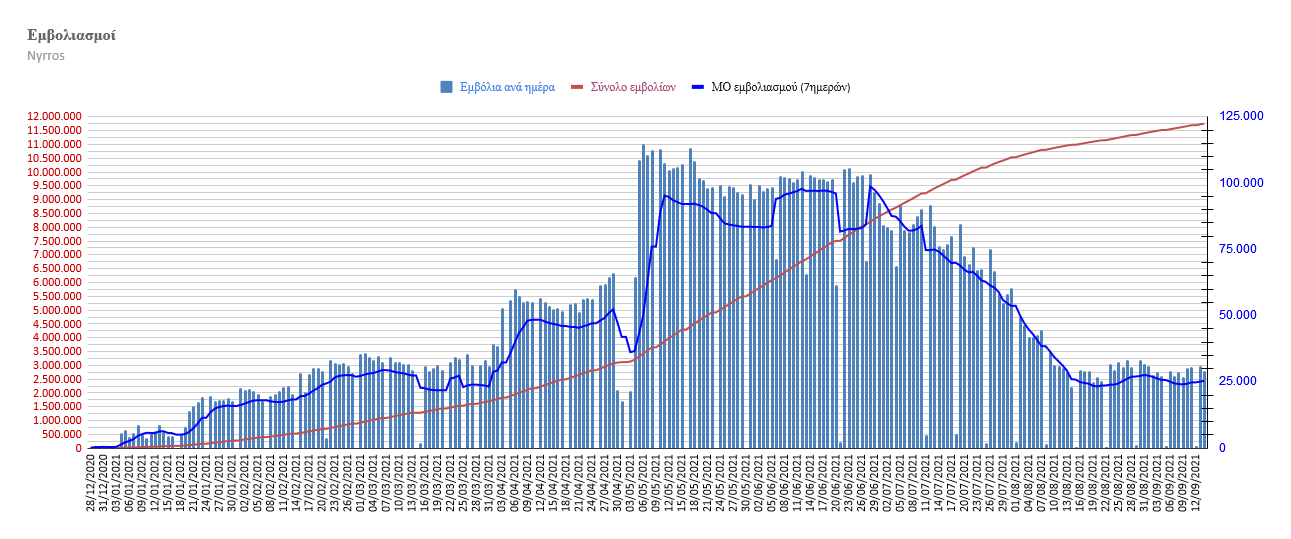 6,300,466 vaccinated citizens (60.4% of population with at least one dose. Of them:
429,982 Partially vaccinated

5,870,484 Fully vaccinated (56.3%)
1,061people received the booster shot on Sept 14.

Vaccinations per age group
Vaccinations tracker per region here.
Official coronavirus data, Sεptember 15

Tests in the last 24 hours: PCR 14,502 Rapid tests 168,238
Positivity of PCR & Rapid: 1.34%

blue: tests red: positivity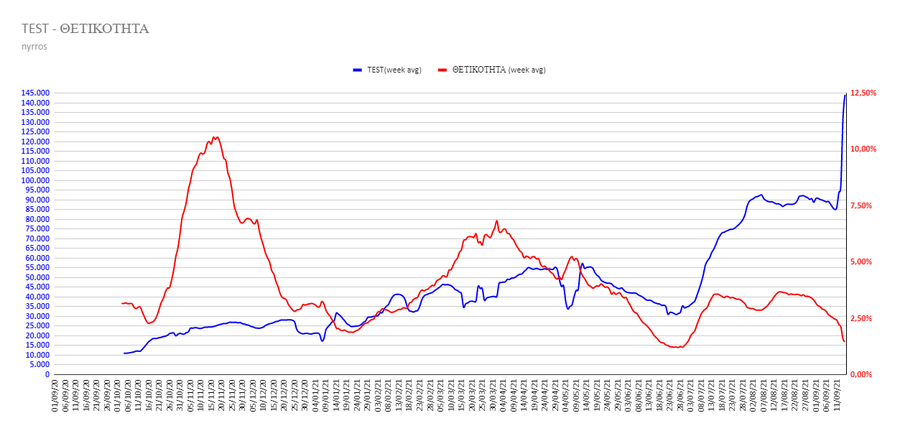 Rt: 0.94 from 0.99 last week.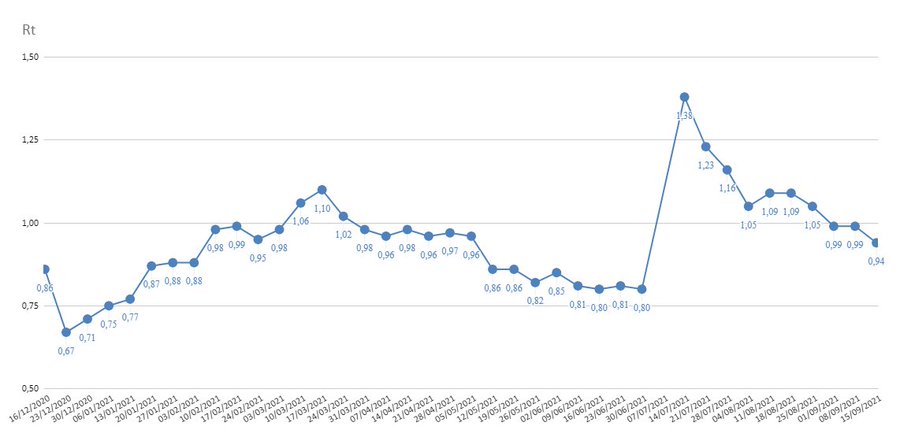 Since the pandemic began, Greece has confirmed 622,761 infections (daily change: +0.4%).  In the confirmed cases of the last 7 days, 135 infections are related to travel abroad and 2607 to other confirmed cases.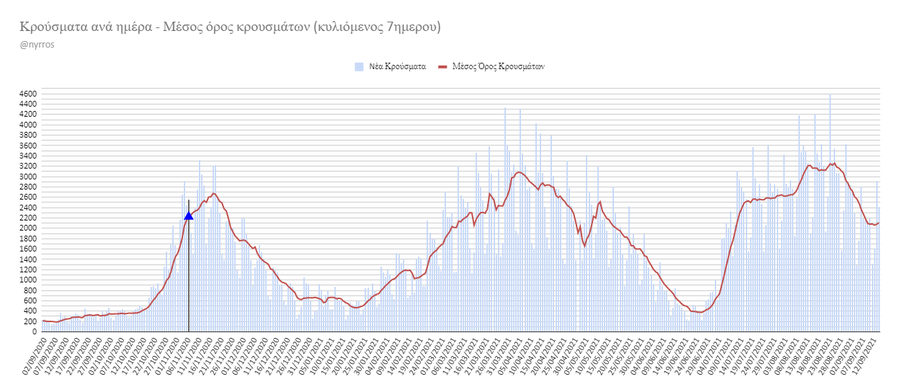 Rolling average: 2110 (2274 previous week)
51.0% of the infected are men.
There are 37 deaths recorded in the last 24 hours, the total of pandemic victims 14,411*.  Of these, 95.4% had an underlying condition and/or were 70 years old.
*6 deaths from previous days incorporated in today's EODY data.
Light blue: intubations pink: deaths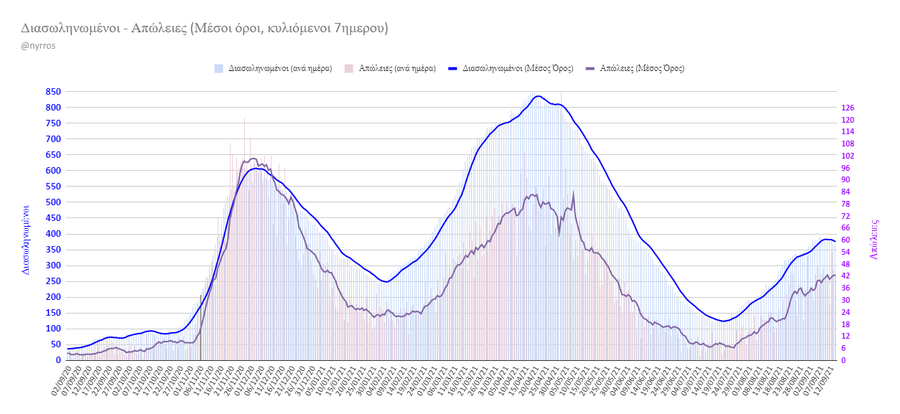 A total of 364 Covid-patients – from 369 a day earlier – are on ventilators in hospitals. Their median age is 64 years. 64.8% are men. 80.8% have an underlying condition and/or are aged 70 or more.
According to EODY among the intubated patients:
330 (90.66%) are unvaccinated or partly vaccinated
34 (9.34%) are fully vaccinated
According to EODY, intubated Covid-patients based on age group are:
0-17  :   1
18-39: 16
40-64: 168
65+  : 179
3,069 patients have been discharged from ICUs since the pandemic began.
224 Covid-19 patients were admitted to hospital in the last 24 hours (daily change: +9.27%). The average admission of patients with Covid-19 to hospitals over the last 7 days was 208.
Red: admissions Green: discharges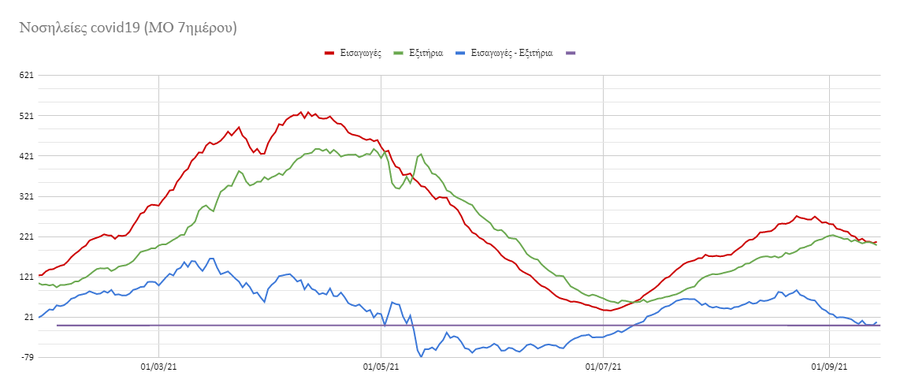 The median age of new infections is 39 years (range: 0.2 to 106 years), while the median age of the deceased is 78 (range: 0.2 to 106 years).
Geographic distribution September 15

Regional units epidemiological load: last 7 days – infections per 100,000 population.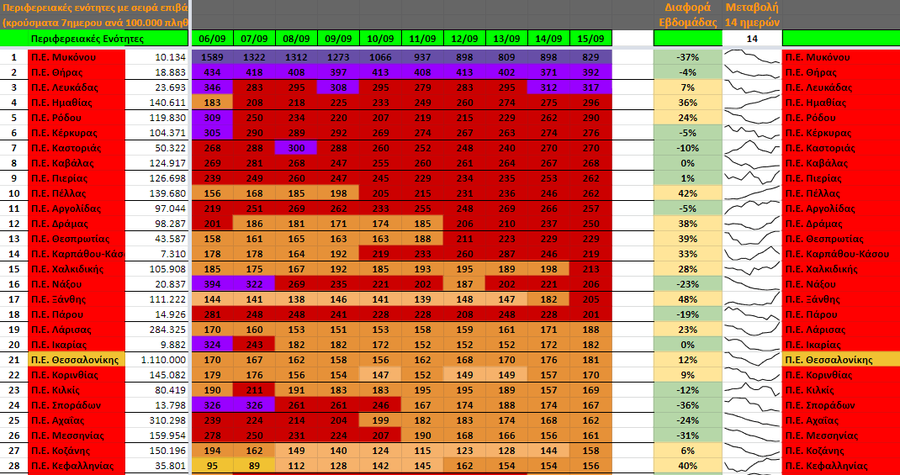 Of the 2,422  new cases, 6 were detected at the entrance gates of the country and 9 among travelers already in the country.
The remaining cases are:
543 Attica
317 Thessaloniki
107 Larissa
77 Imathia 74 Pella
68 Rhodes  67 Achaia 66 Pieria
57 Heraklio 55 Evros 52 Messinia 50 Kavala
49 Xanthi
Each 42 Drama, Kozani
Each 41 Corfu, Corinth
40 Halkidiki
38 Ioannina 34 Argolida
Each 29Aitoloakarnania, Serres, Trikala
28 Chania
Each 23 Arcadia, Magnisia
Each 22 Kastoria, Fthiotida
Each 21 Karditsa, Kilkis
20 Rodopi
Each 19 Viotia, Ilia
16 Rethymno
Each 14 Evia, Thesprotia, Kefalonia, Mykonos, Lakonia
13 Thira
Each 12 Lefkada, Chios
9 Lasithi
Each 8 Kos, Florina
5 Preveza
Each 4 Ikaria, Naxos, Lesvos, Limnos, Samos
Each 3 Arta, Evrytania, Zakynthos, Kalymnos, Syros
2 Paros
Each 1 Grevena, Thassos, Tinos, SPorades, Fokida
47 under investigation
Coronavirus Infections Maps to compare
Stand Sept 15 is same as Sept 14
Greece's Covid-map of confirmed infections in the last 14 days, based on permanent or temporary residence.
Official data by EODY Daily Report in Greek
here.
More information on coronavirus in Greece
here.