Riot police fired tear gas and flash grenades into a high school yard in Stavroupoli, Thessaloniki, after neo-nazi youth started throwing stones and petrol bombs at them. Riot police was deployed to the vocational school EPAL on Wednesday morning to separate fascist and anti-fascist youth groups, while it is not clear whether they are all far-right "high school pupils" against leftist "university students."
Video:
Wearing black, full face masks and hoods, and armed with sticks the group attacked police with stones.
Two pupils were slightly injured and taken to hospital with ambulances.
For one more day, the neo-nazis youth used the school as a base for attacks. "Pupils" greet with the Νazi-gesture via thes.gr video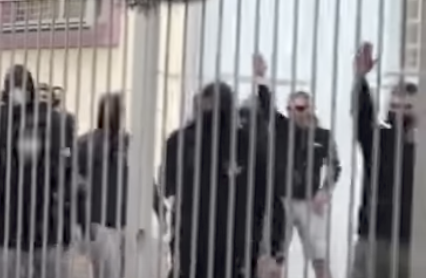 "Pupils" who greeted with the known Nazi-gesture and shouted the "HH" slogan threaten the regular pupils of the school and even beat and injured a girl that had made comments to media about "fascists."
Outside the school, police detained 5 people who were attempting to enter the premises. 3 of them were arrested as they were armed with knives and pry bars The arrestees aged 15 and 17 are pupils of another school.
According to the reporter of the state broadcaster, with the tolerance of the EPAL principal, some pupils joined the Golden Dawn that has been deemed as a criminal organization and its leadership serves jail sentences.
Parents have gathered outside the school demanding that they take their children home. Some girls in tears were allowed to go home.
Teachers and the principal seem to deal with the situation and the big question is: why the principal allowed such groups to use the school, in first place, as pupils said on Tuesday,
After the clashes on Tuesday, the "Youth Front" of neo-nazi Golden Dawn congratulated the group that attacked the students. Today, several other far-right organizations based in Thessaloniki have been hailing today's attacks warning "we are here to stay."
Still at 12 o' clock noon pupils remain trapped inside the classes, the neo-nazis are in the yard, the students have withdrawn and the police is stand by.
The secretary general of the Education Minister insisted to state broadcaster ERT "We do not allow such incidents" and described the incidents as "ideological conflict between some groups."
Independently of whether the ministry allow them or not such shameful incidents do indeed take place and thus for the second consecutive day.
The Education Minister wants the prosecutor to intervene.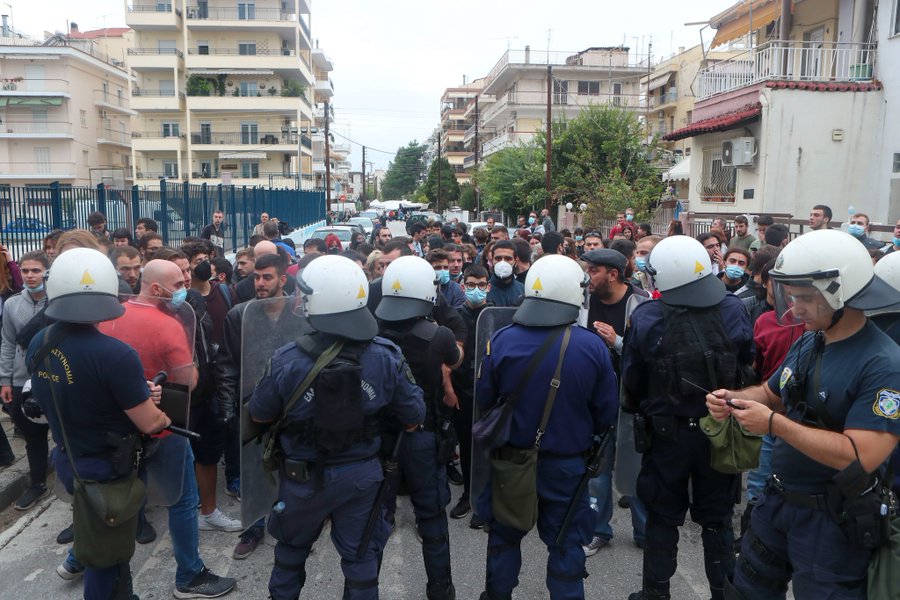 According to latest information, there is currently a protest rally taking place near the 1st EPAL school.