A court in Athens found Efi Kakarantzoula, 37, found guilty of attempted murder of Ioanna Paliospyrou to whom she attacked with a portion of vitriol and marked the 36-year-old victim for the rest of her life. the court decision was unanimous by both the body of the judges and the jurors.
"The defendant did not want to ruin the face of Ioanna, she ruined her life. When she threw the acid in her face, she accepted that it could be inhaled, swallowed, find its way to her trachea, and kill her," said the case prosecutor Charalambos Mastrantonakis. He added that "it was revenge that accepted the risk of death."
The prosecutor proposed the maximum of sentence for such a felony crime, that is 15 years imprisonment, plus 6 months for disobedience, a misdemeanor.
The court accepted the prosecutor's sentence proposal and imposed the proposed sentence.
Earlier, the judges had unanimously rejected the defendant's appeal to be granted mitigation due to previous legal life. Prosecutor Mastrantonakis stressed that the recognition of mitigation for the defendant was unfounded as she was closely monitoring the victim for one year as well as the 40-year-old man with whom the defendant had an occasional relationship without commitment.
The defendant was believing that the man and the victim had a relationship, although there was no evidence to support this assumption other than a one time contact on social media.
The verdict was welcomed by the victim, her family and the public in the court room.
In statements to the press, Ioanna Paliospyrou said that the verdict and the sentence "fully satisfy" her and that she will continue her struggle. She thanked her lawyer, the doctors for their efforts and the Greek Police for solving the crime.
As she took place in front of the cameras, a group of women stood behind her wearing white masks in solidarity and in protest of women being victims of violence.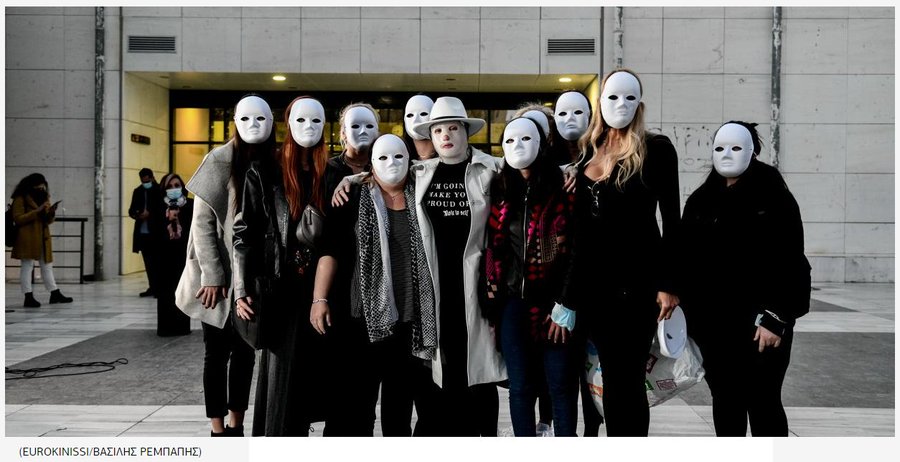 The defendant is expected to appeal the verdict.
Even without reduced sentence by an Appeals Court, Karakantzoula may be released after some 5.5 years, the victim's lawyer said.
Victim Ioanna will still be wearing the special mask to protect the marks on her face the vitriol has caused, will keep undergoing surgeries and therapies to heal the physical and psychological traumas. Ioanna had told the court that she will be afraid of the defendant even when she will be released after several years.