Daily coronavirus infections in Greece broke another record on Friday with 6,909 new cases confirmed in the last 24 hours. Health authorities announced also 48 deaths in the past 24 hours. The number of intubated Covid-patients in hospitals has increased further to 450.
In the COVID-MAP of Greece updated on November 4, authorities added a new category "dark red" which marks the regions with very high number of infections.
COVID-MAP updated Novermber 4
Interactive COVID-MAP in English here.
Please, note that as KTG's additional sources post
Official EODY data Νοbember 5
Please, note that as KTG's sources additional to EODY have been reporting the data much later. In this case, KTG will update them also much later, if the sources will do so.
Tests in past 24 hours:
PCR —– RAPID —–
Positivity PCR+RAPID: —%
Since the pandemic began, Greece has confirmed 774,265 infections (daily change: +0.9%). Of the confirmed cases of the last 7 days, 150 infections are related to travel from abroad and 2,588 to other confirmed cases.
Rolling average —– from —- last week.
48 deaths recorded in the last 24 hours, brought the total of pandemic victims to 16,200. Of these, 95.4% had an underlying condition and/or were aged 70 or over.
450 Covid-patients are on ventilators in hospitals from 441 a day earlier.. Their median age is 65 years, 59.3% are men. 81.3% have an underlying condition and/or are aged 70 or over.
Of the total patients on intubation, 378 (84%) are unvaccinated or partly vaccinated and 72 (16%) are fully vaccinated.
Intubated Covid-patients per age group:
0-17: 0
18-30: 18
40-64: 200
65+ : 232
3,347 have been discharged from ICUs since the pandemic began.
356 Covid-19 patients were admitted to hospital in the last 24 hours (daily change: -1.93%). The average admission of patients with Covid-19 to hospitals over the last 7 days was 319.
The median age of new infections is 38 years (range: 0.2 to 106 years), while the median age of the deceased is 78 (range: 0.2 to 106 years).
Vaccinations
Stand Nov 4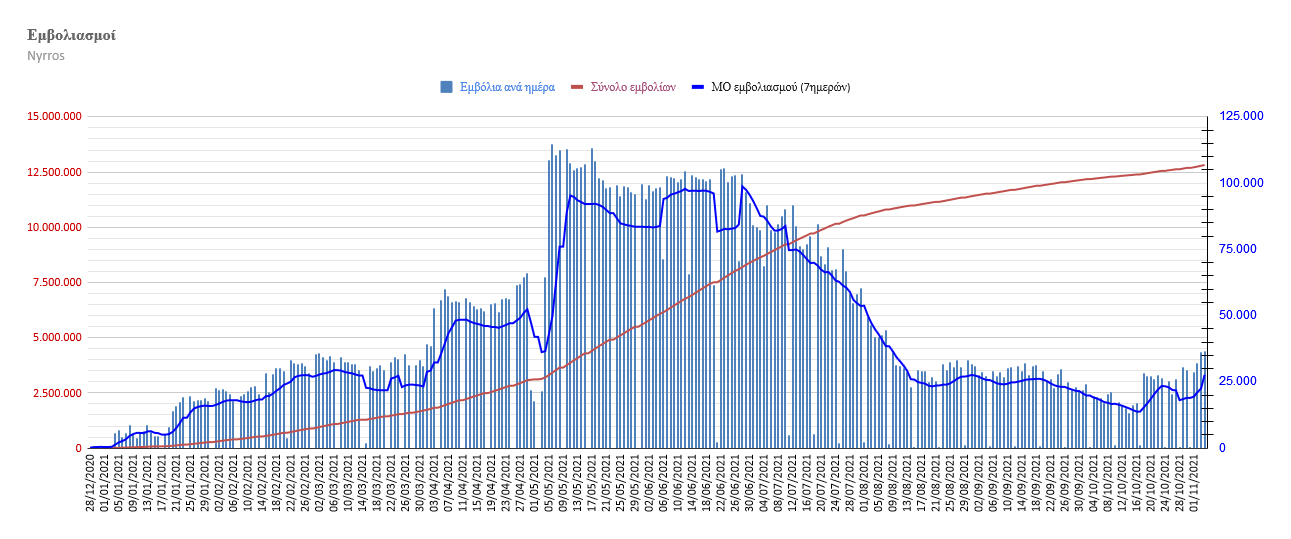 Party vaccinations 64.1% of the population
Fully vaccinated: 61.4%
Booster shot since Sept 13: 411,424
Vaccination tracker per region in Greek here.
Vaccination MAP
Geographic distribution Νovember 5
Of the 6,909 new coronavirus cases, 11 were detected at the entry gates of the country and 2 among travelers already in Greece.
The remaining cases are:
1519 Attica
1124 Thessaloniki
450 Larissa
240 Achaia
238 Magnisia
!91 Serres
151 Trikala
148 Imathia 142 Pella
133 Aitoloakarnania 130 Ioannina
125 Kozani 124 Fthiotida
116 Evros
The remaining regions with 2- or 1-digit cases in the charts below.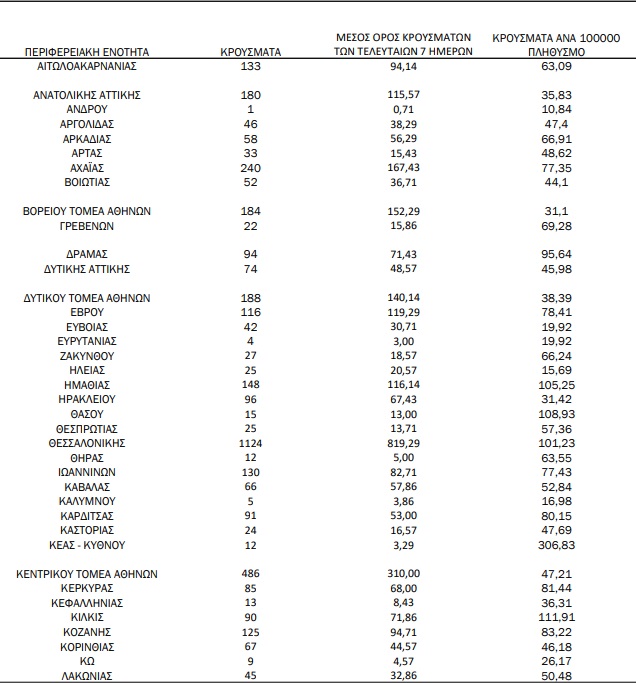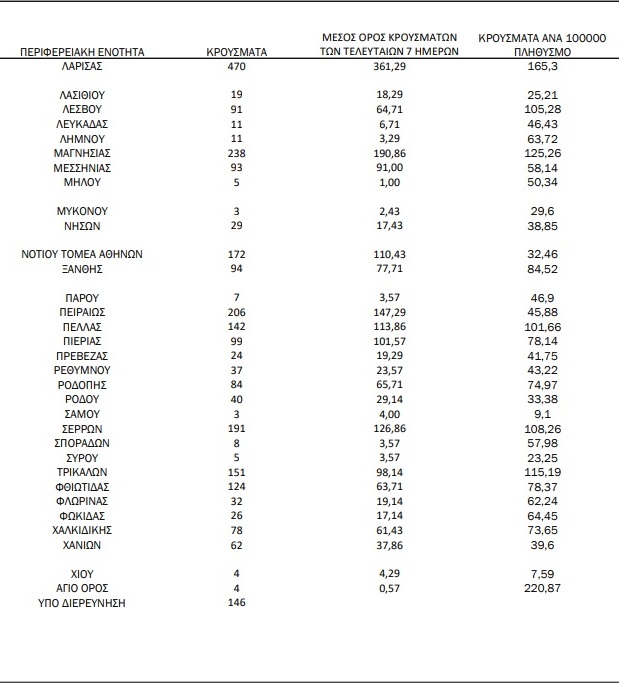 146 under investigation
MAP: Infections last 14 days per 100,000 population
More details on EODY daily bulletin in Greek here.
More information on coronavirus in Greece here.