An earthquake measuring 5.2 on the Richter scale rattled the island of Crete early Sunday evening, December 26, 2021. Three and a half hours later, another, stronger tremor occurred in the same area with 5.4 R.
According to seismology institutes in the country, the earthquake with 5.2 Roccurred at 5:15 p.m. local time and had its epicenter in the sea area 71 km East of Sitia and 48 km South-West of the island of Kasos.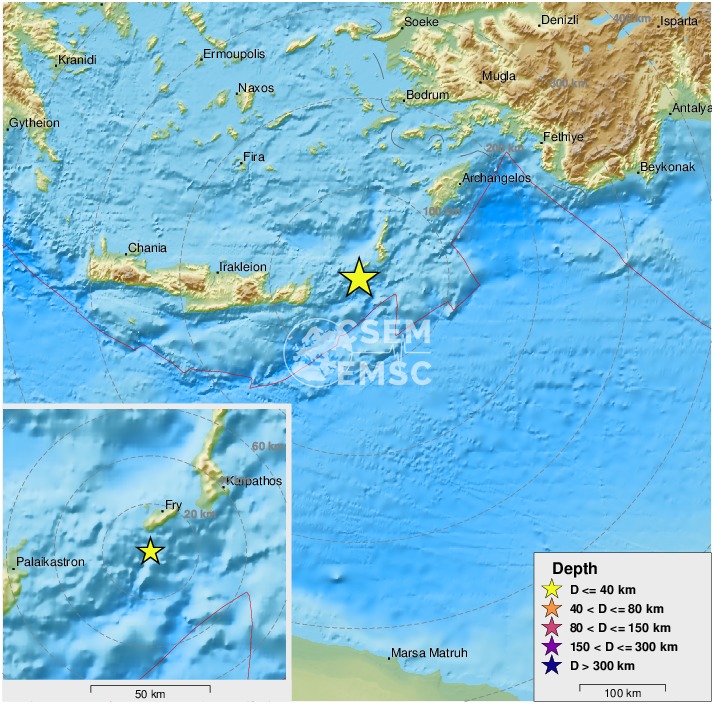 The tremor's focal depth was 8.9 km.
So far, there are no reports on injuries or material damage.
It is reportedly the third earthquake felt in Crete in the last 42 hours.
An hour later, at 6:13 p.m., an earthquake hit the town of Thiva, 70 km north of Athens with 4 Richter.
The tremor was felt also in the Greek capital.
At 8:59 p.m. an earthquake stroke with 5.4 Richter again with the same epicenter between the islands of Crete and Kasos. Its focal depth was 10 km.
According to preliminary information by some foreign seismological institutes the second earthquake between Crete and Kasos had a magnitude of 6 R.
Felt #earthquake (#σεισμός) M6.0 strikes 170 km E of #Irákleion (#Greece) 4 min ago. Please report to: https://t.co/x12vidS72d pic.twitter.com/BpJj3DMEEa

— EMSC (@LastQuake) December 26, 2021
No injuries or material damages have been reported so far.