One of Greece's most important contemporaneity painters, Alekos Fasianos, passed away at the age of 86 early Sunday evening.  He died in his home, surrounded by his wife and their two children. In the last years he was suffering from  health problems.
The emblematic painter sealed with his works a whole era.
Wings – Oil on canvas – Public Collection : National Gallery – Alexandros Soutsos Museum – 1987
His paintings have mainly Greek themes such as the sea, boats and birds, dominated by human figures in profile, characterized by simplicity,  with clear colors, flat compositions with minimal light shading.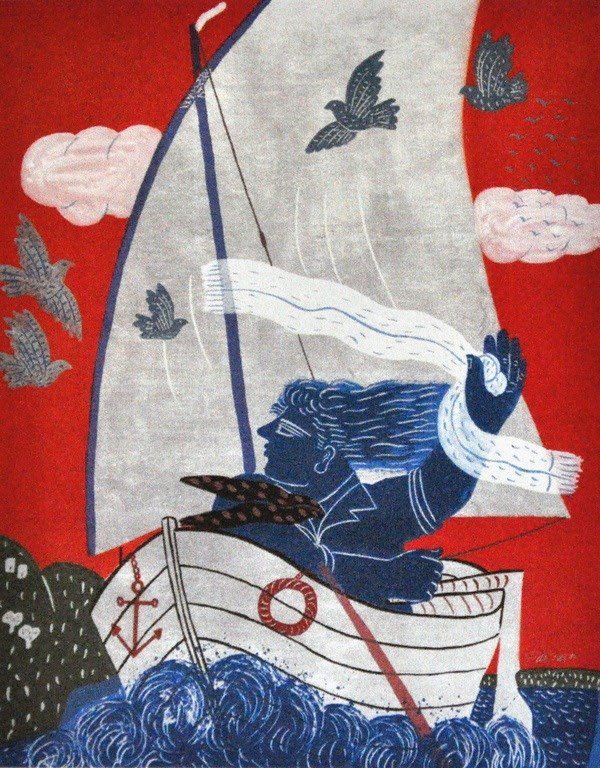 Alekos Fasianos was born in Athens in 1935. After graduating from the Athens Academy of Fine Arts, he moved to Paris in 1960 to study lithography at the Paris National School of Arts, where he met with several artists and writers.
Fasianos used to design the stage decorations for major classic and modern productions. His art has been exhibited in museums and galleries including in Athens, Paris and throughout Europe, as well as in Tokyo, New York, Sao Paulo and Melbourne.
The Spirit of Olympic Champion – Mix media – Private Collection : Hellenic Olympic Committee – 2001
In addition to private collections, his art works can be found in the following museums in France: the Paris Museum of Modern Art; the MAEGHT Foundation, San Paul de Vence; Center for Contemporary Art.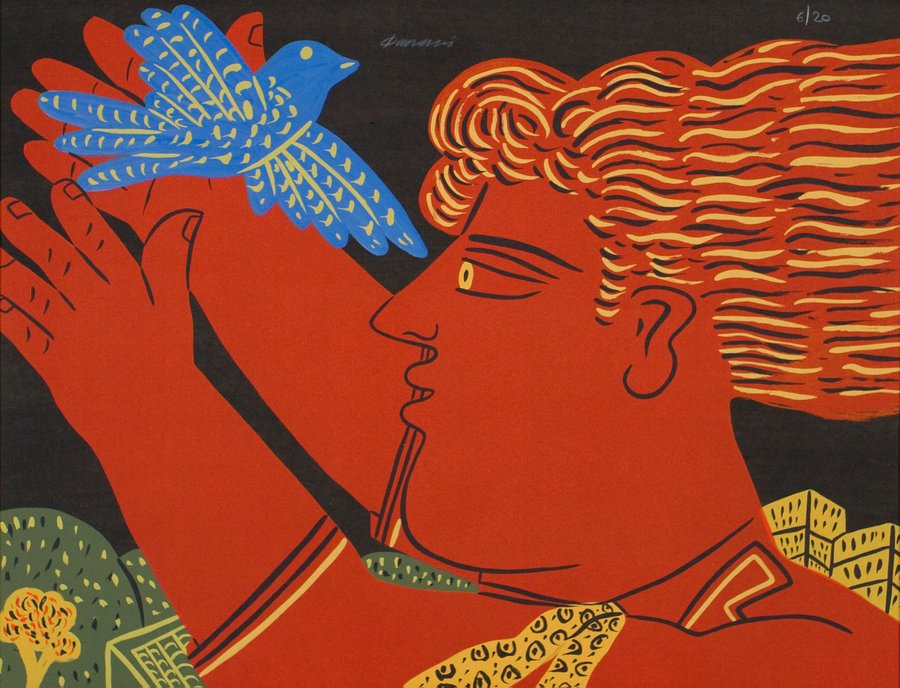 Alekos Fassianos is very popular in Greece, and some of his works are exhibited in public places: two large murals entitled The Myth of My Neighborhood, can be seen in Athens at the Metaxourgeio metro station.
Small sculptures can be seen in front of the Orthodox Church of St. Irene in Athens.
A giant vertical mural can be seen in the lobby of the Electra Metropolis Hotel in Athens.
The 13th of December 2007, a painting titled The Messenger sold for €550,701 at Bonhams auction house in London.
He has received several honors in France and one in Russia.
Alekos Fasianos was a member of the Fine Arts Academy of Athens.