An earthquake with magnitude 4.4 on the Richter scale shook the island of Crete at 4:22 on Sunday afternoon. Its epicenter was 5 km North-East of the village Arkalochori, 27 km South-East of the city of Heraklio and its focal depth was 13.8 km.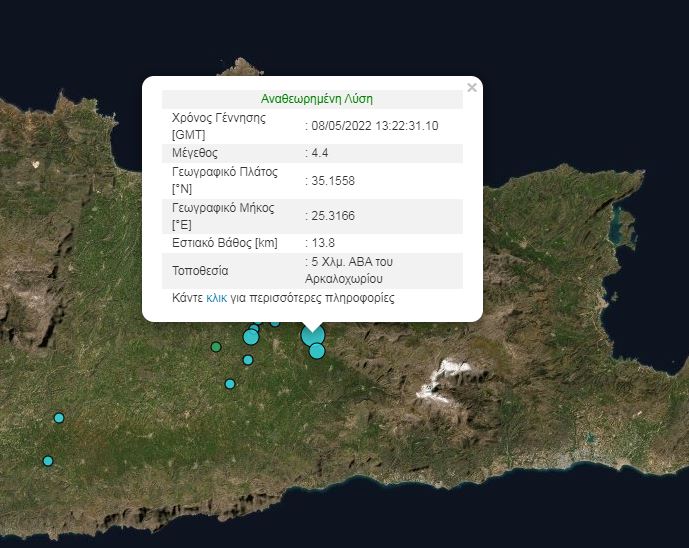 So far, there are no reports from Crete on injuries or material damages.
Head of Earthquake Planning and Protection Authority, Efthimios Lekkas told news website newsit.gr, that the 4.4. R tremor had the same epicenter as the 6-R-earthquake of September 27, 2021, that killed one and caused severe damages to houses and buildings.
Lekkas stressed that the tremor on Sunday was an aftershock of the 2021 earthquake.
He appeared, however, reassuring noting that the seismic activity may continue but the citizens should not worry.
Worth noting that two earthquakes measuring 3.7 and 3.5 on the Richter scale occurred also on Sunday in Thiva on the mainland. The 3.5R occurred at 11:13 a.m. and the 3.7R at 5:30 p.m.
According to witnesses feedback to @LastQuake, the earthquake was felt also in Athens.