Daily coronavirus cases in Greece rose to 8,083 in the past 48 hours, health authorities announced on Tuesday. 12 Covid-related deaths were recorded in the same period. The number of intubated Covid-patients in hospitals ICUs across the country stands at 109.
Two weeks after the Greek government suspended the use of protection masks also indoors – except in health facilities and public transport – , daily coronavirus infection are on the rise again.
Some health officials claim there is no reason for concern yet.
"There is an upward trend this week, the first after a long time, but I do not think there is any cause for concern," Gikas Magiorkinis, a clinical virologist and a member of the Health Ministry's committee of experts on the pandemic said on Sunday. "At least 20 countries in Europe showed an upward trend last week," he added.
Other health experts such as professor Giorgos Pavlakis, head of the Department of Human Retroviruses, National Cancer Institute, USA, are not so relaxed and warn of a possible new epidemic wave in summer due to the increase of cases and another difficult winter with many victims.
"We are running after the coronavirus and we have a lot of re-infections, this is a vicious circle where there will always be and if we do not cut the cases and do not reach zero, then this vicious circle will not end," Pavlakis stressed.
He urged for the use of masks especially when there is crowding , air purification, vaccines which are not a panacea but are very safe and stop serious diseases, perform tests and antiviral drugs.
Rapid testing and treatments are important elements in the fight against pandemics that can change the data, he noted.
EODY daily report June 14
According to National Health Care Organization (EODY), the total number of confirmed infections since the pandemic began is 3,508,610 (daily change: +0.2%), including 38 cases confirmed in previous days but registered in the latest report.
Of the 8,083 infections reinfections are estimated at 1,026 in the last 48 hours, while their total since the pandemic began is estimated at 142,947 (3.9% of the total positive results).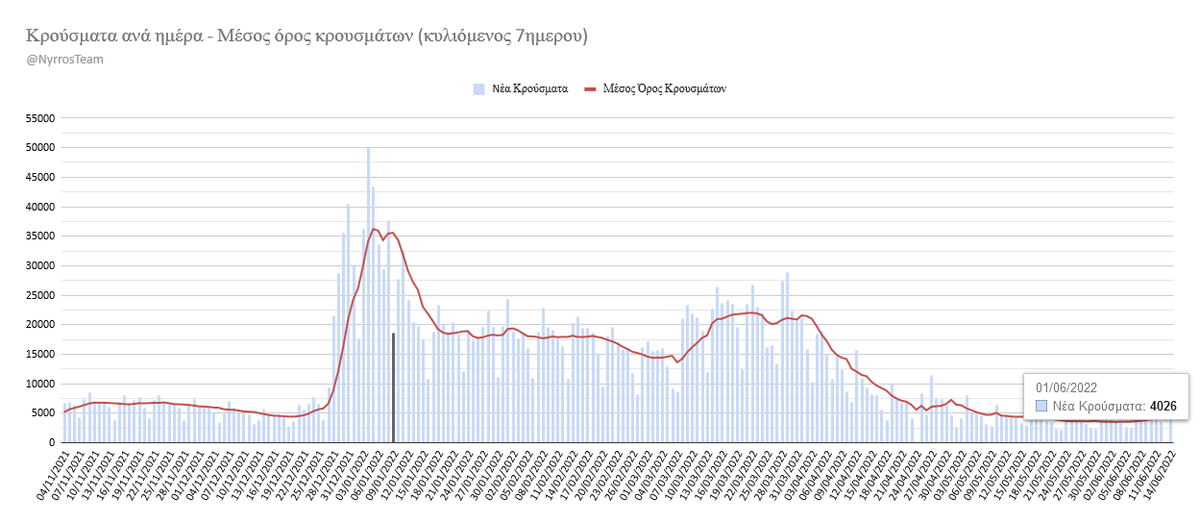 Tests
PCR: 12,182 RAPID: 61,115. Positivity PCR+Rapid: 11,03%
Coronavirus inflections rolling average 4,256 from 3,646 last week.
12 Covid-deaths recorded and one from previous days brought the total of pandemic victims to 30,033. Of these, 95.6% had an underlying condition and/or were aged 70 or over.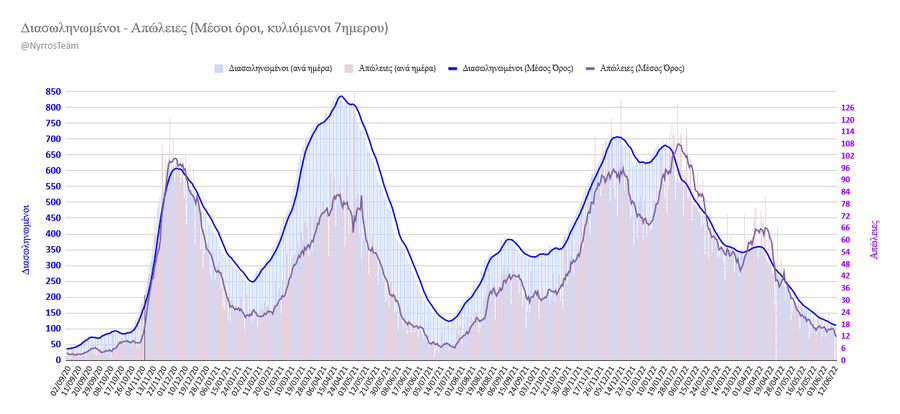 109 patients are on ventilators in hospitals. Their median age is 69 years and 92.7% have an underlying condition and/or are aged 70 or over.
Of the total in intubation, 49 (44.95%) are unvaccinated or partly vaccinated and 60 (55.05%) are fully vaccinated.
4,702 have been discharged from ICUs since the pandemic began.
115 Covid-patients were admitted to hospital in the last 24 hours (daily change: +27.78%). The average admission of patients with Covid-19 to hospitals over the last 7 days was 100.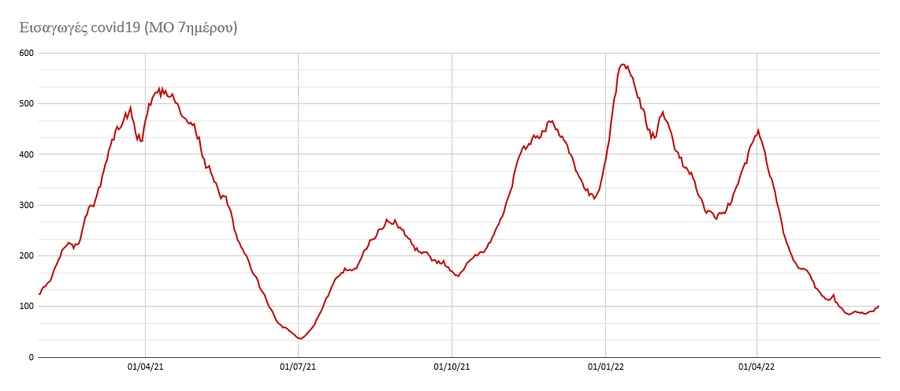 The median age of new infections is 37 years (range: 0.2 to 112 years), while the median age of the deceased is 80 (range: 0.2 to 106 years).
Viral load in sewage
In the week June 6 – June 12, EODY recorded an increase in the viral load in Thessaloniki, Patras and Ioannina.
According to EODY report, there were declining trends in the average weekly viral load of SARS-CoV-2 in urban wastewater in seven of the twelve (7/12) areas controlled by the National Epidemiological Network for Sewage (EDEL) of EODY and increasing trends in four of the twelve (4/12) areas.
The downward trends were observed in Agios Nikolaos (-58%), Xanthi (-50%), Volos (-44%), and Alexandroupolis (-37%), while the downward trend was marginal in Chania (-15%). ), in Heraklion (-20%) and Larissa (-25%).
The trend in the average weekly viral load of urban wastewater in Patras (+ 267%), Ioannina (+ 41%) and Thessaloniki (+ 37%) was clearly increasing, while the increase was marginal in Attica Region (+ 13%) .
Geographic distribution June 14
Of the 8,083 new coronavirus cases 1 was detected at the country's entrance gates.
The remaining cases are:
5334 Attica
417 Thessaloniki
439 Heraklion
221 Achaia
220 Under investigation
208 Chania
192 Rhodes
130 Evia
130 Larissa
114 Corinth
110 Corfu
98 Messinia
89 Thira
76 Magnesia
70 Mykonos
68 Rethymnon
63 Aitoloakarnania
63 Lesvos
61 Zakynthos
59 Kos
53 Argolida
51 Ioannina
48 Arcadia
45 Kavala
42 Ilia
41 Fthiotida
39 Kefalonia
37 Evros
35 Karditsa
34 Viotia
33 Lassithi
28 Laconia
28 Pieria
24 Xanthi
24 Halkidiki
23 Arta
23 Imathia
22 Naxos
22 Preveza
20 Thesprotia
20 Serres
19 Drama
19 Pella
17 Kilkis
15 Trikala
15 Fokida
14 Karpathos-Kasos
14 Chios
13 Grevena
13 Syros
13 Paros
13 Lemnos
11 Kozani
11 Milos
10 Samos
9 Andros
9 Lefkada
9 Rodopi
6 Kalymnos
6 Kastoria
5 Florina
4 Tinos
3 Keas-Kythnos
2 Evrytania
2 Thassos
2 Sporades
MAPs: Infections per 100,000 population based on data last 14 days
June 14
June 11
EODY daily report in Greek here