Coronavirus cases in Greece rose to 12,537 in the last 24 hours, health authorities announced on Tuesday. Covid-related deaths in the same period is 14, while the number of intubated Covid-patients in hospitals ICUs stands at 96.
The numbers on Monday, June 20, were:
4,832 cases, 12 deaths, 97 ICUs
5,274 PCR tests 28,393 RAPID Positivity PCR+RAPID 14,35%
Several health experts in the country are warning of the new pandemic in summer due to subvariants Omicron 4 and Omicron 5. Some draw attention to the rise of transmissibility index Rt. But the Health Ministry remains cool saying "we were aware a new wave would come. More details and recent data on KTG post here.
EODY bulletin June 21
National Health Care Organization (EODY) said on Tuesday that all confirmed infections since the pandemic began stand at 3,562,524 (daily change: +0.3%).
Of the daily total, reinfections are estimated at 1,921 in the last 24 hours, while their total since the pandemic began is estimated at 151,118 (4.1% of the total positive results).
Rt: 0.96
14 deaths recorded in the last 24 hours brought the total of pandemic victims to 30,115. Of these, 95.7% had an underlying condition and/or were aged 70 or over.
96 Covid-patients are on ventilators in hospitals. Their median age is 70 years and 92.7% have an underlying condition and/or are aged 70 or over.
Of the total in intubation, 46 (47.92%) are unvaccinated or partly vaccinated and 50 (52.08%) are fully vaccinated.
4,713 patients have been discharged from ICUs since the pandemic began.
134 Covid-patients were admitted to hospital in the last 24 hours (daily change: +4.69%. The average admission of patients with Covid-19 to hospitals over the last 7 days was 138.
The median age of new infections is 37 years (range: 0.2 to 112 years), while the median age of the deceased is 78 (range: 0.2 to 106 years).
Geographic distribution June 20

 7,946 Athens
764 Thessaloniki
697 Heraklio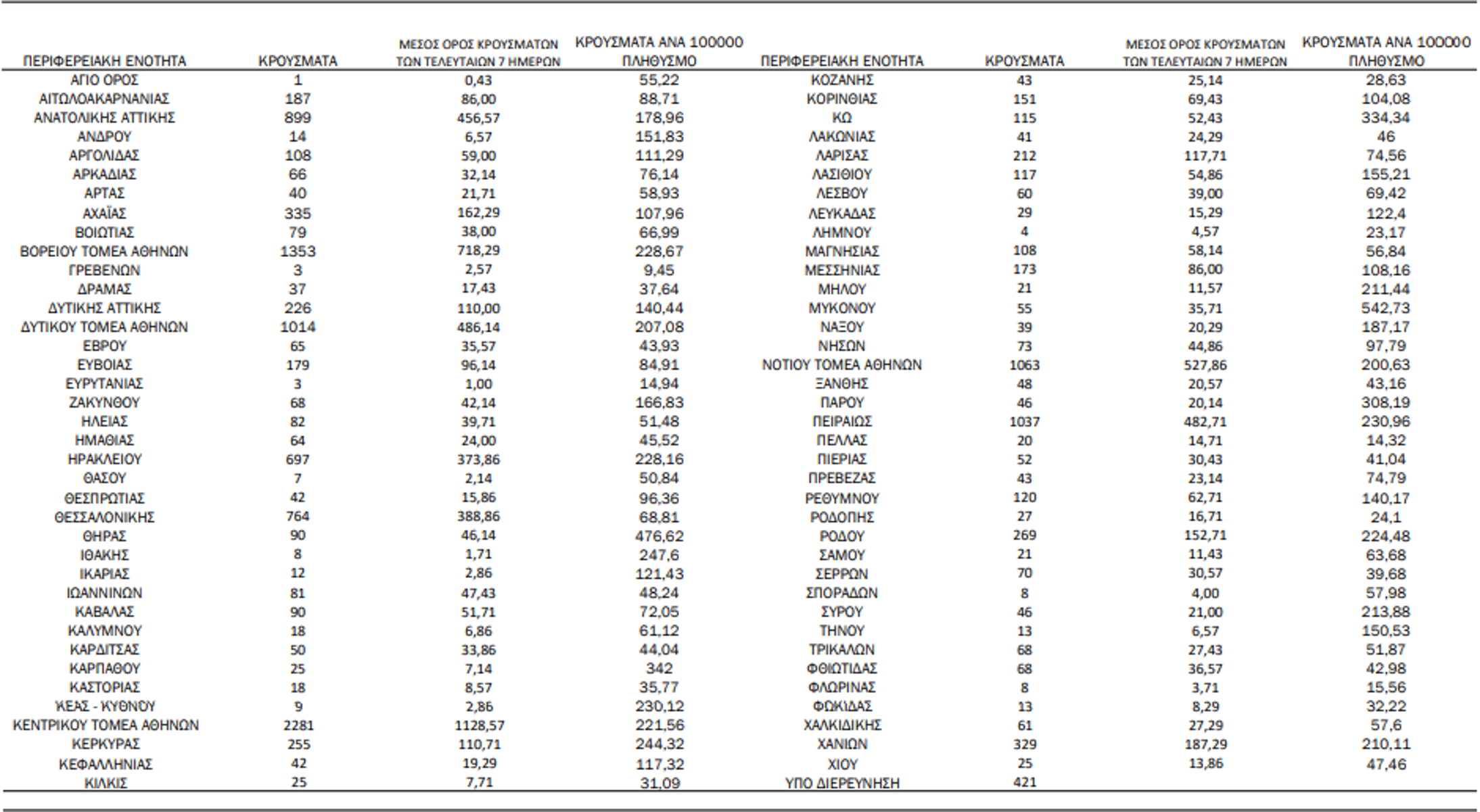 MAP to compare: coronavirus infections per 100,000 population in last 14 days
June 21
June 19
June 11
EODY daily bulletin in Greek here.
More on coronavirus in Greece here.