"We have been expecting an increase of coronavirus infections and this is due to Omicron subvariants and the mobility,"  Health Minister Thanos Plevris said on Tuesday morning. Hhe appeared reassuring adding that despite the increase of the last days, there is no pressure in the public health system as Covid-patients intubated in ICUs are below 100. He spoke of possible protection measures as of September stressing without elaborating that they will be different than the previous ones.
Many of the health experts in the country are not as relaxed as the health minister, though, and appeal especially to vulnerable groups to wear masks indoors as well as outdoors when there is crowding.
"We never said the masks should be dropped," president of hospital doctors association in Athens, Matina Pagoni, told state broadcaster ERT on Monday.
Other experts such as George Pavlakis, Research Bioscientist in USA, have suggested Covid-tests at arrival gates of the country, track and tracing, and isolation hotels in popular summer destinations.
Health experts have reportedly determined 3 risk factors for the infections increase:
big rate of reinfections in combination with the increased mobility of the population
sharp spread of Omicron 4 and Omicron 5 across the country
weakening of the immunity after the booster shot (3rd dose) for the majority of people.
Omicron subvariants
According to the experts, the Omicron subvariants BA.4 and BA.5 are the main factors that could drive the summer wave in Greece..
From the first week of June, one in three cases in which genomic analysis for SARS-CoV-2 was performed was reportedly associated with these two subvariants, which seem to easily bypass any immunity that the body develops through vaccination and infection.
"These strains systematically escape immunity and reinfect vaccinated or not," Professor for Environmental Engineering at the University of Thessaloniki Dimosthenis Sarigiannis stressed.
Some experts, like Pulmonary professor Nikos Tzanakis, at the University of Crete, have warned of up to 20,000 covornavirus infections on daily basis in the next days as well as an increase of intubated patients and Covid-related deaths. However, he added that not all infected with coronavirus would land into the ICUs.
Member of the Epidemiologists' Committee advising the government, Gkikas Majiorkinis noted on a post on social media:
"During the last week there was an increase of diagnoses by 48% but also an increase of 41% of those treated with COVID-19 in hospitals. There is currently no increase in ICUs, but this is usually delayed by about 7 days in Omicron (due to shorter incubation).
The basic scenario for this oscillation predicts a rapid increase in diagnoses for 1-2 weeks, and then a slow de-escalation that will last 1-2 months."
More than half of ICU Covid patients fully vaccinated
Slowly but gradually the number of vaccinated intubated patients in ICUs is higher than those unvaccinated. This has been going one since about a month, and stabilized in the last days.
More than half (54%) of the patients admitted to intensive care with Covid-19 at Greek hospitals are considered fully vaccinated, the National Organization for Public Health (EODY) reported on Monday.
According to its daily bulletin, there were 97 Covid patients on ventilators on Monday, of which 45 (or 46%) are unvaccinated or only partly so, while 92% have an underlying health condition and/or are over the age of 70.
Under the EODY guidelines, a person is regarded as fully vaccinated after having one dose of a single dose shot or two of a two-dose vaccine. It is not clear what percentage of the patients in ICU have received a booster.
The Greek program for the 4th vaccination dose that opened in April, has not found a big response.
Maybe because is not effective against Omicron 4 and 5?
Increase of coronavirus transmission index (Rt)
According to latest data, the transmissibility index (Rt) – Effective Reproduction Number -is recorded above 1 in 71 of the 76 Regional Units in the country.
In the last 10 days, infections show an increase of 60% to 70%, a fact which has increased the positivity of the tests to 6% to 7%, while the transmissibility index Rt "climbed" to 1.24 nationwide, with subvariants Omicron 4 and Omicron 5 being 4 times stronger than the flu.
According to the epidemiological tool for recording and prognosis of Covid-19 disease, created by the University of Crete, cello.org.gr only 5 Regions in Greece have a transmissibility index Rt below 1, an indication that an infected person is transmitting the disease to less than one person, resulting in recession and shrinking of the spread.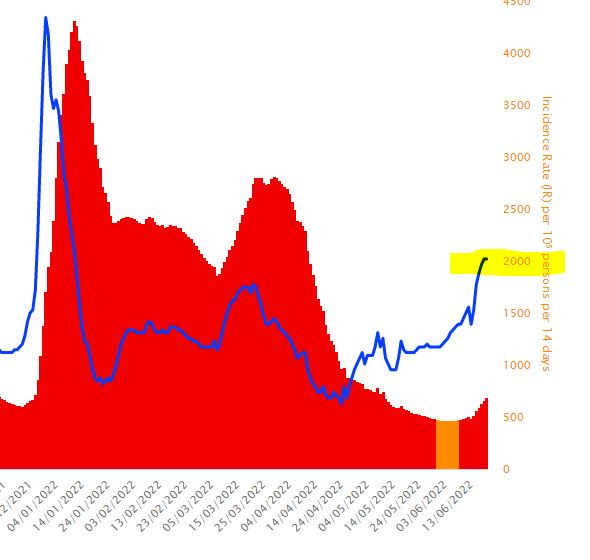 The 5 areas in which the Covid-19 pandemic in Greece is declining are Ithaca (0.99), Mount Athos (0.98), Kilkis (0.89), Evritania (0.80), and Ikaria (0.73).
Four regions have an Rt exceeding 1.50. These are:
Kos with 1.62
Zakynthos with 1.58
Karpathos – Kassos with 1.56
Heraklion Crete with 1.53
Other areas with a high transmissibility index Rt are Chania (1.49), Corfu (1.45), Lefkada (1.45), Lassithi (1.43) and Kalymnos (1.42). Also, Mykonos (1.39), Andros (1.38), Rethymno (1.37), Kozani (1.36) and Magnesia (1.36).
"High" and close to the nationwide average of the transmissibility index at 1.24, are Attica (1.23) and Thessaloniki (1.24), and also Syros (1.28), Larissa (1.26) and Achaia (1.25).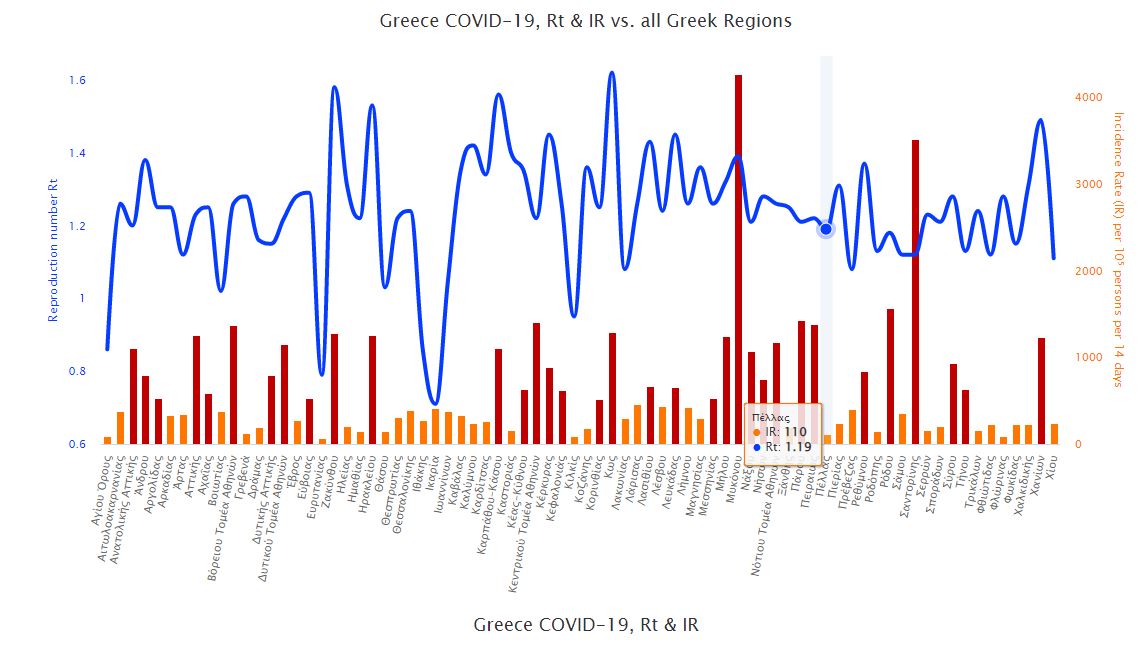 Speaking to iatropedia.gr, Professor Tzanakis commented on the increasing Rt:
"We have not seen such Rt values for a long time, Omicron 2 at its peak gave Rt 1.14 to the transmissibility index and currently Greece has an average of 1.24."
Tzanakis stressed that based on the current Rt values and indicators "we expect between 17,000 and 25,000 coronavirus cases per day at the peak of the wave. This is likely to happen in late July"
He added "if and when we declare and measure the cases correctly, of course."
Greece's National Health Care Organization EODY publishes the average Rt index every Wednesday.
According to European Center for Diseases & Prevention, a rapid increase in coronavirus cases and pressure on hospitals – but not in ICUs – is recorded by 29 of the 45 European countries.