Greece,s National Health Care Organization EODY published on Wednesday the latest epidemiological data on the positivity of coronavirus tests on islands and in the mainland. There is also an increased recorded in the urban viral load in wastewater in several cities.
Note also that on Wednesday's daily bulletin, EODY recorded a rise of Covid-19 Rt to 1.32 from 0.96 last week.
EODY: Coronavirus infections past 24 hours
Infection cases in the last 24 hours were confirmed to be 10,528 (12,537 a day earlier). If one adds also the 1,631 reinfections (EODY does not add reinfections to the daily cases for some unknown reason), the total coronavirus cases sum up to 12,159.
In the last 24 hours, 9 Covid-related deaths were recorded.
The number of intubated Covid-patients in ICUs has decreased further to 94.
More details in Greek at EODY here.
Positivity Rate, Rt Indicator
According to EODY, in the week June 13-19, 2022, the median 𝑅𝑡 across the country based on confirmed infections is estimated at 1.32 (95% DE: 1.22 – 1.56).
Indicator known as Rt, which tracks the number of other people a single infected person is likely to infect. Called also the "effective reproduction number," Rt is a measure of how fast the disease is spreading.
Positivity rate or positivity index is the percentage of tests that come out positive with Covid-19 in all diagnostic tests.
In its bulletin, EODY stated that in the reference week June 13-19 the positivity rate was 8.77% in a total of 601,239 laboratory tests Rapid and PCR.
The area with the highest positivity index are listed by EODY as:
Mykonos: 50.89%
Thira (Santorini): 33.51%
Milos: 32.31%
Paros: 23.81%
West Attica: 21.51%
Karpathos: 21.37%
Kos: 19.77%
Naxos: 17.52%
Tilos: 16.73%
Rhodes: 16.66%
East Attica: 16.56%
Heraklion Crete: 16.36%
Zakynthos: 16.19%
Andros: 14.92%
Chania: 14.55%
Central Sector of Athens: 13.66%
Piraeus: 13.24%
Lemnos: 13.14%
Islands (Attica/Saronic Gulf): 12.25%
Syros: 16.16%
Corfu: 12.12%
Western Sector of Athens: 11.78%
Rethymnon: 11.14%
Lefkada: 10.91%
North Athens Sector: 10.81%
Kavala: 10.46%
Evia: 10.03%.
According to media in.gr, Mykonos remains at the top of the list of positivity. The percentage of positive tests for coronavirus on the island exceeds 50.89%. This means that more than 1 in two tests (Rapid or PCR) comes out positive in Covid-19.
Positivity Index in all regions: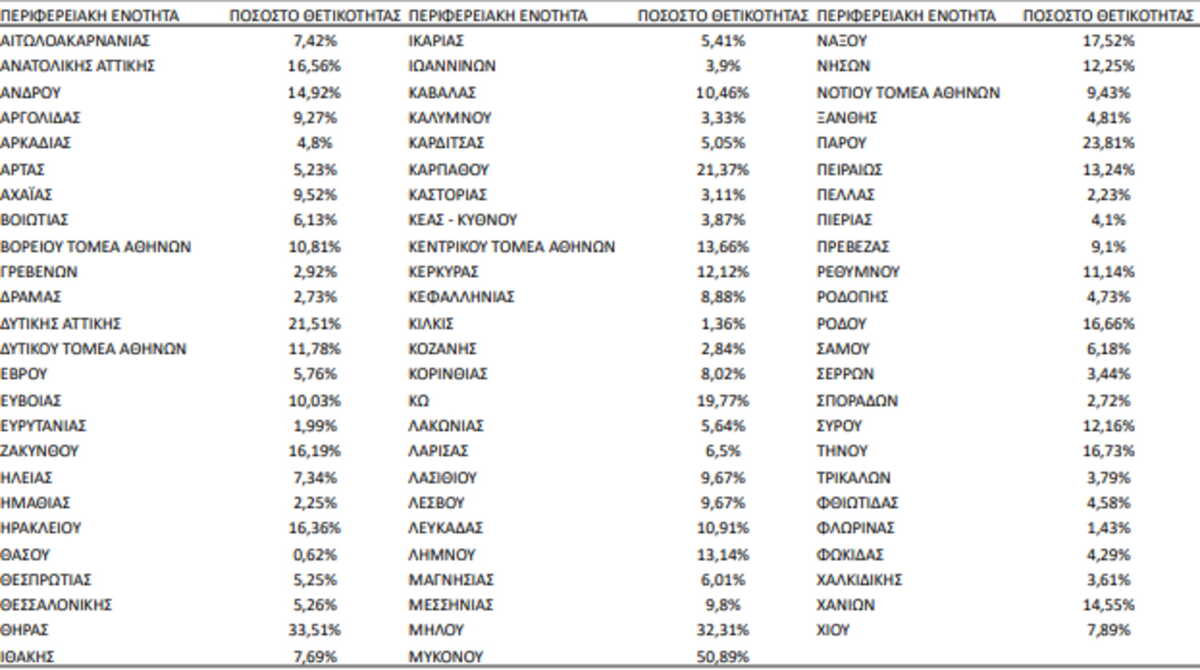 Viral load in urban wastewater
Laboratory tests conducted on urban wastewater by the National Network of Sewage Epidemiology show a significant rise in the average viral load in nine out of 11 cities inspected from June 13-19, 2022 over the previous week, media reported.
The samples collected showed a big jump of 237% in Aghios Nikolaos in Crete, 342% and 176% in Iraklio in Crete.
They are followed by Xanthi (49%), Alexandroupoli (47%), Larissa (38%) and Thessaloniki  37%.
Volos, Attiki and Cania in Crete saw double-digit increases, of 24%, 17% and 15%, respectively.
In Patra, the viral load eased 33%, while it remained unchanged in Ioannina at 10%.
Spike but no new measures
Health Minister Thanos Plevris said on Wednesday, that coronavirus infections spike is "fully under control" and that "there is no need for protection measures" as the hard epidemic indicators such as deaths and hospitalizations in ICUs remain low.
However, the country's epidemiologists' Committee advising the government is meeting tomorrow Thursday, to decide whether to lower the age limit for the 4th doses of vaccination to 50, ANT1 TV reported early evening today.