Greece's health authorities announced on Tuesday 73,710 confirmed coronavirus cases in the week of August 8-14, 2022 (ISO 32/2022). In the same period 258 [306] Covid-patients have died, the National Public Health Organization (EODY) said in its weekly report.
The number of intubated Covid-patients stands at 118.
Coverage of simple Covid-beds is at 48.04% and of Covid-ICU beds at 54.72%
All confirmed infections since the pandemic began are 4,654,737; of them 51.8% are women.
Weekly bulletin in brief:
73,710 cases (10.530 daily average; weekly change -27%) reinfections at 21%.
258 deaths (49.2per day)
118 intubated
1952 hospital admissions (daily average 334)
Rt estimated at 0.91 from 0.93 previous week

258 deaths from Covid-19 registered in the August 8-14 week, a ratio of 25 deaths per 1 mln people (weekly change: -27%), bringing the total of pandemic victims since the pandemic began to 32,028. Of the deceased, 95.9% had an underlying condition and/or were aged 70 or over.
EODY keeps having problems with the number of deaths.Based on the total victims last week (31772) the number of deaths this week should be 256 (!) but it seems in reality the number of deaths was 306.
Nevertheless, a total of 651 Covid-patient have lost their lives August 1-14.
A total of 118 Covid-patients were on ventilators in hospitals on August 14. Their median age is 69 years , 60.8% are men and 94.9% have an underlying condition and/or are aged 70 or over.
1,952 Covid-19 patients were admitted to hospitals during the same week (weekly change -17%), while 2,072 were discharged at the same time.
The average age of infected is 38, while the average age of the deceased is 80.
Geographic distribution August 8-
Distribution: Infections cases across Greece: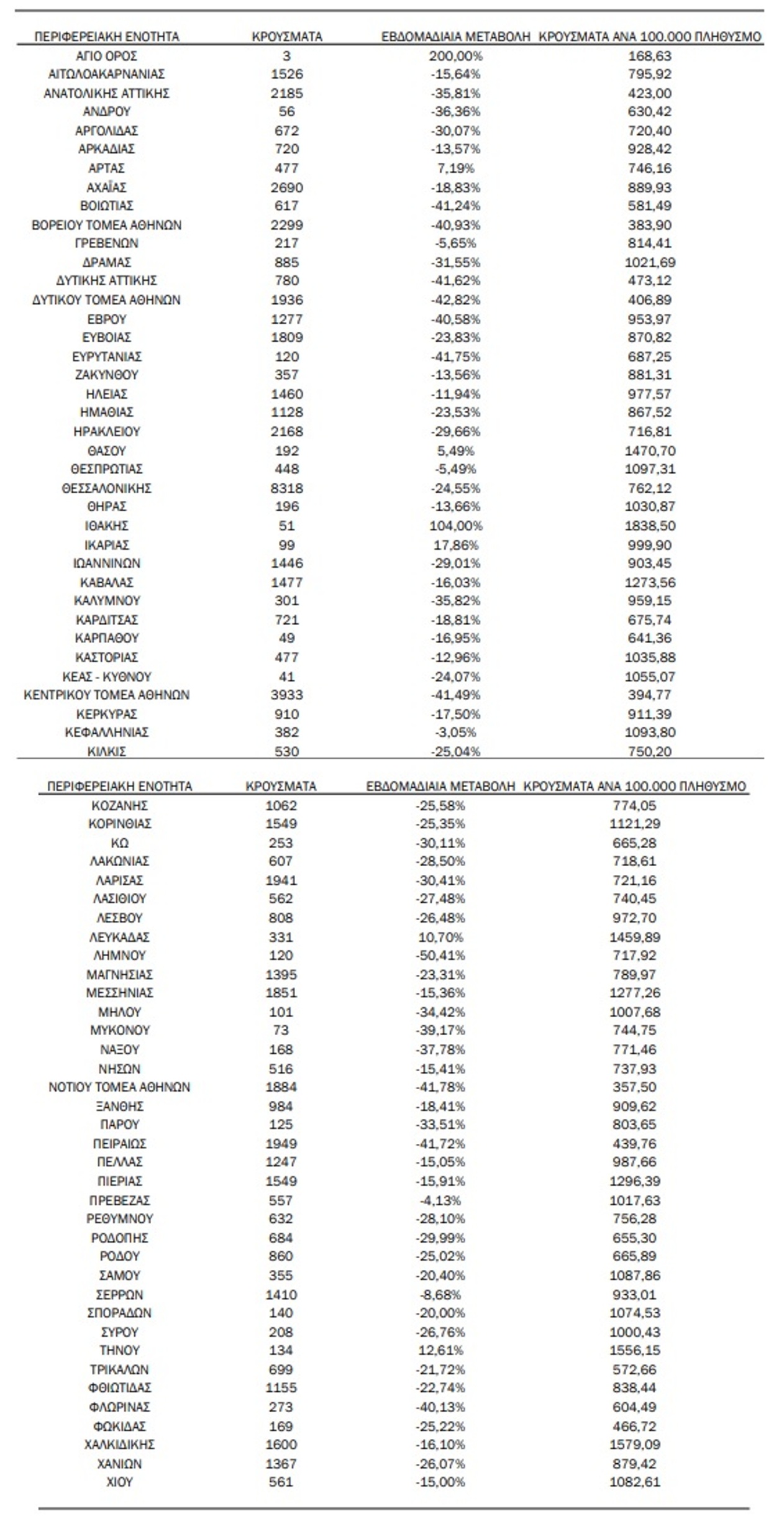 via iatropedia
MAP infections in the last 14 days per 100,000 population
EODY weekly bulletin in Greek here.
More information about coronavirus in Greece here on KTG