Meteorologists forecast high temperatures in Greece in the coming days, around 4 to 7 degrees Celsius above the seasonal average. According to the National Meteorological Service EMY the heatwave temperatures are expected to reach up to 42 degrees Celsius in some parts of the country on Friday and Saturday, August 19-20, 2022.
Θερμοκρασίες τις επόμενες μέρες σε επίπεδα κατά 4 με 7 °C πάνω από τα κανονικά . Το κύμα #ζέστης θα είναι εντονότερο το τριήμερο Πέμπτης-Σαββάτου, ενώ από την Κυριακή και μετά η θερμοκρασία θα επανέλθει σε κανονικές τιμές Δείτε https://t.co/1nZV1jk8B6
@News247 @Starchannelnew1 pic.twitter.com/3AVGSBAqpr

— Theodoros Kolydas (@KolydasT) August 16, 2022
With gradual increase starting on Wednesday, August 17, the high average temperature will be 38°C to 40°C  and up to 42°C in central Greece with the peak forecast for Thursday to Saturday.
Στο video παρουσιάζεται η βαθμιαία #άνοδος της θερμοκρασίας στα 850 hPa από τα δυτικά την Πέμπτη. Διακρίνεται η κορύφωση των θερμοκρασιών την Παρασκευή και η βαθμιαία πτώση από το απόγευμα του Σαββάτου. @News247gr @Starchannelnew1 @EMY_HNMS @GSCP_GRhttps://t.co/Gy8J0KaBJe pic.twitter.com/c50phdH0tW

— Theodoros Kolydas (@KolydasT) August 16, 2022
In Athens and Attica temperature will rise to 39°C on August 20.
From Sunday, August 21, temperature is expected to return to normal which is 32°C-33°C  in the second half of August.
Winds will be blowing with intensity of 5 Beaufort in the average.
Video: temperature via meteo.gr
Indicative maps August 16-21, 2022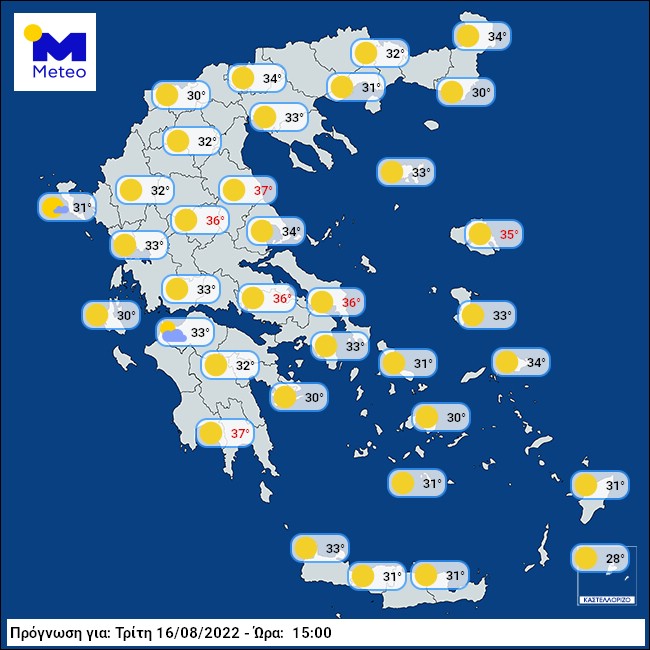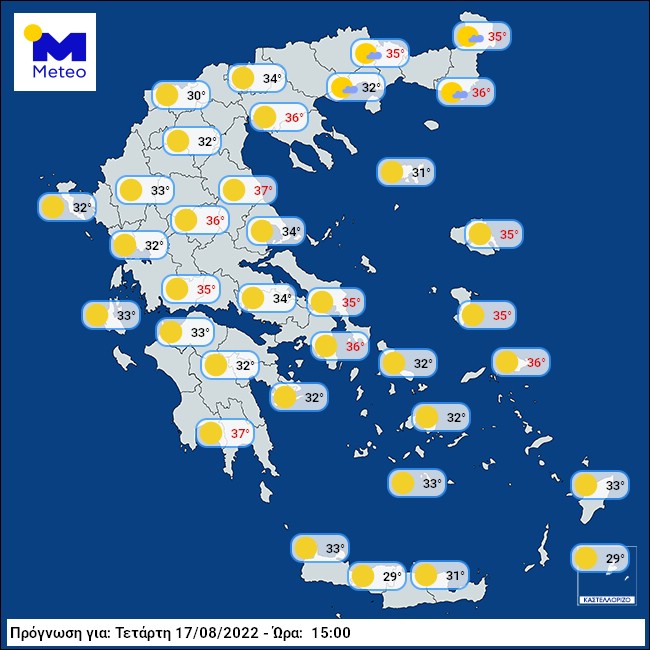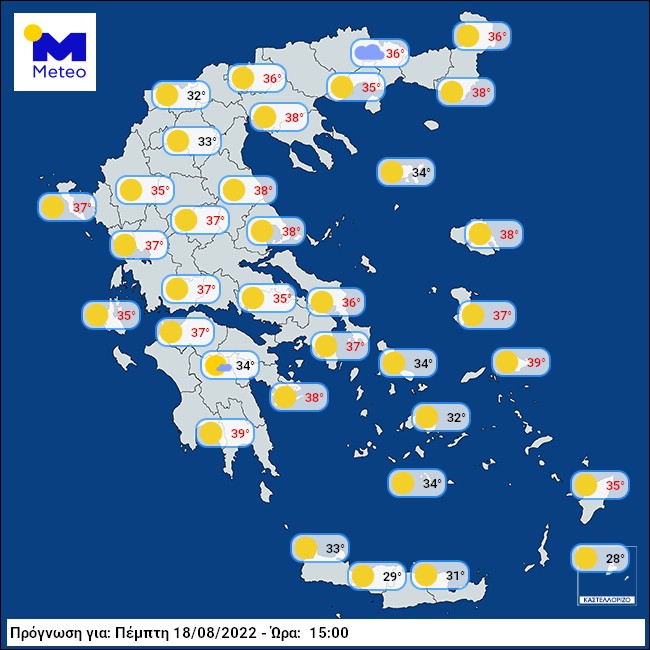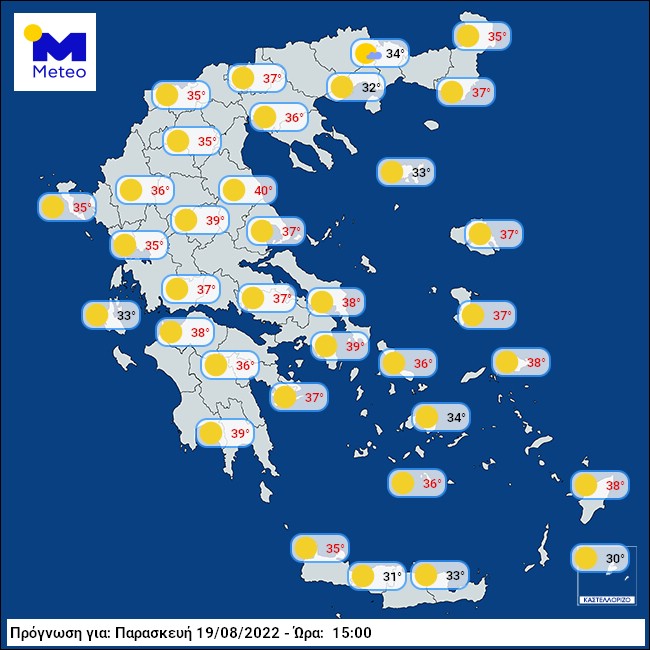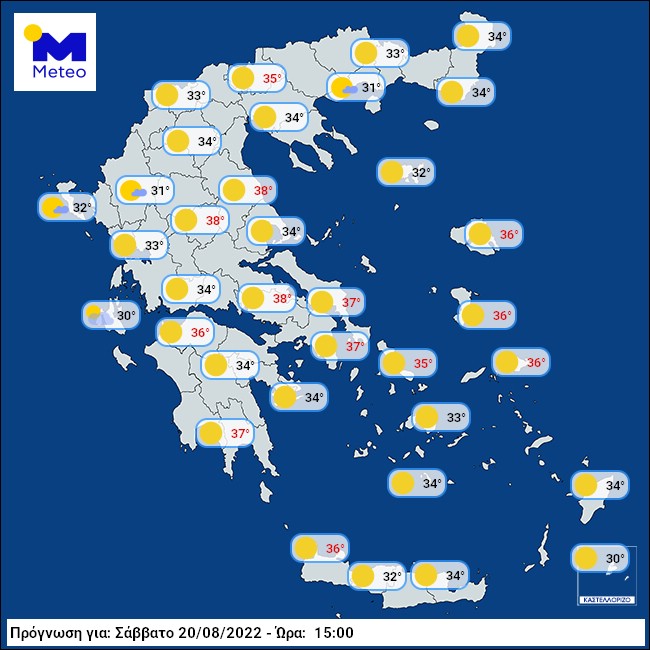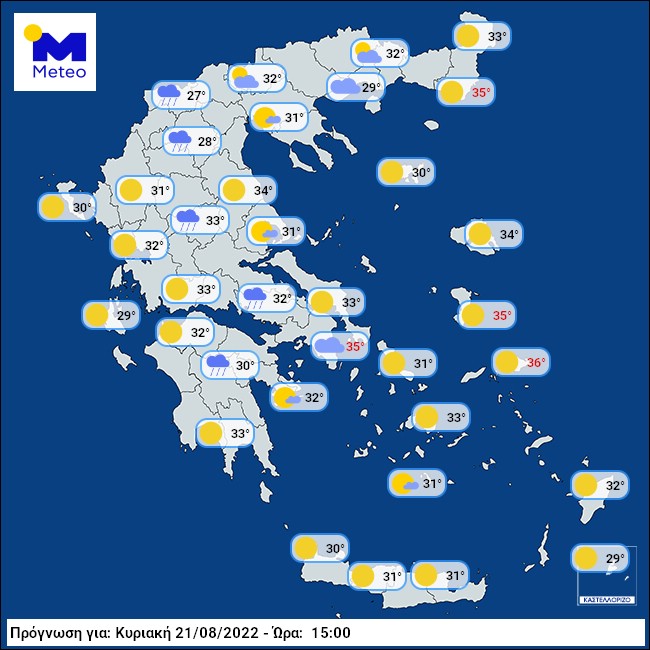 maps sources: emy.gr, meteo.gr
High risk of Fires
The heatwave also increases the flammability of forest fuels, the meteo service of the National Observatory of Athens warns.
Based on the latest available forecast data analyzed by the EAA / meteo.gr pyrometeorological team FLAME, the flammability of dead forest fuels is expected to show a significant increase.
Reason for this increase is the gradual increase in temperature combined with the prevalence of dry conditions. Under these conditions, dead forest fuels, especially the finer ones such as leaves, needles, small branches and logs, release moisture into the atmosphere and dry out quickly. This has the effect of facilitating ignition if there is a source of heat, and then the maintenance of combustion and the rapid transmission (spread) of the fire.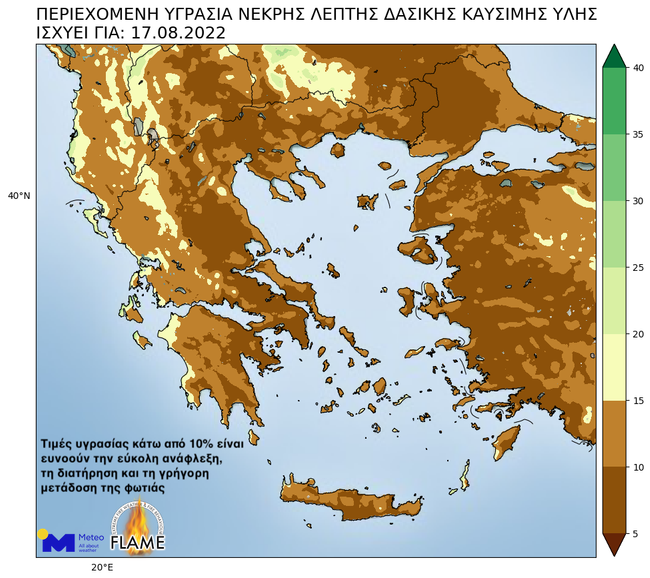 In particular, the next map shows the forecast of the moisture content of dead forest fuels for Wednesday 17/08/2022, when it is also expected, within a period of 2 days, to fall below 10% in the largest part of the country. These values ​​create a favorable background for the occurrence and spread of forest fires.