An earthquake initially measuring 5.1 on the Richter scale rattled not only the epicenter area in Evia but also Greek capital Athens at 2:24 on Wednesday afternoon.
Some seismological institutes gave the magnitude as 4.7 and 4.9 R.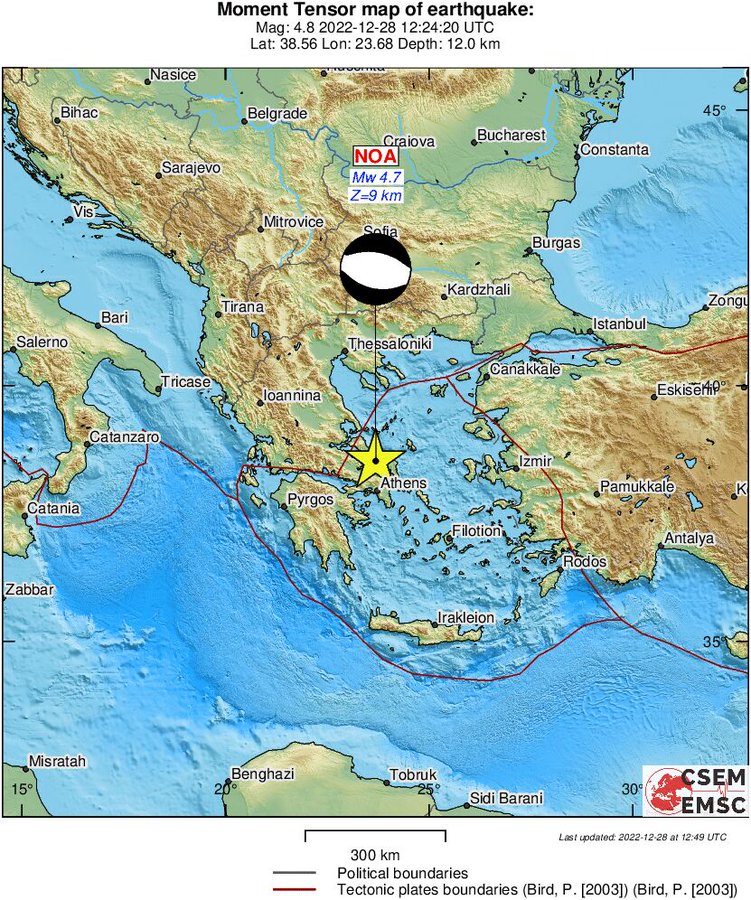 The epicenter of the earthquake was 5 km east of Psahna in central Evia 15 km North-East of Halkida and 68 km North-East of Athens.
Its focal depth was 13.2 km.
Prior to the tremor there was noise, locals told Skai TV, adding that they were scared and are still concerned.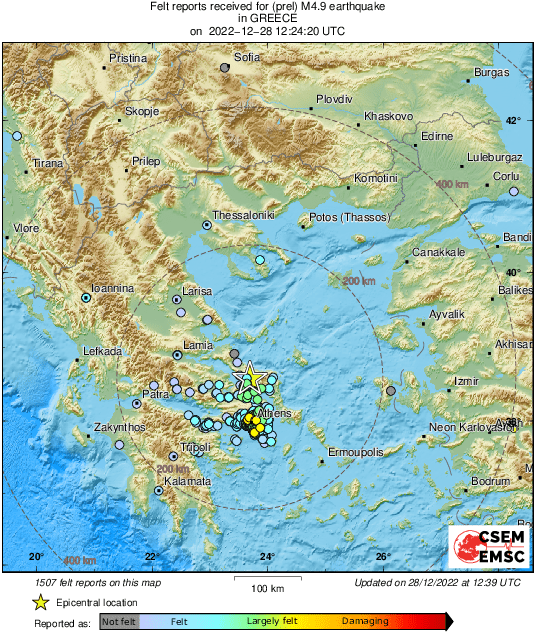 The tremor was felt in south Athens as of long duration, a constant shaking that seemed to have no end and without noise, though.
According to preliminary reports some glass windows have broken in the area of the epicenter.
So far, that is an hour after the earthquake, there are no reports of injuries or serious material damages.
There is a big mobilization of police and local authorities in Psahna.
Authorities warn locals to stay away from damaged areas or buildings.
Short after 2:40 p.m. another tremor hit with 3.7R magnitude and epicenter 11.4 km North-North-East of Halkida.
Seismologists Gerasimos Papadopoulos told media that the fault line is not the same with the one producing the recent earthquakes in Evia. He did not rule out that those tremors may have activated the fault line in Psahna.
He called for the immediate convergence of the Seismic Risk Assessment Committee.
Speaking to cnngreece, deputy director of Geodynamic Institute Vassilis Karastathis said "We are worried because the fault is close to an urban center [Halkida]. The area has again produced an earthquake of up to 5.3 Richter [in 2003].
Karastathis stressed that they still cannot know if it was the main earthquake.
Seismologists are closely monitoring the phenomenon.
source: also @LastQuake
PS They say for the case of an earthquake we should go under a table. What I do every time? I hold my PC screen tight and check if a book falls on my head from the big bookcase behind me …