Forget all you know about the expensive in vitro fertilization. women on the island of Crete flock to a specific church and eat the wick from the oil lamp burning in front of the icon…
According to media, as every year this time hundreds of women flock to the church of Panagia Almyri (Virgin Mary )close to the village of Vourbuliti in Messara.
Locals consider Panagia Almyri as their own protector and they rush to the church  to confide in her the secret that burdens them, to ask her for help, to beg her to bless them with a child.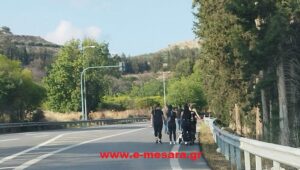 Women wishing for a child do not hesitate to "taste" even the wick from the oil lamp burning in front of Panagia's icon.
The church is double-aisled with one aisle celebrating the Ascension and the other celebrating the birth of the Virgin Mary.
Every year, crowds of people on foot, but also in cars, from every corner of Messara and beyond, come to Almyri to do their voto offerings and light a candle.
Panagia Almyri is a point of reference for the faithful of Messara and beyond.
Myths and beliefs that exist as well as the historical evidence discovered by the archaeological dig make up a unique picture of the small church that was first built in the years of the Apostle Titus.
Panagia is called Almyri – Salty – because "the water with which our little church was built was from the small river that became salty by divine grace."
The church has frescoes from the 9th and the 11th century.